The BMW X2 is now in its second generation, and, as before, it's positioned as a sportier, less practical alternative to the X1. What's immediately striking about the new model is its distinct appearance, setting it apart from its X1 sibling. With its sharp angles and tall, stubby hood, as well as its chunky fastback rear end, the X2 bears little resemblance to the X1.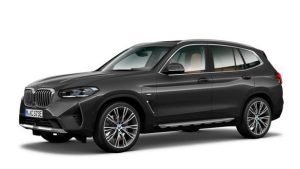 The previous X2 had a unique look, thanks to available contrast colors and C-pillars adorned with BMW logos, paying homage to the classic E9 coupe. In contrast, the new X2 has a more conventional design, incorporating the hunchback style associated with "SUV coupes." Surprisingly, despite its chiseled and tall appearance, it boasts a drag coefficient of 0.25. The M35i model stands out with a unique grille design and four exhaust tips, one for each cylinder.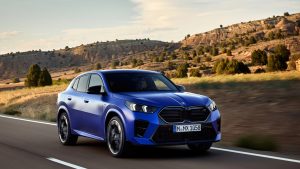 Inside, the X2 closely resembles its X1 counterpart, featuring BMW's characteristic curved display and a Gauge cluster with graphics that present the speedometer and tachometer at an angle, which has sparked some controversy. There's an optional panoramic roof, a 25-cubic-foot cargo area, and, depending on the version, Alcantara trim on the seats and dashboard. The standard seats are upholstered with vinyl, marketed as "animal-free Veganza."
In Europe, there's a variety of powertrain options, including a fully electric version, four-cylinder types of diesel, a three-cylinder entry-level gasoline engine, and a potent four-cylinder gasoline engine. However, in the U.S., only two turbo four-cylinder engines will be available.
The X2 xDrive 28i is equipped with a 241-horsepower 2.0-liter four-cylinder engine, while the X2 M35i xDrive features a 312-horsepower variation of the same engine. Both models deliver identical torque at 295 pound-feet, but the entry-level model achieves this at lower revs.
These powertrains are capable of propelling the X2 from 0 to 60 mph in 6.2 and 5.2 seconds, respectively, with top speeds governed at 149 or 155 mph when equipped with summer tires. If summer tires aren't selected, both models will have a 130 mph speed governor.
Both models come with standard all-wheel drive and a seven-speed dual-clutch automatic transmission. The handling is expected to be satisfactory, thanks to a more rigid body, a wider track, and upgraded chassis components.
However, a final assessment of the driving experience will have to wait until the X2 is put through its paces. We recommend considering the optional M Sport package for the entry-level X2 xDrive 28i, as it includes larger brakes, different steering, and adaptive dampers. For the M35i xDrive, this package comes as standard.
The new X2 embraces modern connectivity and driver-assistance systems, including in-car video games from the AirConsole gaming platform. Beyond the standard driving modes, you can select from Relax, Expressive, and Digital Art modes. An Efficiency Trainer can help drivers adopt a more economical driving style, and the interior camera is capable of capturing photos and recording videos.
Although pricing information is not yet available, it's anticipated that the X2 will be priced slightly higher than its identically powered X1 counterparts, which start in the low-$40,000 range. The 2024 BMW X2 is expected to arrive at U.S. dealerships in March 2024.