The much anticipated 2024 Kawasaki Ninja ZX-10RR is finally unveiled by Kawasaki amid much hoopla, sending the motorcycle industry into a frenzy.
This most recent version of the best superbike ever has a number of improvements that will definitely raise its performance to new heights and make it a leader in racing technology. Embark on an exploration of the mind-blowing features and powers that give this machine its scream of strength.
A Revolutionary Variable Air Intake System
The VAI system has movable intake funnel extensions within the airbox. These extensions may move and are driven by servomotors. The extensions drop themselves when traveling at low and medium speeds, raising the height of the funnels by 35 mm (1.38 inches). Performance is improved with the aid of this modification.
The extensions raise themselves up automatically as you increase engine speed. By doing this, an air bypass is created, lowering the funnel's height to 5 mm (0.2 inches), the same as its preceding model, the ZX-10RR.
This VAI system's intelligence rests in its capacity to make intelligent adjustments in response to a variety of variables, including throttle position, gear selection, and engine speed. It is aware of when to elevate or lower and adapt accordingly.
The VAI system is the only one permitted for non-racing uses. It requires a race-kit ECU and sub-controller to be activated. Riders may still customize VAI settings, though, by using the sub-controllers software. The funnels stay lifted when VAI is in street-legal mode.
Kawasaki claims that this cutting-edge technology offers significant power improvements in the mid-range area of the bike's performance. Riders may so feel a torque curve that is more smooth.
Race-Proven Performance and Engineering
A strong 998cc Inline-Four engine powers this monstrous motorcycle. This engine offers unmatched track performance thanks to its remarkable four valves per cylinder.
The ZX-10RR has Pankl-sourced titanium connecting rods, which distinguishes it from its single-R predecessor.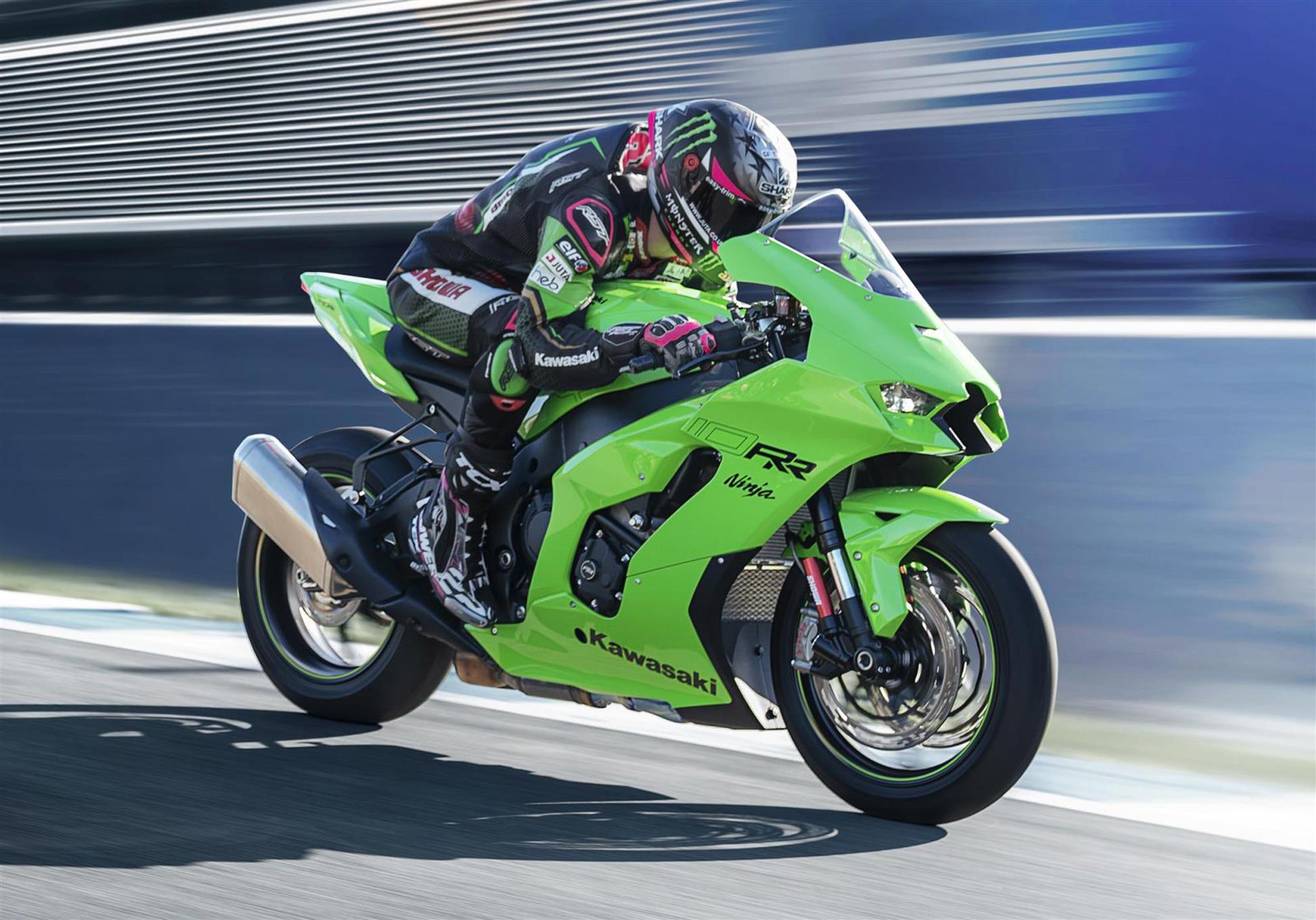 The pistons in the ZX-10RR are much lighter than those in the ZX-10R, thanks to the use of these lightweight components. Additionally, mechanical loss due to friction is significantly decreased because of a shorter height and one less piston ring.
As a result, these lighter pistons enable a greater rpm limit, and the bike's capabilities are further enhanced by specially crafted camshafts and valve springs.
The 2024 ZX-10RR boasts an array of electronic features, including a Bosch Inertial Measurement Unit (IMU), Anti-lock Brake System (ABS), traction control, corner management function, launch control, engine brake control, quick shift, selectable power modes, electronic cruise control.
More than simply, a powerful engine is available with the 2024 ZX-10RR. It also has top-notch components like Pirelli Diablo Supercorsa SP tires and Marchesini forged wheels, which are made to provide excellent handling and great traction on the road! Along with it, Showa's skilled craftsmanship elevates the suspension tuning.
This suspension technology, which was created especially for Kawasaki's World Superbike endeavors, makes sure that riders can attack the track with unparalleled accuracy and agility.
Pricing and Availability
The cherished option of Kawasaki devotees, the 2024 Ninja ZX-10RR, keeps its classic Lime Green/Ebony color combination. This high-performance beauty has an MSRP of $30,499, which is $800 more expensive than its 2023 predecessor.
Nevertheless, given its remarkable racing talents, it still offers exceptional value. In addition, Kawasaki takes delight in emphasizing that this price comfortably falls within the $40,000 cap imposed for World Superbike motorcycles, setting it apart from competing products.
Conclusion
Kawasaki doesn't hold back when it comes to pushing the boundaries of racing technology. We now present the much-awaited 2024 Kawasaki Ninja ZX-10RR, a vehicle that redefines performance on and off the racetrack.  This high-performance beast is going to raise the bar and establish new benchmarks in the world of competitive motorcycling with its unrivaled power and capabilities.