In a huge luxury automobile, electric powertrains make a lot of sense. Take, for example, the 2024 BMW i7, which offers a strong EV drivetrain with practically silent operation, adding to the sense of tranquillity that luxury consumers seek.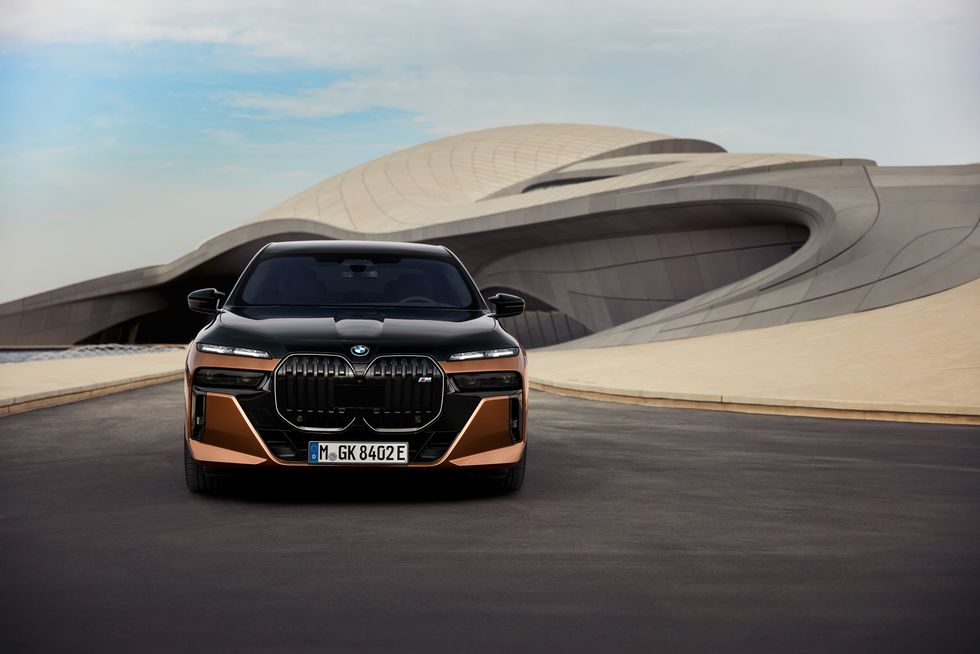 When you combine that with a smooth ride and a large cabin made of luxury materials, you get an electric 7-series that is well worth the asking price.
The i7 is also a sedan for the tech-savvy customer, with plenty of digital displays and even a drop-down theater system for those sitting in the back—something its main rival, the Mercedes-Benz EQS, does not provide.
The i7 xDrive60 has 536 horsepower and a range of up to 318 miles, while the performance-oriented M70 model has 650 hp and a range of roughly 295 miles.
A rear-wheel drive eDrive50 variant is also available, and while BMW hasn't said it, it should have the maximum driving range of the lot.
Those range figures are sufficient to compete with rivals such as the Porsche Taycan and the Tesla Model S, none offering the i7's level of sybaritic luxury.
2024 BMW i7 Interior
The i7 has the same roomy, wealthy, and upmarket cabin atmosphere as the gasoline-powered 7-series because they were designed together. In addition to amenities, the i7 has a slew of high-tech convenience features that set it apart from competitors like the Mercedes-Benz EQS and the Tesla Model S.
Plenty of space in the front and back seats and quality materials cover every square inch of the cabin. If you select the Executive Lounge package, your rear-seat guests will enjoy power-adjustable reclining chairs, a wireless smartphone charging station, and extra-plush headrests.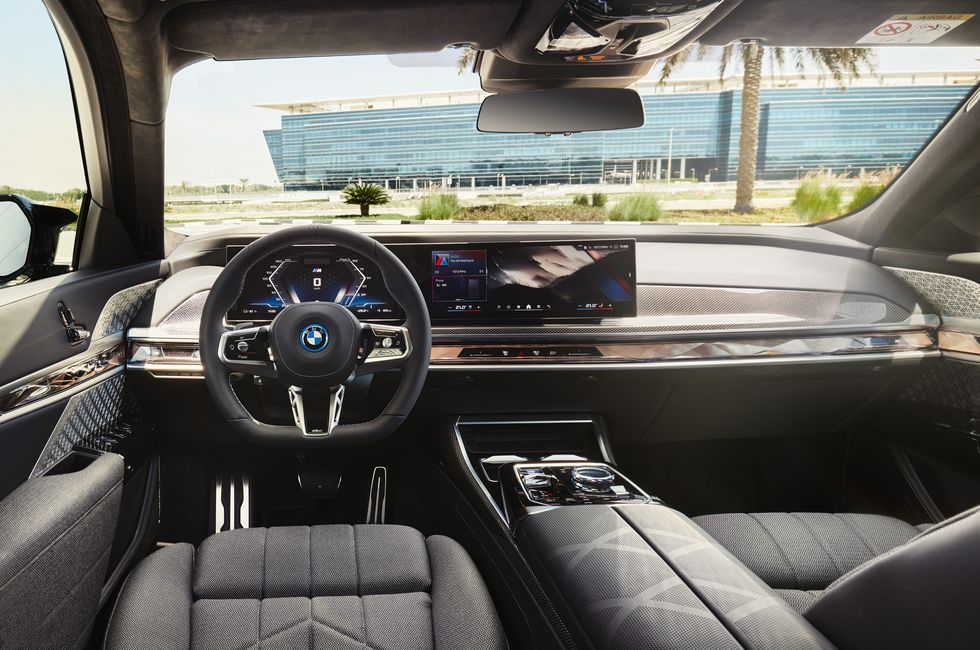 The trunk capacity is considerable, but a rear-seat pass-through function is available if you need to transport larger objects.
The i7 adopts the iX SUV's digital dashboard, with a big floating digital gauge and infotainment panels. The two screens, sandwiched together under a single pane of glass, provide a clear view of driving statistics and entertainment functions.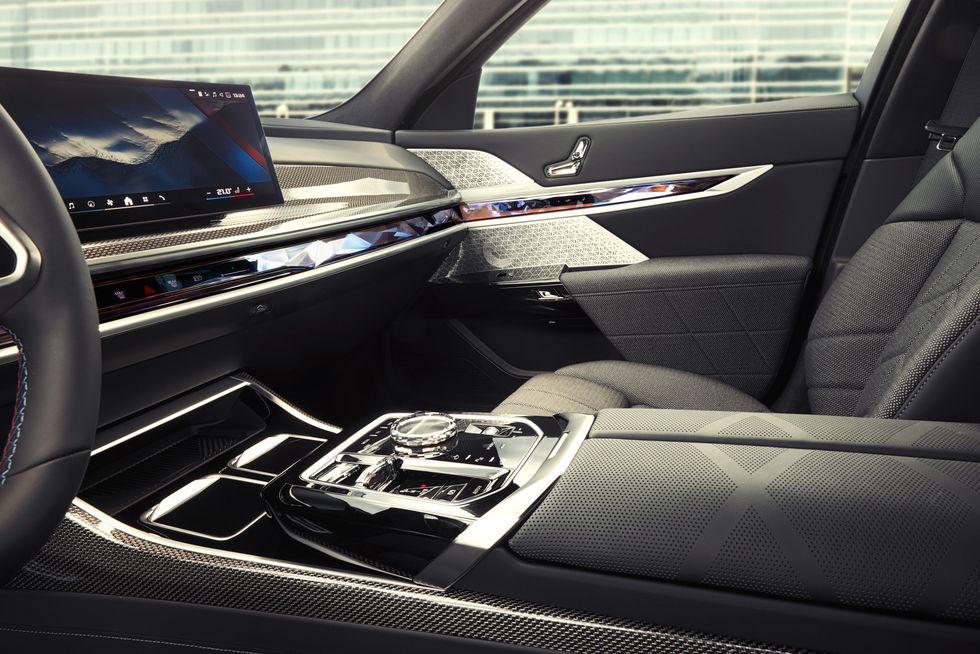 A rear-seat entertainment system with a big 31.3-inch screen that lowers from the ceiling is also available, and it can access streaming services like Netflix, Hulu, and YouTube via the car's 5G cellular connection.
2024 BMW i7 Performance
All-wheel drive i7s employ the same electric powertrain system as the iX, the brand's EV SUV, with two electric motors—one driving each axle—producing 536 horsepower. The i7 xDrive60 reached 60 mph in 4.1 seconds during our testing.
The rear-wheel drive eDrive50 variant has 449 horsepower and will likely perform significantly slower. The more powerful M70 variant generates 650 horsepower and can reach 60 mph in 3.3 seconds.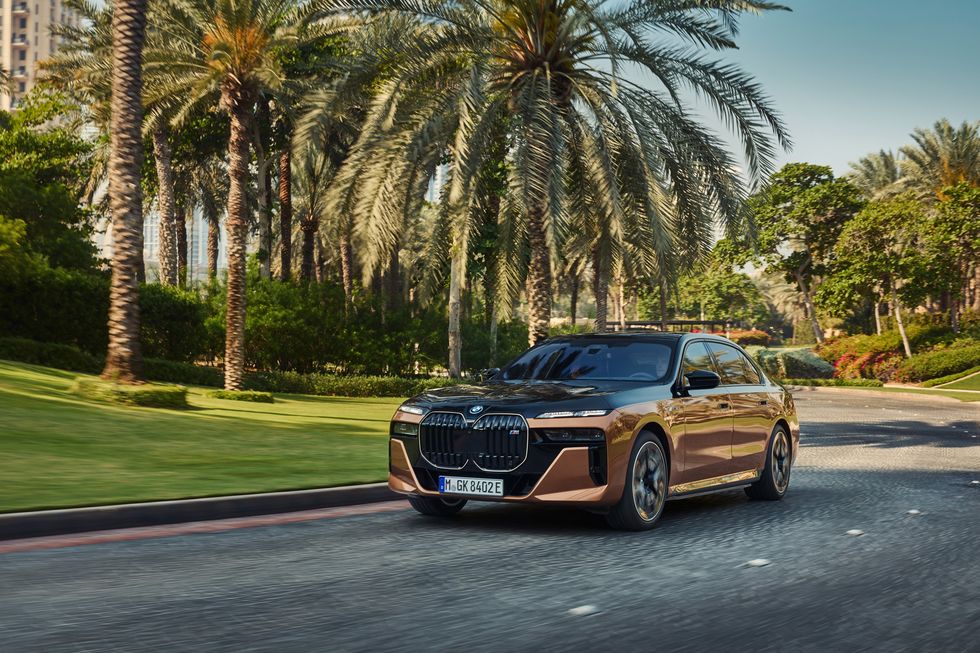 The handling is surprisingly agile for a big sedan, but consumers seeking sports-sedan handling will be disappointed with the standard i7.
Those looking for a pleasant and elegant experience will find a lot to appreciate here, and on our initial test drive, we noticed how smooth the ride was and how quiet the interior was.
The M70 variant is more enjoyable, and the huge sedan seems unrealistically light on its feet, but it isn't as snappy as BMW's genuine M-series vehicles.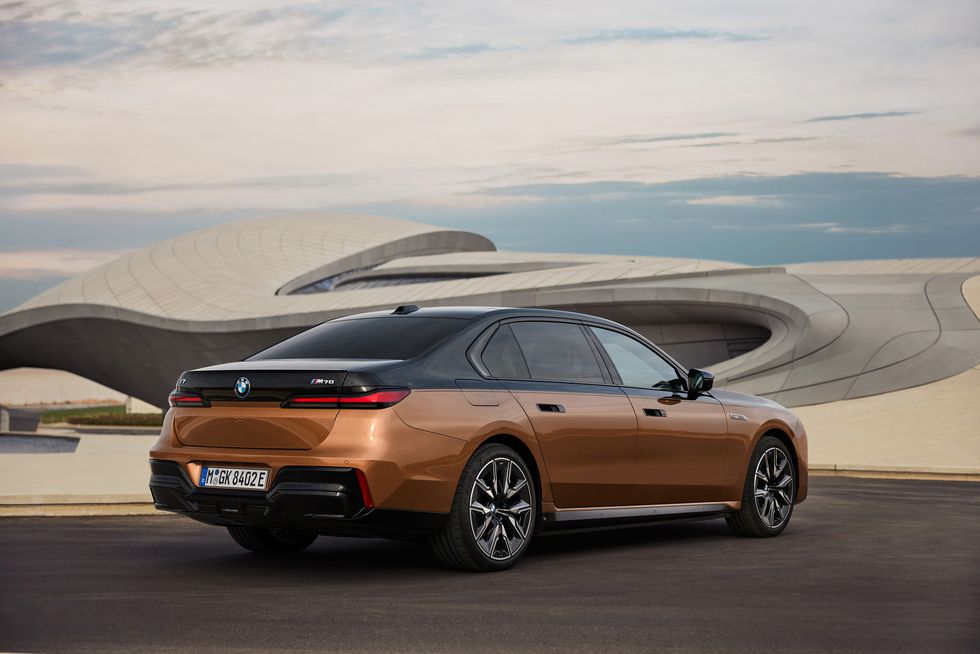 The i7 xDrive60 has an estimated driving range of 318 miles per charge with its normal 19-inch wheels, but with the bigger and more appealing 20- and 21-inch wheels, the sedan's driving range lowers. On our interstate fuel economy test route, we got 260 miles out of our xDrive60 test car with 21-inch wheels.
According to the EPA, the eDrive50 can go up to 321 miles on each charge, while the M70 can travel up to 291 miles per charge. The car's huge 101.7-kWh battery pack can add 80 miles of driving range in 10 minutes when connected to a DC fast charging station.
In terms of charging, every new i7 comes with three years of free 30-minute charging sessions at Electrify America charging points.