The Japanese automaker is coming up with the new generation of Nissan Z. Last generation of the Z was launched in 2009 as the Nissan 370Z. This all-new Z will come with all-new looks and a sporty body. 2023 Nissan Z is already seeking the attention of car enthusiasts. What will happen when this car is launched? Over time we have seen different variants of Z in the market. Although, the new Z is the modern-day sports car. It will come with many powerful specifications and a few elements from the classic era.
We have seen the reveal of the new Toyota Supra, Ford Mustang, and Chevrolet Corvette in recent days. Nissan has taken this opportunity and revealed the next generation of Z to compete with other sports and muscle cars. Though the previous generation Z was getting outdated and needed an update. Read more about this article's performance, looks, and rivals of the 2023 Nissan Z.
Also Read- Top 10 Nissan Cars: From GT-R to Navara, Ranked!
Features And Interiors Of The New Z
2023 Nissan Z is a two-seater coupe as it has always been. It comes with a modern cabin and updated technical features. The room looks compact and sporty. It will come in a dual-tone color scheme. Recent photos show that the interior will be in the shade of black and blue. The steering wheel comes in the standard circular shape with most controls. The Center console has a gear lever that fits in the middle of the console. With a premium black finish, this center console provides both – function and comfort.
The dashboard is mounted with an 8.0-inch touchscreen infotainment system as a piece of standard equipment. Also, there is an optional 9.0-inch display available. The car is connected wirelessly by Android Auto and Apple CarPlay. The digital instrumental cluster will be packed with a 12.3-inch display. For safety assistance, Nissan has offered some basic features. Examples include automated emergency braking, blind-spot monitoring, lane-departure warning, adaptive cruise control, etc.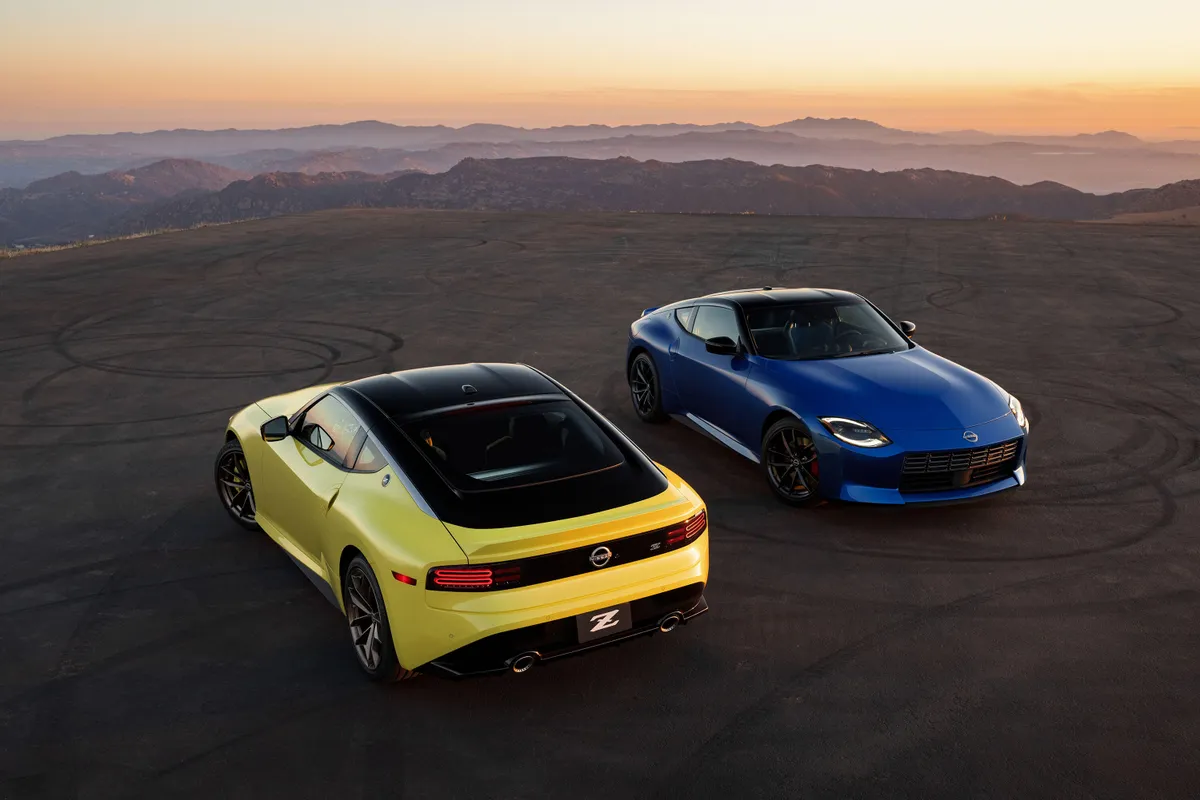 Power And Engine Specifications
The all-new Nissan Z is equipped with a twin-turbocharged V-6 engine. This engine produces 400 horsepower, and it is a 3.0-liter engine. It will get an optional six-speed manual or a nine-speed automatic transmission. The acceleration of the new Z with a manual gearbox takes 4.5 seconds to record a zero to sixty mph speed. Few specifications are not enough to catch up with its rivals. Nissan has provided an upgrade from the previous generation, but it could have been better.
Also Read- Amidst The EV Wave, Nissan Is Discontinuing The EV LEAF!
The rivals of the Z in this competition are the Chevrolet Corvette, Toyota Supra, Ford Mustang, and BMW Z4. 2023 Nissan Z will be launched at a starting price of $41,015. Although, excluding the Chevrolet Corvette, the rest other cars will also launch around the same price. However, Nissan Z is a great brand and has built its name through its power and Nissan's reliability. Although, it will be exciting to see what else Nissan will offer with the new Z.