Mercedes-Benz announced its new convertible-only sports car in recent events. Now, the German automaker has revealed the prices for the variants of this new convertible car. 2022 AMG SL will come in two variants: SL55 and SL63. The new AMG gets a powered-up V8 engine. It is equipped with a new luxury cabin. This AMG is powerful enough to beat many sports cars.
In true meaning, Mercedes has added great strength to the new SL. It is a two-door, four-passenger car. 2022 AMG SL comes with all the high-tech features and a comfortable cabin. Read more about this new AMG in this article.
Also, Read: Mercedes Is Back In The Competition With The C300
Engine Specifications And Performance Of 2022 AMG SL
Mercedes-Benz has provided the same turbo 4.0 -liter V-8 engine in the 2022 SL trims. SL55 produces a horsepower of 469, while on the other hand, SL63 produces 577 horsepower. 2022 AMG SL is an all-wheel drive with a nine-speed automatic gearbox. Acceleration of this V-8 engine is pretty quick. It takes just 3.1 seconds to speed up from zero to sixty mph. This powerful engine can give competition to rival sports cars, for Example- BMW M5, Audi RS7, and even Porsche 911. The turbo v-8 engine has a fuel efficiency of 25 mpg on the highway. Thus, AMG SL is a smooth ride with all the power.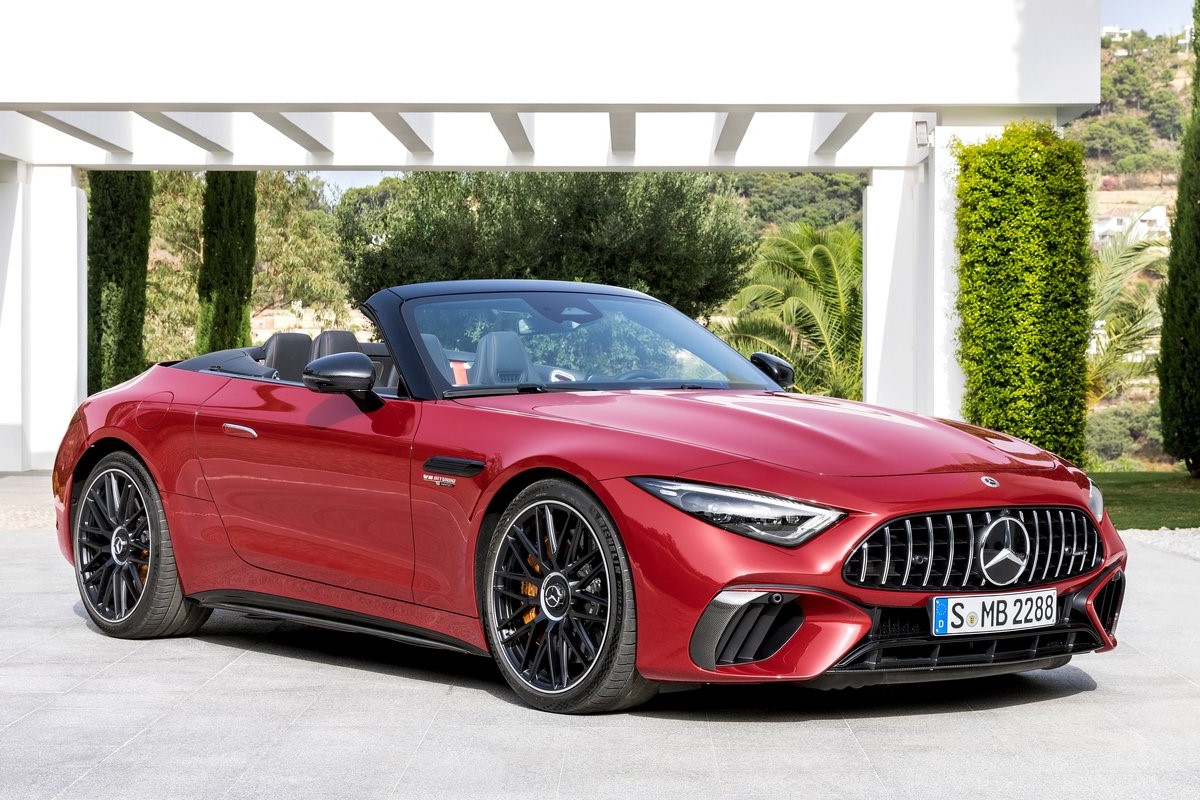 2022 Mercedes AMG SL Features And Interiors
All-new Mercedes is a convertible. Therefore, it offers a roomy cabin. This SL stands out from its rival with all the luxuries and premium features. Mercedes has provided an exclusive Airscarf feature in the SL. In this feature, gentle warm air is blown on the neck of the driver and passenger in winters. This feature is offered on both models.
SL is a four-seater car, but the rear seats are not spacious enough. It is best suited for a passenger or to rack up your cargo. The cabin is lit with ambient lighting, and the dual-tone room looks more premium. The dashboard is equipped with an 11.9-inch touchscreen infotainment display. This infotainment system is connected with the new  MBUX.
Along with this, a 12.3-inch digital gauge displays all the car and drive-related information. Though, for safety, Mercedes has offered some important features. For Example- include adaptive cruise control with semi-autonomous driving modes, automated emergency braking, lane-departure warning, lane-keeping assist, and more.
Price Reveal Of The 2022 AMG SL
The new Mercedes comes in two variants: SL55 and SL63. The standard trim SL55 is set at $138,050, while SL63 will come with a price tag of $179,150. This price difference is because of the extra power and a few additional features in the SL63. The price for this lineup is competitive enough for the Porsche 911 Series and BMW M8 Gran Coupe.
Also Read: Mercedes Benz EQS Plans To Launch New Line-Up In August
This was the price reveal of the 2022 Mercedes AMG SL. Also, for more updates on the same car and other automobiles, keep reading articles on DaxStreet.