Ferrari introduces their entry for the Daytona 24 Hours. It is the Ferrari Daytona SP3 that is throbbing in the hearts of many because of the price tag it comes with. This new Ferrari comes with a whopping $2.25 million price tag. This exclusive car will participate in the 24 Hours of Le Mans and Daytona. Ferrari will produce only 599 units of the SP3.
This ultra-limited car will be an amazing piece of collection for rich collectors. It will also deliver thriving performance and amazing beauty. After all, it is a Ferrari, and we all know how Ferrari has delivered its supercars. To know more about this incredible supercar, read the full article.
Also Read- TVR Electric SUV And Sedan Will Launch After The Sports Car's Debut
Power and Performance of the Ferrari SP3
The new SP3 is a technical miracle with a beast-like Performance. That should not be any surprise element as it comes with a whopping price tag of more than $2 million. This supercar will get a 6.5-liter V12 engine. This powerful engine can produce 859 horsepower and 514 lb-ft of torque. It is mated with a seven-speed automatic transmission. This engine is said to be Ferrari's most powerful engine ever. Thus, SP3 can rev up to 9,500 rpm. SP3 has a rear-wheel drive setup. It can reach up to the top speed of 211 mph. Although, with a fast speed, it also accelerates quickly. The new SP3 takes just 2.85 seconds to thrash from a stationary position to sixty-two mph.
This engine is also very loud if we keep all the figures aside. It screams out loudly to cheer out its power. Therefore, this Ferrari is a perfect contender for the 24 hours of Le Mans.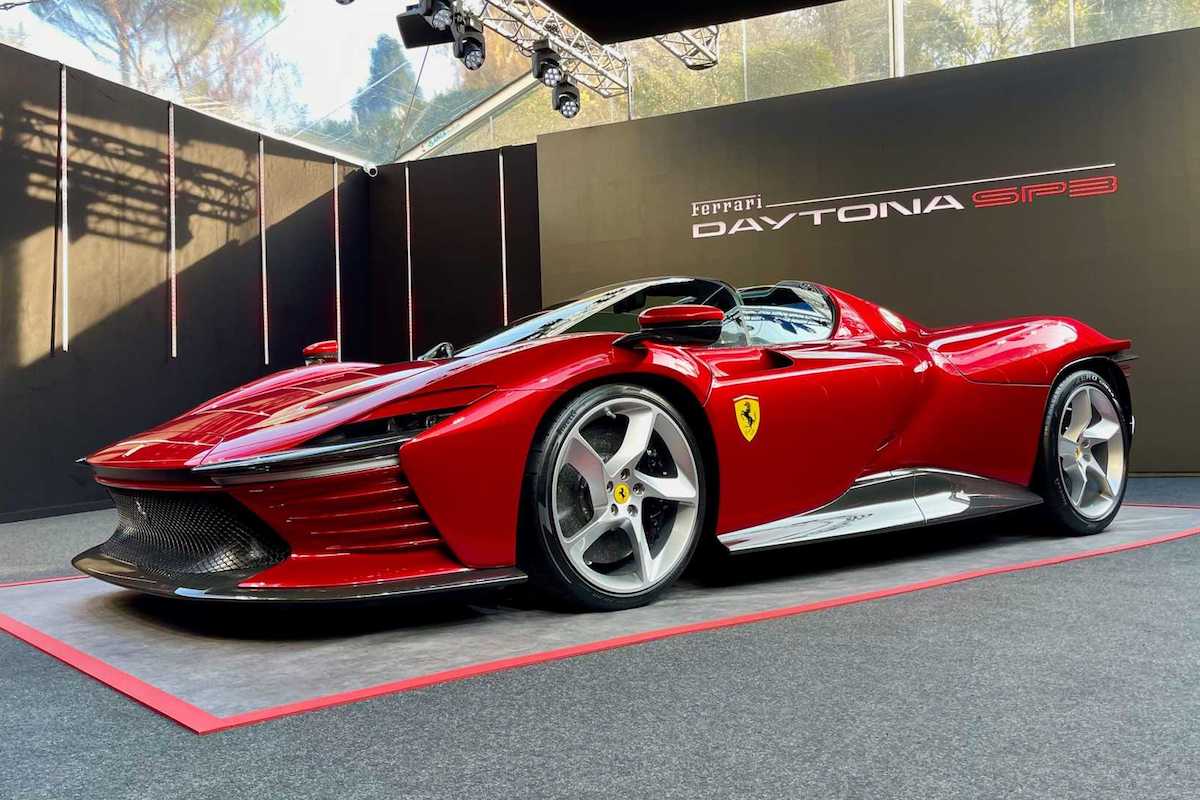 Ferrari SP3's Aerodynamics
The overall body design of the new SP3 is very dynamic. SP3 is nothing less than a futuristic and beautiful car. This design is inspired by the vintage aesthetics of the 60s with modern touches and aerodynamics. The windshield is wrapped on the three sides with side mirrors on the fenders. It features a flow-like body structure which indicates how this supercar will cut through the air. SP3 is made out of carbon fiber which enhances the performance of aerodynamics. The curvy body of the SP3 displays the sheer beauty of this new sports car. Its impractical design seems so realistic after the launch that it seems like a car from a video game. Along with the amazing looks and aerodynamics, this car is all set to make a special debut.
Also Read: BMW M Hybrid V8 LMDh: The New Le Mans Racecar
This new Ferrari Daytona SP3 showcases the historical era of the Italian automaker with a modern and futuristic touch. The engine provided in SP3 will be the best engine of Ferrari ever. It is a perfect piece of technology. The new Ferrari will be an expensive vehicle, but we believe it will be worth every penny. For more information related to the automobile industry, keep reading articles on DaxStreet.