Cadillac never disappoints us with its new launches. Innovation, Power, and Luxury are the three by which we can describe this American automotive giant. Cadillac recently launched its first electric vehicle Lyriq. Another electric car will roll into the market by next year. Also, Cadillac was spotted testing a new electric SUV. So, it is very clear that this American automaker is preparing to fix its position in the electric segment. Although, along with the electric vehicles, Cadillac is preparing to launch a new track car. 2023 Cadillac CT4-V Blackwing is the new entry of the company.
CT4-V Blackwing is the limited edition track car inspired by the Cadillac's success in the IMSA sports car. Cadillac decided to launch three track edition cars which will get 99 units each. These three-track edition cars will be rare and in the collectibles of many car enthusiasts. Read more about the CT4-V Blackwing in this article.
Also Read: Everything You Need To Know About 2023 Cadillac Lyriq!
Cadillac CT4-V Blackwing: Power And Performance
The new CT4-V Blackwing rides on a twin-turbo 3.6-liter V-6 engine. This twin-turbo engine can produce 472 horsepower, and the total torque output is 445 pound-feet. The new Cadillac will get a standard six-speed manual transmission with an optional ten-speed automatic gearbox. This Caddy gets great handling because of stable steering. Blackwing will get adaptive dampers, powerful brakes, and an electronic limited-slip differential. CT4-V Blackwing with a manual gearbox accelerates from zero to sixty mph in 4 seconds. In the mileage test, Blackwing performed pretty well. The fuel efficiency stands at 16 miles per gallon on city roads and 24 miles per gallon on highways.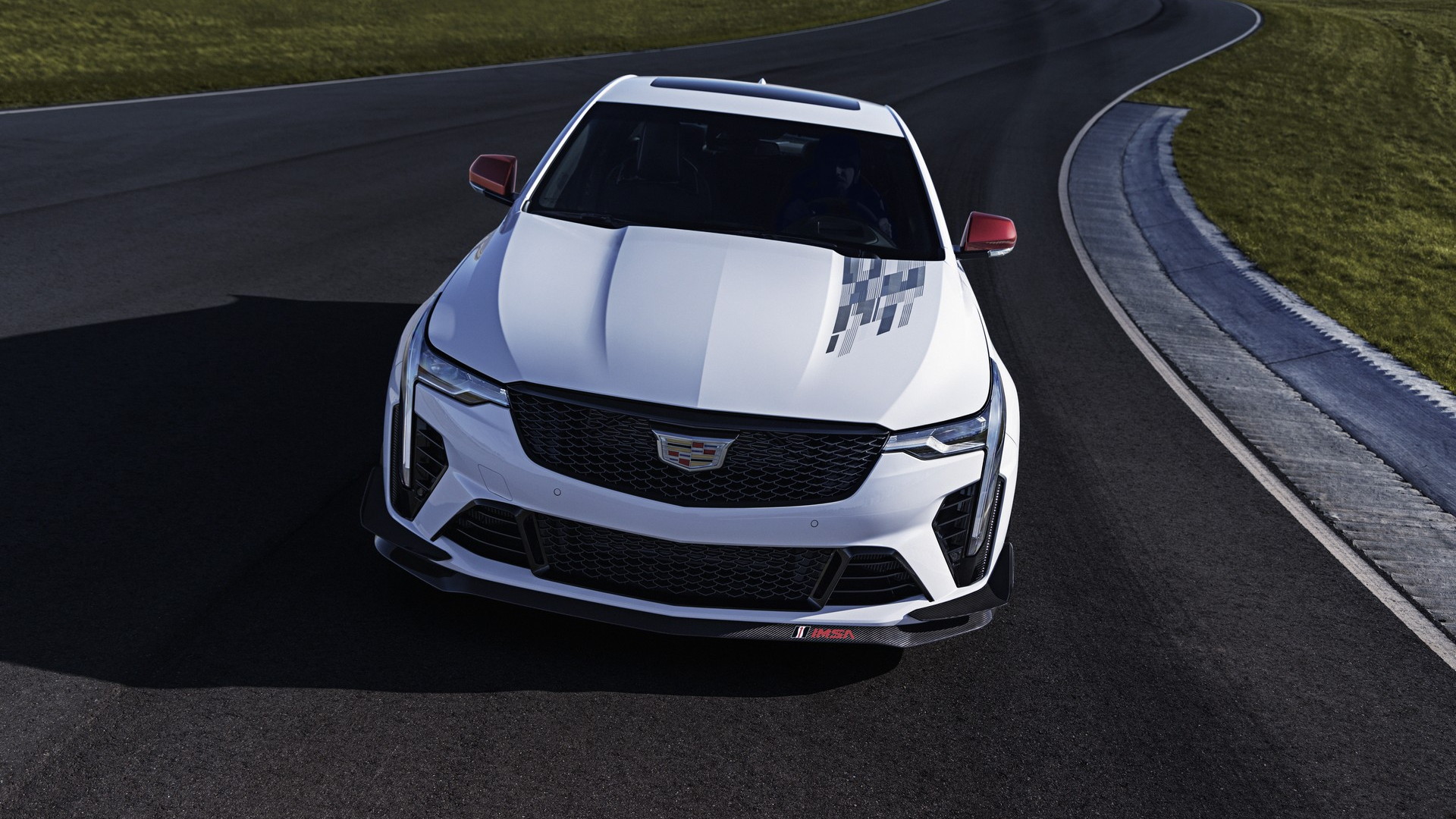 Interiors, Features, and Comfort of the CT4-V Blackwing
It is a Cadillac, and you can't expect a simple cabin in the new car. CT4-V Blackwing gets all-black interiors with loads of features. Cadillac's signature steering wheel looks bulky with all the controls on its hands. Blackwing gets carbon-fiber trim, comfortable and supportive front seats, and microsuede accents. Other than these design enhancements, CT4-V Blackwing's interiors are the same as the other two track edition cars.
Moreover, Cadillac has given a spacious room. The front seats are 18-way power adjustable seats. These seats also get heated cushions. It provides lumbar massage, and the seats are well ventilated.
The dashboard is mounted with an 8.0-inch touchscreen infotainment system. This system can connect wirelessly with the help of Android Auto or Apple CarPlay. Additionally, it gets AKG 14-speaker stereo, wireless mobile charging, and a 12-inch digital instrumental cluster. For safety, Cadillac has provided loads of driver assistance features. It comes with lane-departure warning, lane-keeping assist, blind-spot monitoring, automated emergency braking, and more.
Also Read: Cadillac Spotted Testing Its 2025 EV
Cadillac CT4-V Blackwing is a powerful track-edition car. Also, it comes in multiple performance and styling packages. Therefore. You can upgrade your car with the best package suitable for you. This track car comes with a starting price of $61,890. This was all about the upcoming 2023 Cadillac CT4-V Blackwing. For more updates and related articles, keep visiting DaxStreet.