The South Korean automaker Hyundai has released a new generation of one of their highest-selling SUVs, the Santa Fe. Do you know Santa Fe was the first SUV of Hyundai? The production of Santa Fe started in 2000 and entered the global market in 2001. Recently, Hyundai released the fifth generation of Santa Fe. This model brings many new upgrades such as cosmetic changes, new features, hybrid variants, and increased prices.
Santa Fe was the entry of Hyundai in the SUV segment. It restructured the market for Hyundai in America. Recently, the longer wheelbase Santa Fe was replaced by Palisade. The first generation of this SUV was launched in 2001 and carried on till 2006. Subsequently, the second generation was out in 2007 and remained in production till 2012. Further on, from 2012 to 2017, Hyundai released the third generation Santa Fe. In 2018, the fourth generation was launched, which will be replaced by the latest Santa Fe.
Also, Read 2023 Hyundai Palisade: Everything You Need To Know About
Santa FE Features And More
Hyundai has never disappointed its customer with its interiors. It has provided one of the best build quality and attractive cabin. The South Korean automakers have provided a room full of features and modern design. Santa Fe features a premium interior with ample space for cargo. The interiors of Santa Fe are somewhat similar to the Palisade. It gets a standard 8.0-inch touchscreen infotainment system.
Additionally, you can opt for a 10.3-inch touchscreen display. This infotainment system comes with a user-friendly interface and an easy-to-use experience. Connectivity options include Apple CarPlay and Android Auto. A 12-speaker system surrounds Santa Fe's cabin. Moreover, it receives safety features like lane-departure warning, adaptive cruise control, automated emergency braking, blind-spot monitoring, and lane-keeping assist. Hyundai Santa Fe also has heated exterior mirrors, passive keyless entry, and spacious rear and front rows.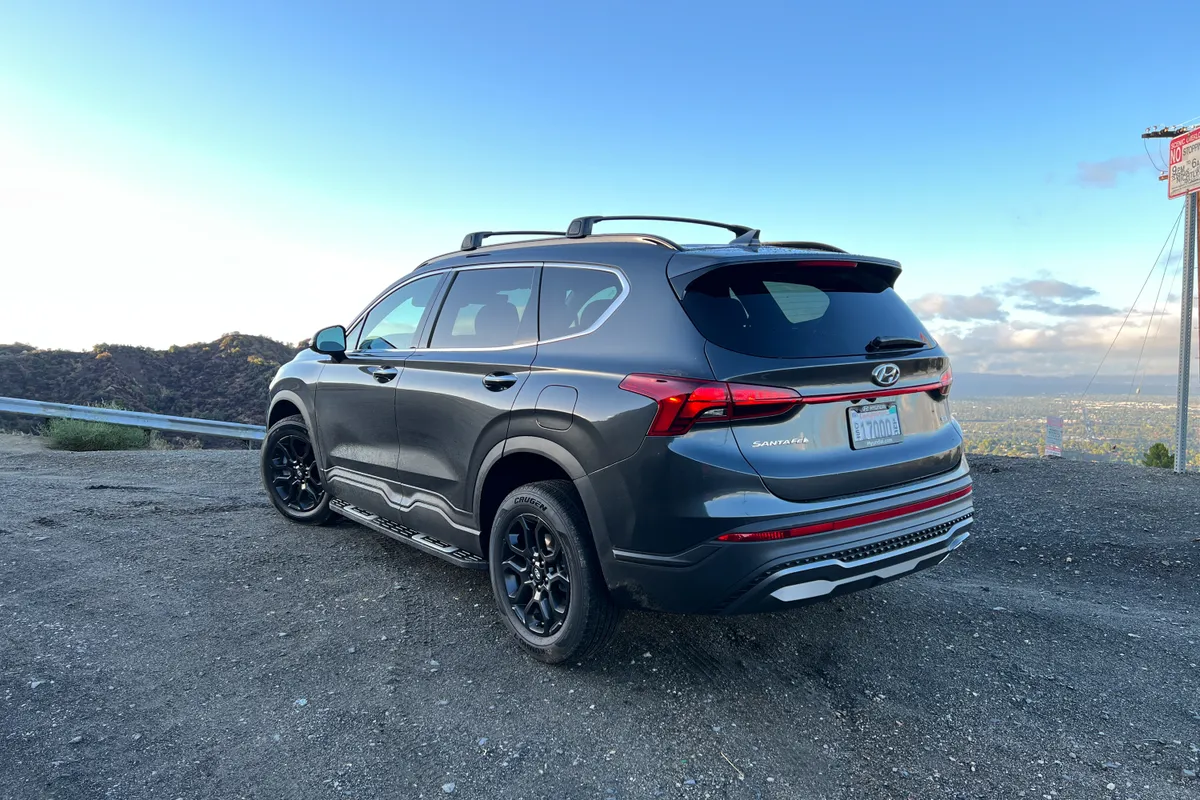 Specifications of 2022 Hyundai Santa FE
The South Korean car gets ICE, hybrid, and plug-in hybrid versions. Although, it doesn't offer much range in the electric version of the hybrid. The base variant gets a 2.5-liter four-cylinder engine. This engine produces 191 horsepower. A 2.5-liter mill engine comes as optional. It generates 277 horsepower. These two internal combustion engines are paired with eight-speed automatic transmission.
On the other hand, the Hybrid version of Santa FE is powered by a turbocharged 1.6-liter four-cylinder engine combined with two electric motors. The combination of both produces 226 horsepower. The top model accelerates from zero to sixty mph in 6.0 seconds. If we talk about the range of the hybrid electric motor, then we must mention that it is not-so-good and provides just 31 miles on a single charge.
Also Read: Hyundai Could Deliver Flying Cars By 2028
Pricing Of Santa FE And Is It Worth Buying?
If you plan to purchase an SUV, you must consider Santa Fe as one of your options. In the segment of SUV, Santa Fe delivers great performance at a pocket-friendly budget. The base model, SE, is available for $28,495. This model comes with all the standard equipment. The next variant is the SEL which arrives at $30,745. This variant gets a lot more than the standard fittings. At the same time, the top model gets a price tag of $47,305. If you are looking for a hybrid version, you must spend at least $35,595. This vehicle is a good option if you are not a fan of three rows of seats and are searching for a reliable SUV. In conclusion, you can opt for the 2022 Hyundai Santa Fe if you are looking for a feature-loaded car with an attractive design.