Gearheads, you all must have heard the brand name Dodge, which is famous in the automobile world. Dodge vehicles are historically known for their great performance, workhorse trucks, and cool sports cars. The main reason for the maximum purchase from this brand is overall exterior styling, being "fun to drive," and overall power and acceleration.
In 1900, the company was Founded as the Dodge Brothers Company machine shop by brothers Horace Elgin Dodge and John Francis Dodge. It is an American automobile brand based in Auburn Hills, Michigan. Dodge was a part supplier and assemblies to Detroit. After the brothers' death, their family sold the company to Dillon, Read & Co. Soon after that, the company was sold to Chrysler in 1928. Dodge's main vehicles were trucks and full-sized passenger cars through the 1970s, but they built compact cars such as the 1963–76 Dart and midsize cars such as the "B-Body" Coronet and Charger from 1965–78.
2022 Dodge Durango
Durango is not a minivan; It features a practical rear-drive platform and optional V8 power. It is a 6-seater car with seven models, SXT, GT, GT Plus, R/T, R/T Plus, Citadel, and SRT 392. 360 hp V-8 significantly boosts towing capacity (up to 8700 pounds), while the 295-hp V-6 engine and eight-speed automatic transmission are more efficient pairing. In this car, designers prioritized ergonomics, material quality, and overall comfort, but other rivals offer more second and third-row passenger space. Its steering wheel features a thick, leather-wrapped rim and handsome metal-look trim. On the R/T test vehicle, paddle shifters mounted behind the wheel operated with a satisfying click. You were able to fit 30 carry-on suitcases inside the Durango's cabin. Its starting MSRP is $39,355 with a basic warranty of 3 years / 36k miles.
2022 Dodge Charger
The Dodge charger is technically a muscle car, but it is tough to compare it with two-door competitors such as the Chevrolet Camaro because the charger is much longer and easier to live with. This car has way more space than the Kia Stinger or the two-door Ford Mustang. The 2022 Dodge Charger is available in seven models  SXT, GT, R/T, Scat Pack, Scat Pack Widebody, SRT Hellcat Widebody, and SRT Hellcat Redeye Widebody. The entry-level charger is powered by a 3.6 liter V6 that delivers 292 horsepower; it is good for daily driver duty guys. But those who are looking for great performance will want a V8-powered model. Its performance starts with the R/T, which features a 370-hp, 5.7-liter V8. the value of this car starts from an MSRP of $34,095 with three years / 36k miles basic warranty.
Dodge Charger Daytona
It is arguably one of the most recognizable Dodge muscle cars in the auto maker's history. The car had a super long front end and huge rear spoiler that made it stand out, and It also had power and performance to back up the bold look.
2022 Dodge Challenger
The Dodge Challenger offers an engine lineup with beefy V8s that exceed 800 horsepower. This car provides a spacious cabin and much more trunk space than sports cars like the Subaru BRZ. The 2022 Dodge Challenger is available in 11 different variants SXT, GT, R/T, R/T Scat Pack, R/T Scat Pack Widebody, SRT Hellcat, and SRT Jailbreak, SRT Hellcat Redeye Widebody, SRT Hellcat Widebody, SRT Hellcat Redeye, SRT Super Stock, the cars starting MSRP is $32,025.
2014 Dodge Dart
Dodge dart is one of the finest cars from the Dodge company. It is a 4-seater sedan with front-wheel drive.
The 2014 Dodge Dart comes with a 160-horsepower, 2.0-liter four-cylinder engine paired with a six-speed manual transmission. There are two optional engines for this car, a 160-hp, turbocharged 1.4-liter four-cylinder and a 184-hp, 2.4-liter four-cylinder. The 1.4-liter engine is available with a six-speed dual-clutch automatic transmission, and the 2.0- and 2.4-liter engines are available with a conventional six-speed automatic. The dart has many notable features, such as a 7-inch screen in the instrument panel, an 8.4-inch touch-screen, a heated steering wheel, and several ways to personalize it. It has five trims, SE, SXT, AERO, GT, and Limited. The starting MSRP for the Dodge dart is $16,495.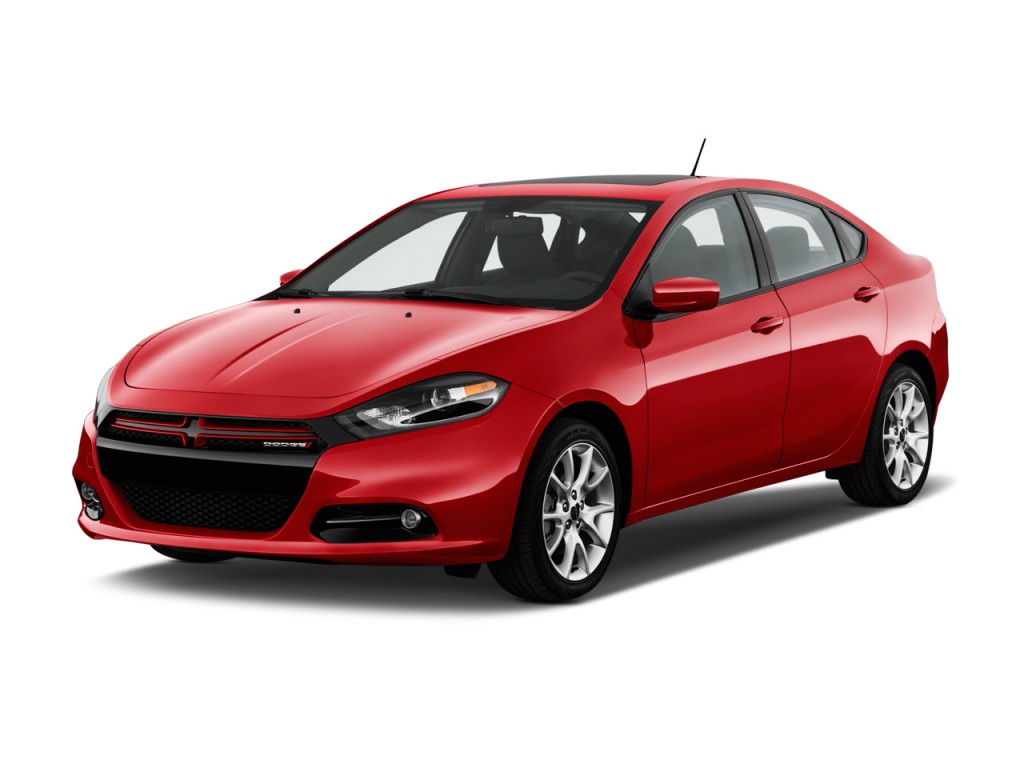 2008 Dodge Avenger
2008 Dodge Avenger is spacious and fuel efficient. The car with all new features like a front-wheel-drive midsize sedan, Available with four-cylinder or V6 power. The car was resurrected as the Avenger after eight years of being out of production; its production ended in 2014. The Dodge Avenger has three versions, base SE model, midgrade SXT, and sporty R/T model. Avenger starts at an MSRP of $18,895.