As the world is moving forward so fastly, there is a growing need for speed in our lives, and rocket cars have that covered for you. With the power of a rocket, these cars travel on land and can get you anywhere in no time. These cars operate with fuel and oxidizer on board, so there is no need for an air inlet and compressor, which increase the car's weight.
Rocket cars take some seconds, but even then, their acceleration rate is very high; this is because of their high thrust-to-weight ratio. Thus, high speed can be easily achieved.
How do these rocket-powered cars work?
The working of these cars is rather simple than you could've imagined. A rocket engine is installed in a normal wheeled car, pushing it forward but reducing the driving ability and pulling down braking power. One requirement of these cars is a large area of flat land. The limitation of these is that numerous accidents were reported.
Opel-Rak 1: First Rocket Car
Max Valier, a rocket pioneer and a science writer, collaborated with Fritz van Opel who was a car designer. Their teamwork made it possible for the first rocket car to be built.
Opel-Rak 1 successfully achieved a speed of 75 kilometers per hour (47 miles per hour) and was driven by Kurt C. Volkhart on 15 March 1928. After this came Opel-Rak 2, which achieved a speed of 230 kilometers per hour(143 miles per hour) and was driven by Fritz van Opel on 23 May 1928. Then Opel-Rak 3, which achieved a speed of 256 kilometers per hour (157 miles per hour), came into existence.
This caught many people's attention, resulting in people creating their cars to break the record set by Rak 3. Kitty O'Neil was one of such people, and she achieved the quickest quarter mile in 1997 by using her hydrogen peroxide-powered rocket car.
Bloodhound LSR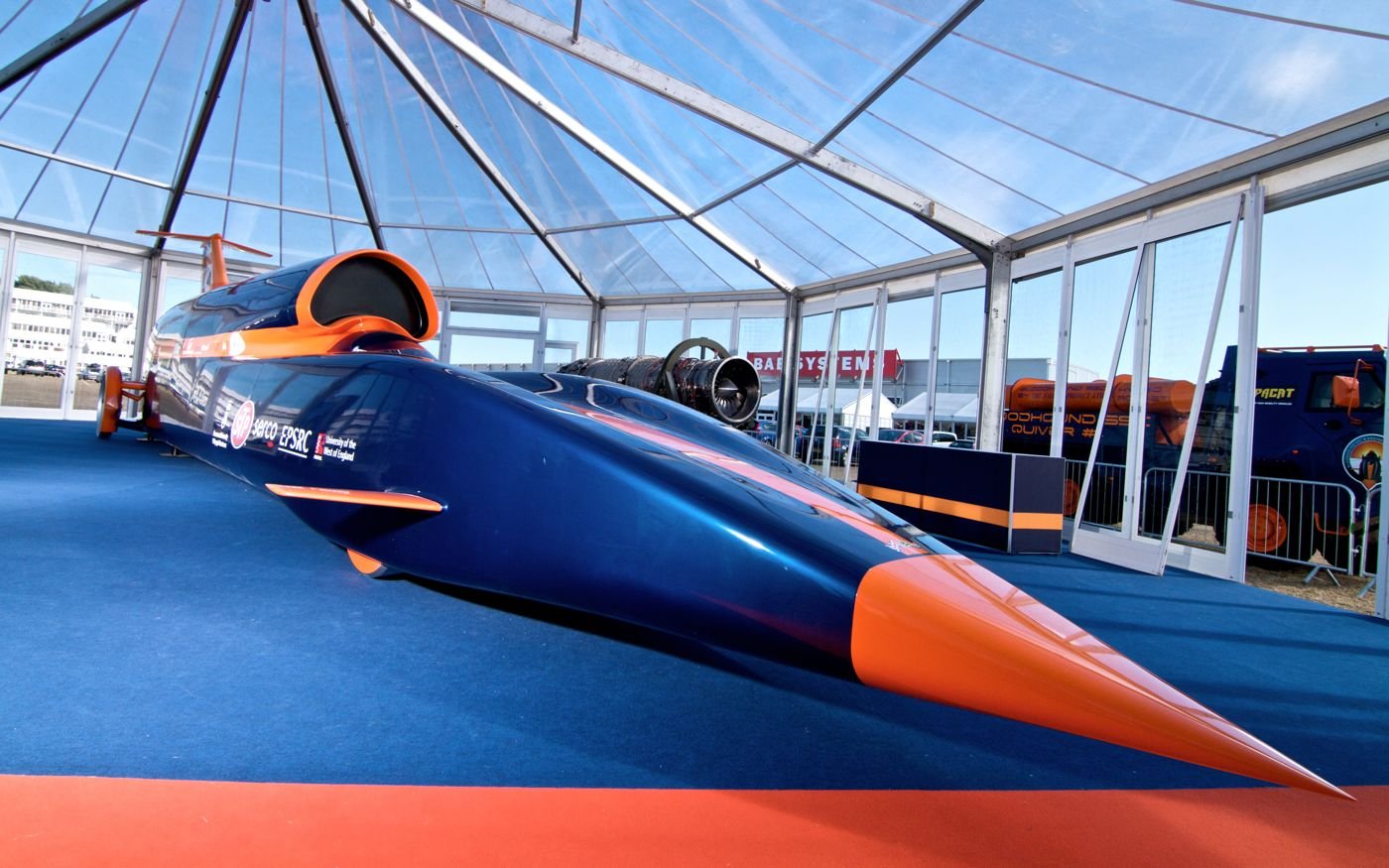 Bloodhound LSR, formerly known as Bloodhound SSC, is a rocket-powered car aiming to achieve 1000 miles per hour. But first, it will be aiming for 850 miles per hour, according to Edmondson.
This comes with a jet engine that can break the speed of sound. The car was driven by Andy Green in October 2018 as a trial and took place at Hakskeen Park, South Africa. It achieved a final top speed of 628 miles per hour.
To beat the current land speed record, it needs to go beyond 763 miles per hour, which was also set by Andy Green in Thrust SSC back in 1997.
The Blue Flame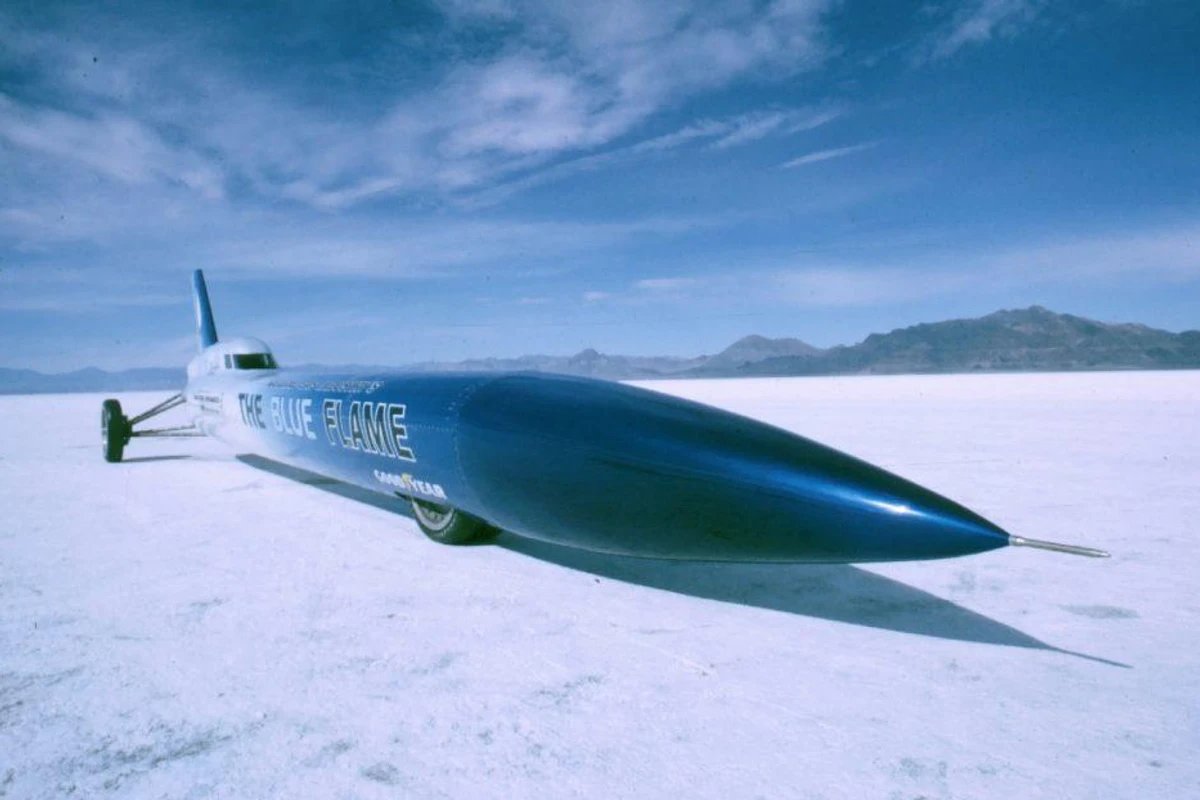 The blue flame was the high-speed, rocket-powered vehicle that set the world speed record when it reached an average speed of 1.014,656 kilometers per hour on the Bonneville Salt Flats on 28 October 1970. It was driven by Gary Gabelich and is considered the "fastest rocket-propelled surface craft" of all time.
The car's specification is 37 feet 4.6 in long, 8 feet 1.5 in high to the top of the tail fin, 8 feet 1.5 in wide, 7,77 m wheelbase, and 2,945 KG in weight. It is now situated in Auto and Technik Museum Sinsheim.
The name "Blue Flame" is appropriate for the car because the fuel, a mixture of natural gas and hydrogen peroxide, made it so that it rides on a blue jet flame.
Budweiser Rocket
Budweiser Rocket resembles Blue Flame (1970) in appearance, is a three-wheeled car, and was created by Hal Needham to take away the world land-speed record from Gary Gabelich.
This rocket-powered car has been considered the first car ever to break the sound of the speed but later became a controversy as a few recent videos say something else.
Budweiser Rocket is a replacement for SMI Motivator, which was badly damaged during the trial. A hybrid liquid and solid fuel power the engine. Later, a modified version of this rocket car was made, which is now in Talladega Superspeedway Museum.
The car was designed by William Frederick and driven by Stan Barrett. The car was donated to Smithsonian Institution and is no longer on display.