Jeep Wrangler, the legendary SUV, is back with its 2024 edition to make off-road lovers even more excited. The sleek and innovative design of Jeep, coupled with advanced features makes it far better than any potential competitors.
When we talk about the 2024 Jeep Wrangler – It wouldn't be incorrect saying that they've exceeded their own expectations by providing an unparalleled driving experience with unmatched capabilities on rough terrains as well as improved comfort levels for those long drives across North America.
Broad Category of Powertrain Options
The 2024 Jeep Wrangler contains the most extensive range of powertrain options available within the premium off-road category, catering to an array of customer preferences. Customers searching for a fuel-efficient propulsion system should consider the 49 MPGe 4xe plug-in hybrid, while those seeking extra muscle might prefer the V8-powered Rubicon 392.
As per their lifestyles and requirements, customers have various options when they need to select a particular kind of powertrain system.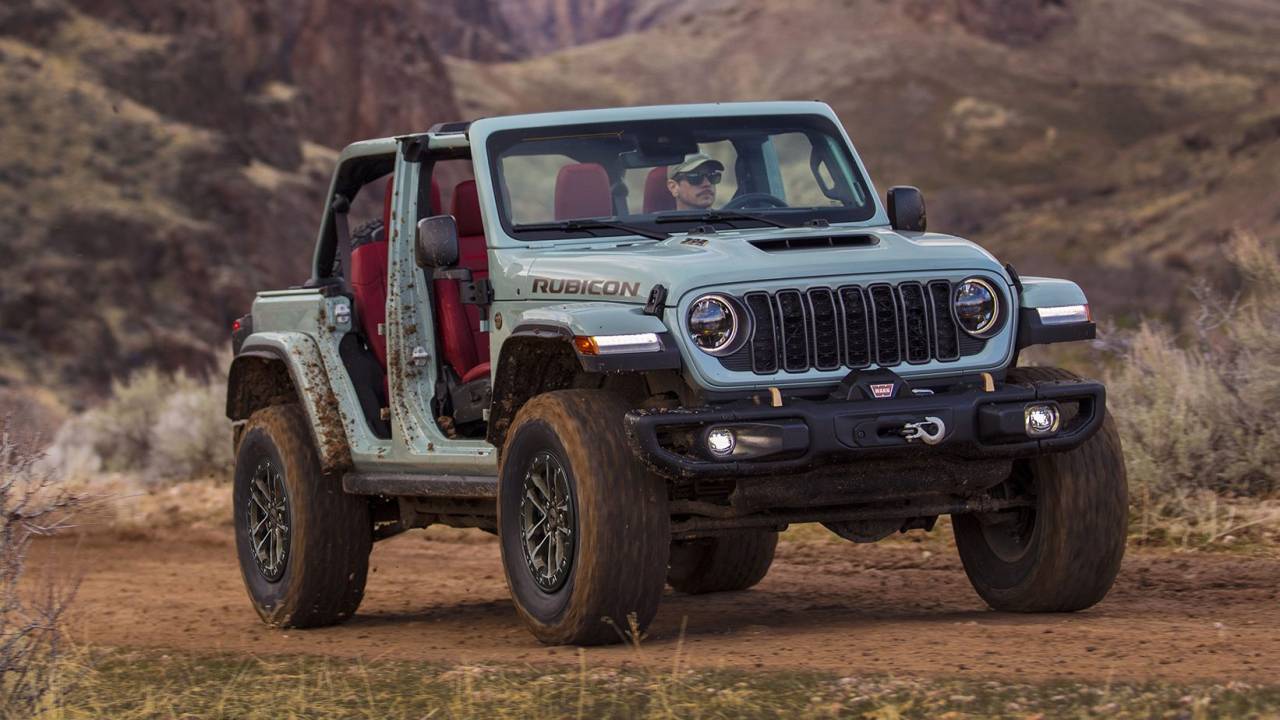 Jeep is overall committed to building sustainable cars that make a lower impact on our planet Earth; hence, the lineup Wrangler models equipped with 4xe Plug-in hybrid contribute massively towards Jeep's goal called Zero Emission Freedom by being more eco-friendly.
The brand has announced ambitious plans to electrify its entire North American range by 2025, which shows how much they are concerned about sustainability.
Unparalleled Off-Road Capability
In the realm of off-road capabilities, there are very few vehicles that match up to the 2024 Jeep Wrangler. The Wrangler comes with a series of innovative 4×4 drive systems, such as Command-Trac and Rock-Trac transfer cases which put commanding performance at your fingertips.
Its broad range of gear ratios gives it unmatched crawl rates up to 100:1, so surmounting harsh terrains becomes effortless.
The all-conquering nature of the car is owing to its exceptional attributes, including the water-wading capability of about 34 inches together with legendary approach clearance angles, departure angles, and break-over angle combined with a high ground clearance height which measures about 12.9 inches, improving its ability to conquer any obstacle thrown in its way.
Beyond these features lies the Rubicon models; stronger versions that receive extra upgrades giving them unrivaled enhancements for off-roading expeditions; highlights include a full-float Dana rear axle for better grip and stability, electronic front sway-bar disconnects alongside Tru-Lok front and rear axle locks offering optimal capability across tough terrain.
Enhanced Interior Comfort and Safety
Step into the 2024 Jeep Wrangler, and you'll be greeted by an interior that's sleek, sophisticated, and worth every penny. Modern amenities combine with contemporary technology to create a space that accommodates everything from road trips to work commutes. You can ride in complete comfort with 12-way adjustable power front seats.
Stay connected to your world anywhere on the go with the new Uconnect 5 touchscreen radio featuring intuitive software for connectivity and entertainment, all available on a spacious 12.3-inch display.
The Wrangler, indeed, puts safety first: standard equipment, including side curtain airbags, forward collision warning system, and advanced cruise control, are all available to give peace of mind when driving on rough terrain or open highway.
The rugged body-on-frame design is bolstered by sturdy skid plates beneath it along steel rock rails for extra durability. The result? A car built to take on anything you can throw its way!
Iconic Design and Open-Air Freedom
The 2024 Jeep Wrangler retains its legendary design features, such as the seven-slot grille and hinged doors that you can fully remove, letting drivers feel the wind hit their skin. The open-air experience is one of this car's biggest selling points.
To further maximize this freedom factor, the Wrangler comes with a range of open-air options, including Sky One-touch powertop- an exclusive feature unique to this model to let occupants immerse themselves in nature while off-roading.
Release Date and Pricing Details
The 2024 Jeep Wrangler is set to arrive in U.S. Jeep dealerships later in 2023. The pricing details for the different models of the Wrangler have not been specifically mentioned in the provided information.
However, customers can expect a range of prices depending on the trim level and optional features they choose. To get accurate and up-to-date pricing information, it is recommended to contact local Jeep dealerships or visit the official Jeep website closer to the release date.
Conclusion
The 2024 Jeep Wrangler builds upon its legendary heritage by delivering exceptional off-road capability, advanced technology, and enhanced safety features. With its unmatched 4×4 systems, diverse powertrain options, and iconic design, the Wrangler continues to be the ultimate adventure companion.
Moreover, its commitment to sustainability through electrification showcases Jeep's dedication to a greener future. The 2024 Jeep Wrangler embodies the spirit of freedom and adventure, providing an unrivaled off-road experience for enthusiasts around the world.