Positioning its N brand as a formidable competitor against well-established performance divisions, Hyundai demonstrates its dedication with the 2024 Hyundai Elantra N, an appealing choice for enthusiasts seeking an enjoyable driving experience.
This sedan seamlessly merges power, handling, style, and technology, presenting a compelling package that makes it a highly anticipated contender among the forthcoming vehicles in 2024.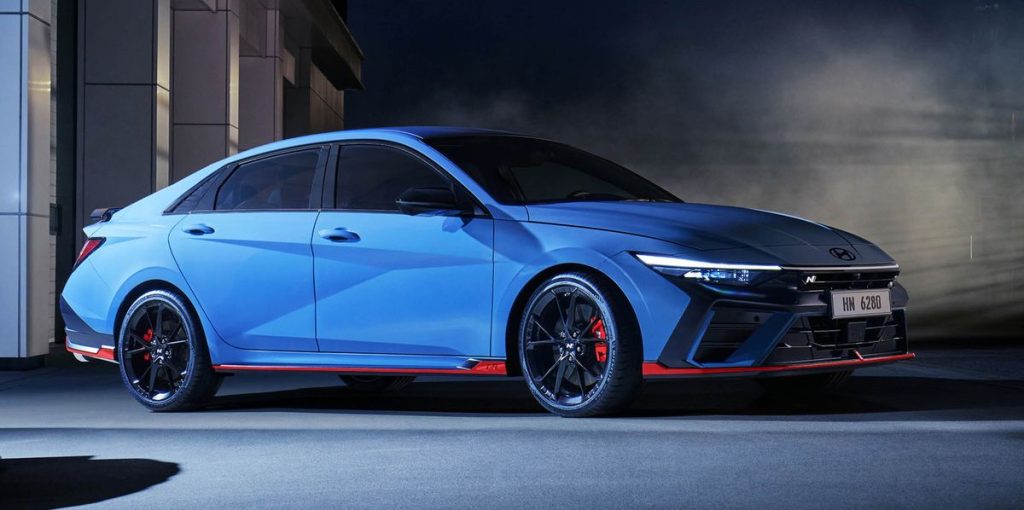 Receiving a significant facelift for the 2024 model year, the compact sports vehicle, Hyundai Elantra N, presents a revised front look that effortlessly combines elegance and beauty, all the while retaining its sporty and distinctive N personality.
Offering fans a combination of flair and performance, the Elantra N's striking appearance enhances the overall driving experience, making it an enjoyable choice for enthusiasts.
Prepare yourself for an extraordinary journey through time as we delve into the captivating history of the Elantra and immerse ourselves in the captivating narratives woven by each iteration.
Get ready to embark on an enthralling ride that seamlessly blends style, performance, and innovation, setting the stage for an unparalleled driving experience.
Enhancing its allure, the 2024 Elantra N introduces new 19-inch wheel options and a sleek black logo on the hood. Inside the vehicle, the sporty and luxurious ambiance awaits, featuring bucket seats, a flat-bottomed steering wheel, stylish metal pedals, and fashionable red accents.
LEGACY
Introduced in 1990, the Hyundai Elantra quickly established itself as a compact car hailing from a reputable South Korean manufacturer, boasting an intriguing backstory.
In 2001, this automotive marvel attained its unified global identification as the "Elantra," with the exception of South Korea and Singapore. Previously recognized as the Lantra in certain European countries and Australia, the Elantra has left an indelible mark on the automotive industry.
Over the course of its illustrious existence, the Elantra has captivated discerning drivers with its seven enchanting variants. Each iteration boasts a distinctive design, an abundance of luxurious amenities, and a performance level crafted to astonish.
INTERIOR
Equipped with a range of state-of-the-art features, the Elantra N's entertainment system showcases cutting-edge amenities, including a 10.25-inch touchscreen, wireless Apple CarPlay and Android Auto, navigation, and a premium Bose sound system.
Additionally, the Elantra N offers a host of modern safety and driver-aid features, such as rear cross-traffic alert, lane-keeping assistance, blind-spot monitoring, and lane-departure warning, ensuring a safe and secure driving experience.
PERFORMANCE
Distinguishing itself as one of the most potent vehicles in its class, the Elantra N is propelled by a 2.0-liter turbocharged four-cylinder engine that generates an impressive 276 horsepower and 289 lb-ft of torque.
Drivers have the option to select between a six-speed manual transmission and a seven-speed dual-clutch automatic gearbox, both equipped with paddle shifters and rev-matching functionality.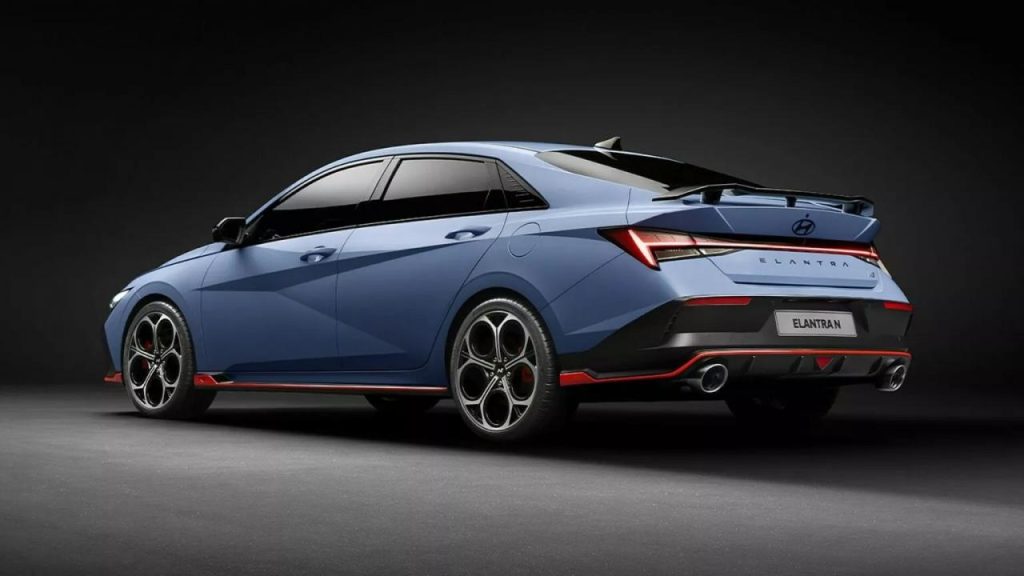 The Elantra N incorporates performance-enhancing innovations, such as the N Grin Control System, allowing drivers to customize the driving modes to their liking.
In addition, notable enhancements include an electronic limited-slip differential, adaptive suspension, variable exhaust system, and launch control, all working in harmony to elevate the Elantra N's performance capabilities.
LAUNCH AND PRICE
Following its debut in China during the second half of 2023, the 2024 Hyundai Elantra N is expected to become available for purchase in the US later this year. While the exact starting price for the 2024 Elantra N remains undisclosed, it is anticipated to be slightly higher than the outgoing model's starting price of $34,015.
The Elantra N will encounter competition from various vehicles in its segment. The Honda Civic Si, priced $28,500 lower than the Elantra N, offers 200 horsepower less.
In contrast, the Volkswagen Jetta GLI matches the Elantra N in horsepower (241 hp) but comes at a higher cost of $36,000. Another contender is the Volkswagen Golf GTI, a hatchback that provides similar performance and utility, making it a viable alternative to the Elantra N, despite the difference in body style.