The 2024 Lexus GX has undergone a stunning redesign, ensuring it stands out among other luxury mid-size SUVs. Its upgraded features and striking design aim to captivate adventure enthusiasts who seek both power and style.
In this article, we will delve into important information about the 2024 Lexus GX. This includes its price point, interior features that bring modernity to new heights, captivating photos showcasing its beauty, anticipated release date, detailed specifications for automobile enthusiasts to indulge in, as well as notable features that set this model apart from the competition.
Distinctive Exterior Design
In terms of looks, the 2024 Lexus GX throws it back to the old-school off-roaders by sporting a tough and chiseled exterior design. Its boxy shape gives off an unmistakable vibe of resilience that's further highlighted by its daring front fascia adorned with a signature Spindle Grille, and triple-beam LED headlights.
The muscular hood, broad fender flares, and raised edges all contribute to its commanding presence on the road. With a fusion of classic charm and contemporary aesthetics, the GX effortlessly stands out from its rivals while boasting incredible dependability that sets it apart in its class.
Redesigned Interior And Technology
Behold the interior of the 2024 Lexus GX with its astounding enhancements compared to its predecessor. Brace yourself for a refreshing layout that draws inspiration from other members of the Toyota/Lexus family. Feast your eyes on a dashboard boasting an angled design, but what truly steals attention is the impressive 14-inch touchscreen positioned front and center – injecting a touch of modernity and elegance into this luxurious vehicle.
2024 Lexus GX Revealed Credit – CarsalesTo add to its magnificence, the steering wheel itself is borrowed from the larger LX model. Fear not, practicality enthusiasts; physical buttons still occupy their rightful place in controlling air-conditioning and multimedia features.
Need room for your companions? Worry not! With its ability to comfortably seat up to seven passengers, you can count on ample space. As expected, convenience reigns supreme, with rear seats offering a nifty 60:40 split configuration. Connectivity junkies will be delighted to know that wireless Android Auto and Apple CarPlay capabilities are readily available, ensuring seamless integration with your digital universe
Powerful Performance
Leaving behind the V8 engine, the new 2024 Lexus GX is equipped with the all-new 3.4-liter twin-turbocharged V6 that packs a punch. With an impressive output of 349 horsepower and an astonishing 479 lb-ft of torque, this beast is ready for action.
The enhanced power doesn't just stop there; towing capabilities have also been taken to new heights. The GX now boasts an exceptional towing capacity of up to 8,000 pounds, surpassing its predecessor's capabilities by a significant margin.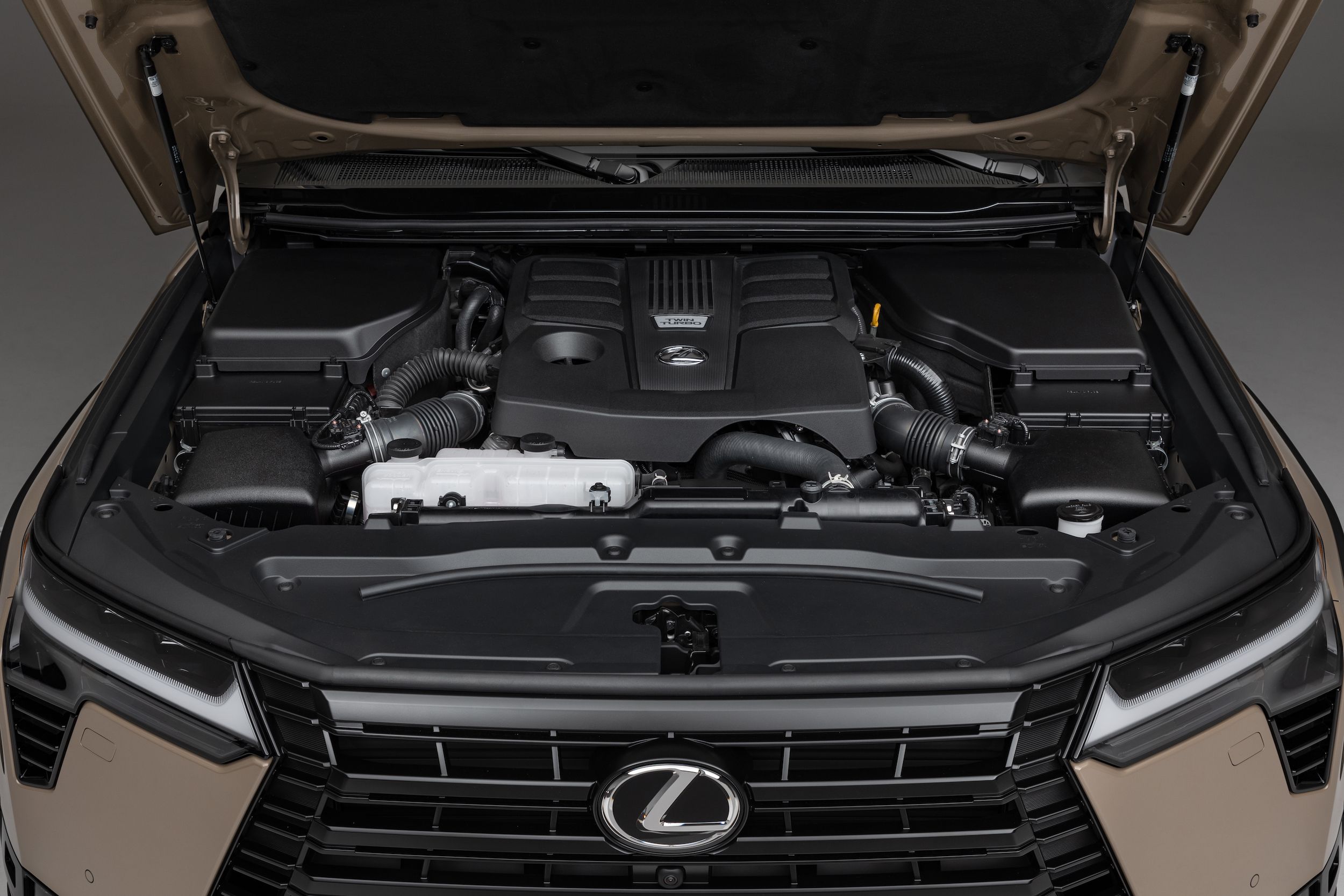 While specific fuel economy figures are yet to be released, anticipation builds as predictions suggest that this latest model will outdo its predecessors in terms of efficiency. The previous ratings of 15 MPG city and 19 MPG highway may soon become a thing of the past.
Exciting plans lie ahead for Lexus as they envision introducing a hybrid powertrain option for the GX in future models. This innovative approach would likely feature a hybridized version utilizing the potent 3.4-liter V6 at its core – combining performance with sustainable technology
Enhanced Off-Road Capabilities
Lexus has introduced an all-new Overtrail grade for the 2024 Lexus GX, catering to off-road enthusiasts. This package includes all-terrain tech, an outdoorsy appearance package, and additional off-road hardware. The GX comes equipped with a full-time 4WD, a limited-slip center differential with a locking feature, and an electronically locking rear differential.
The Overtrail grade adds features such as 33-inch all-terrain tires, an aluminum skid plate, and various off-road electronic assists like Multi-Terrain Select, Crawl Control, and Downhill Assist Control. The inclusion of the Electronic – Kinetic Dynamic Suspension System and Multi-terrain Monitor further enhances the GX's off-road capabilities.
Price and Release Date
While official prices for the 2024 Lexus GX have not been announced, it is expected to have a base MSRP starting from $60,000, making it a competitive option within its segment. The top-spec grades could reach upwards of $70,000. The GX is scheduled to be revealed to the public in early 2024, with sales expected to commence in 2026
Conclusion
The 2024 Lexus GX offers a formidable combination of luxury, power, and off-road prowess. Its distinctive exterior design, upgraded interior features, and advanced off-road capabilities make it an enticing choice for those seeking a versatile and dependable mid-size SUV. With its competitive pricing and upcoming hybrid variant, the GX is poised to make a lasting impression in the luxury SUV market.