The much-awaited 2025 Infiniti QX80 is about to be released, and the auto sector is anticipating it. Infiniti is Nissan's luxury vehicle subsidiary.
With its impressive look, abundant features, and powerful performance, this luxury SUV will enthrall auto aficionados.
In this post, we'll detail all we currently know regarding the 2025 Infiniti QX80, covering its release date, pictures, specs, top speed, pricing, interior, exterior, and outstanding features.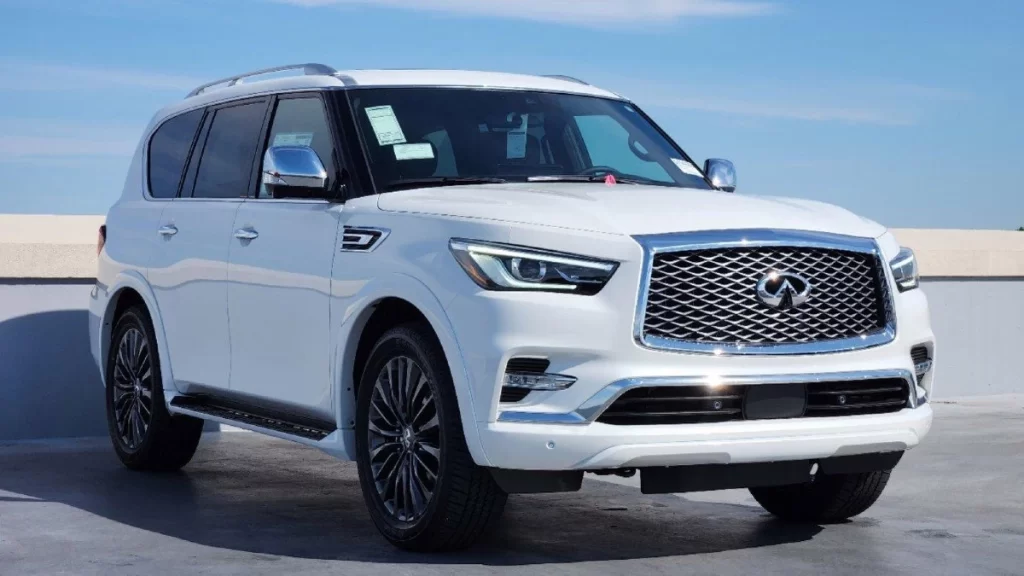 Releasing time and price of 2025 Infiniti QX80
The second half of 2025 is when the new 2025 Infiniti QX80 is expected to go on sale. Although the vehicle's official photos have yet to be made public, spy photos and concept art show an intense, dynamic look that is both graceful and robust.
You can anticipate a well-balanced fusion of elegant lines and recognizable Infiniti style characteristics that radiate confidence and sophistication.
Top Speed and Specifications of 2025 Infiniti QX80
The 2025 Infiniti QX80 is believed to have a powerful engine that offers thrilling performance. Although specifics have not been confirmed, rumors indicate it would include a V8 engine, perhaps alongside hybrid options for better fuel efficiency.
With this powerplant, the QX80 is expected to have remarkable acceleration and hauling capability. The top speed will be electronically capped at about 130 mph (209 km/h) for safety purposes.
Price of 2025 Infiniti QX80
The final cost is still up in the air due to various components, like trim levels and extra items.  Infiniti strives to balance providing a cutting-edge luxury experience with a reasonable price to entice potential customers. The price is expected to start at $70,000 to $80,000 in 2025. 
Interior and Exterior of 2025 Infiniti QX80
The luxurious and elegant cabin of the 2025 Infiniti QX80 will greet passengers as they step inside, showcasing the vehicle's meticulous attention to detail.
Genuine wood accents, exquisite leather, and other high-end materials will likely be used throughout the interior.
Up to eight people can be accommodated comfortably thanks to the roomy seating, making for a pleasant and comfortable ride.
A cutting-edge infotainment system, a full driver-assistance suite, and various connectivity options are likely to be included in the list of advanced technology features.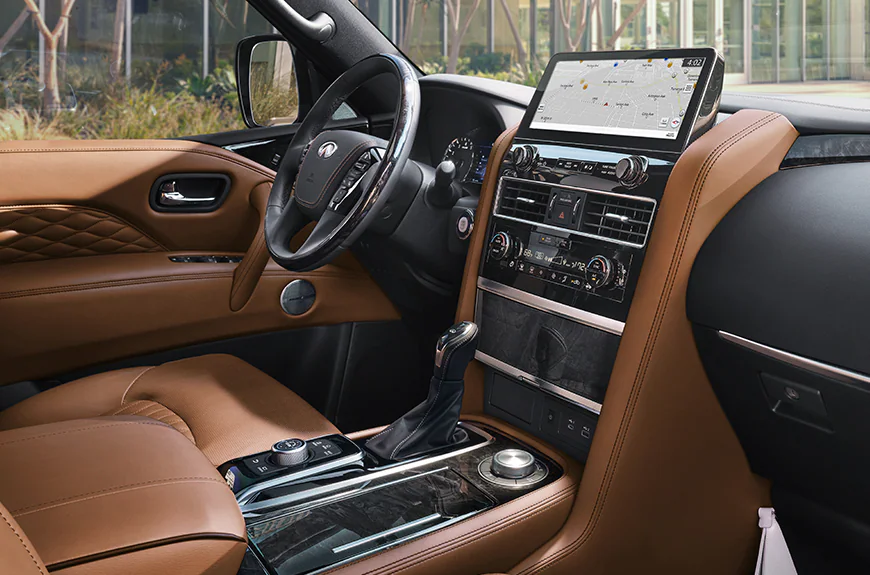 The 2025 Infiniti QX80's exterior styling is anticipated to strike the ideal balance between elegance and toughness.
Infiniti's distinctive double-arch grille will dominate the front fascia, flanked by stylish LED headlights. The body lines are predicted to be reshaped to improve aerodynamics while maintaining a powerful and imposing presence.
Attractive headlights and a pair of exhaust systems on the rear end may emphasize the vehicle's athletic posture.
2025 Infiniti QX80 features
Various modern amenities that will improve the driving experience are available in the 2025 Infiniti QX80. These may consist of the following:
The advanced driver-assistance features such as automated emergency braking, lane-keeping assistance, and adaptive cruise control.

A large panoramic sunroof that allows plenty of natural light inside gives the cabin a light and spacious atmosphere.

A top-of-the-line audio system that provides outstanding sound quality for a rich entertainment experience

Intelligent All-Wheel Drive technology provides the best traction and stability possible under all road conditions.

A collection of connectivity options includes smartphone integration, wireless recharging, and in-car Wi-Fi.
Conclusion 
Even though the 2025 Infiniti QX80's specifics haven't been made public, excitement for this opulent SUV is proliferating.
The QX80 is anticipated to have powerful performance, a beautiful design, and cutting-edge innovations that will significantly impact the automotive market.
As the 2025 Infiniti QX80's release date draws near, auto enthusiasts and fans of luxury SUVs can anticipate experiencing the majesty and opulence it is expected to provide.