The Lincoln Navigator has always been associated with elegance and luxury in the SUV market. The eagerly anticipated 2025 Lincoln Navigator is drawing more and more attention as we look to the future.
The 2025 Navigator seeks to raise the bar for luxury SUVs by fusing cutting-edge technology, powerful performance, and elegant design. We'll review all we know about the 2025 Lincoln Navigator in this post, including the model's debut date, specs, peak speed, price, interior, exterior, and outstanding features.
Releasing Time and Price of the 2025 Lincoln Navigator
Although the 2025 Lincoln Navigator's official release date has not been announced, industry insiders predict it will go on sale in the second half of 2024. Lincoln has been quite secretive about images, but spy photographs and early designs indicate the upcoming 2025 Navigator will have a sleek and contemporary look that builds on the model's illustrious past.
Top Speed and Specifications of 2025 Lincoln Navigator
The 2025 Lincoln Navigator is anticipated to deliver a strong performance to match its opulent looks. The new Navigator may sport a twin-turbocharged V6 motor, maybe alongside hybrid or electric alternatives, despite no formal announcement of its exact specifications.
With sufficient horsepower and torque, this powertrain should ensure smooth acceleration and hauling capabilities. The top speed is anticipated to be electronically controlled to improve stability and safety.
Price of 2025 Lincoln Navigator
This 2025 Lincoln Navigator will start at $80,000 and $100,000 as the brand's premium SUV. Trim levels, add-on features, and customization options will all affect the ultimate price. Lincoln wants to provide a remarkable ownership experience in this market by fusing luxury with affordability.
2025 Lincoln Navigator Interior and Exterior 
When you enter the 2025 Lincoln Navigator, a refined and sophisticated atmosphere will surround you. The interior will be roomy and expertly designed, showcasing premium materials like comfortable leather upholstery, real wood trim, and sharp metal accents.
Up to eight passengers will have plenty of room thanks to the three-row seating arrangement on the Navigator, which focuses on comfort and convenience.
The driving experience is anticipated to reach new heights thanks to cutting-edge technology features like a cutting-edge entertainment system, modern connectivity options, plus a full suite of driver-assistance capabilities.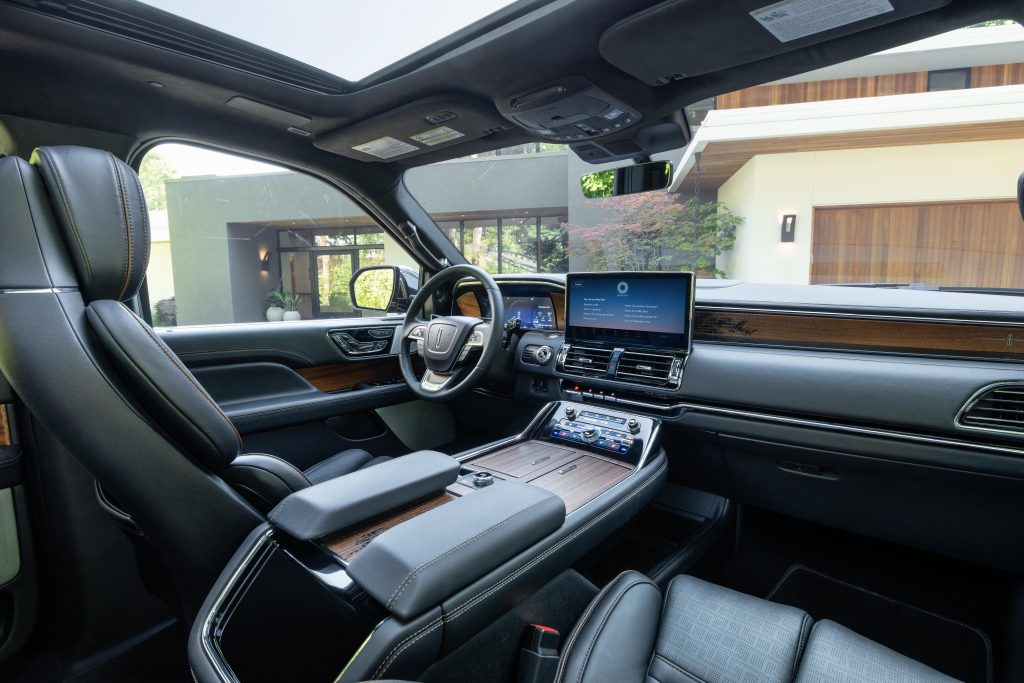 The 2025 Lincoln Navigator is anticipated to have an elegant and commanding look. The Navigator is expected to have a powerful and modern design language, enhanced by Lincoln's recognizable grille and unique lighting components, though particular specifications still need to be made public.
Expect a profile that seamlessly blends strength and grace, is sleek and aerodynamic, and shows attention to detail in every bend and line.
2025 Lincoln Navigator Features 
Numerous cutting-edge features are projected to be included in the 2025 Lincoln Navigator, including:
A whole range of driver-assistance features, including adaptive cruise control (lane-keeping aid) and automated emergency braking, are included in the Lincoln Co-Pilot360TM system.

Revel® Ultima musical System: A top-of-the-line sound system that provides a concert-like musical experience, making the ride enjoyable for everyone.

Lincoln ActiveGlide: This cutting-edge driving hands-free system is anticipated to enable brief periods of hands-free operation on pre-approved segments of divided highways, improving convenience and lowering fatigue among drivers.

A panoramic vista roof is a large glass roof with panoramic views that floods the interior with natural light and gives it an airy, open feel.

Lincoln Embrace: A customized welcome strategy that recognizes approaching drivers and passengers and personalizes settings to suit their preferences
Conclusion 
The 2025 Lincoln Navigator intends to become a beacon of grandeur, innovation, and performance as the luxury SUV industry develops.
Automotive enthusiasts and those looking for luxury can look forward to an exceptional ownership experience in the 2025 Lincoln Navigator, which combines exquisite design, cutting-edge technology, and absolute elegance. This legendary American luxury SUV has a bright future.