Introducing the 2024 Mustang Dark Horse, Ford's legendary Mustang, in a new iteration designed to deliver an exhilarating driving experience. With its sleek appearance and a range of performance features, this vehicle is equipped to captivate enthusiasts.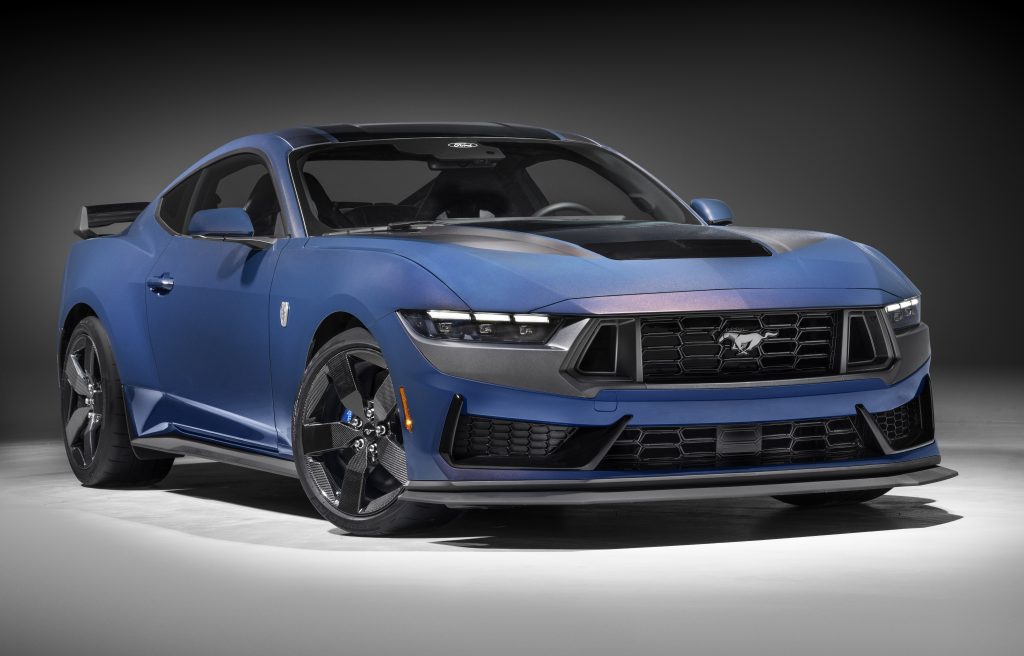 Powered by a robust V8 engine, its strength is unmatched. Prepare yourself for a thrilling ride as the 2024 Mustang Dark Horse combines striking aesthetics with cutting-edge performance elements.
Performance
Powering the 2024 Mustang Dark Horse is the Gen-4 5.0L Coyote V8 engine, which unleashes an impressive 500 horsepower and 418 lb-ft of torque. With a remarkable output of 100 hp per liter, this engine ensures a truly visceral driving experience.
The driver can choose between two options for gear shifting: a Tremec six-speed manual or Ford's advanced 10-speed automatic gearbox, providing them with the flexibility to take control or let the vehicle handle it seamlessly.
Enhancing the 2024 Mustang Dark Horse's allure is its active valve performance exhaust system featuring quad tips and remote rev functionality. At the touch of a button on the key fob, the driver can unleash the exhilarating scream of the V8 engine.
Safety Features
Adapted to the selected driving mode, whether it be the serene quiet mode or the adrenaline-pumping track mode, the exhaust system dynamically adjusts both the volume and tone of the exhaust note, further intensifying the driving experience.
Not only is the 2024 Mustang Dark Horse swift, but it also exhibits remarkable agility and stability. This remarkable vehicle offers the option of carbon fiber wheels and lightweight, high-performance Pirelli P Zero Trofeo RS tires.
Complementing its exceptional handling capabilities, the Mustang Dark Horse is equipped with a Brembo braking system. Featuring black calipers and a striking white Brembo emblem, this braking system ensures enhanced stopping power and resistance to fade, further elevating the driving experience.
Exterior
Setting itself apart from other Mustang models, the 2024 Mustang Dark Horse boasts a distinctive and commanding appearance. Contributing to its menacing allure are its unique bonnet and accent painted stripe. The vehicle exudes a stealthy aesthetic with its dark grille, dark headlights, dark taillamps, and black emblems.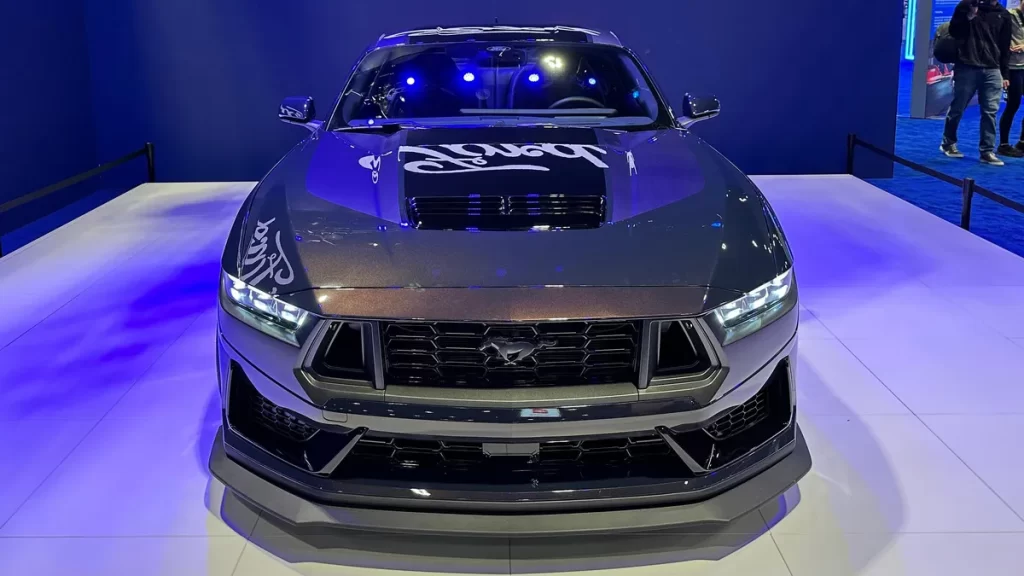 To further enhance its visual impact, the Mustang Dark Horse is available in four striking colors: Shadow Black, Carbonised Grey, Antimatter Blue, and Rapid Red.
Interior
As remarkable as its exterior, the interior of the 2024 Mustang Dark Horse is truly impressive. The vehicle showcases RECARO microsuede sport seats that offer both support and comfort for an enhanced driving experience.
Adding a touch of luxury, the Mustang Dark Horse features a heated leather and faux-alloy steering wheel, ensuring optimal comfort during colder drives.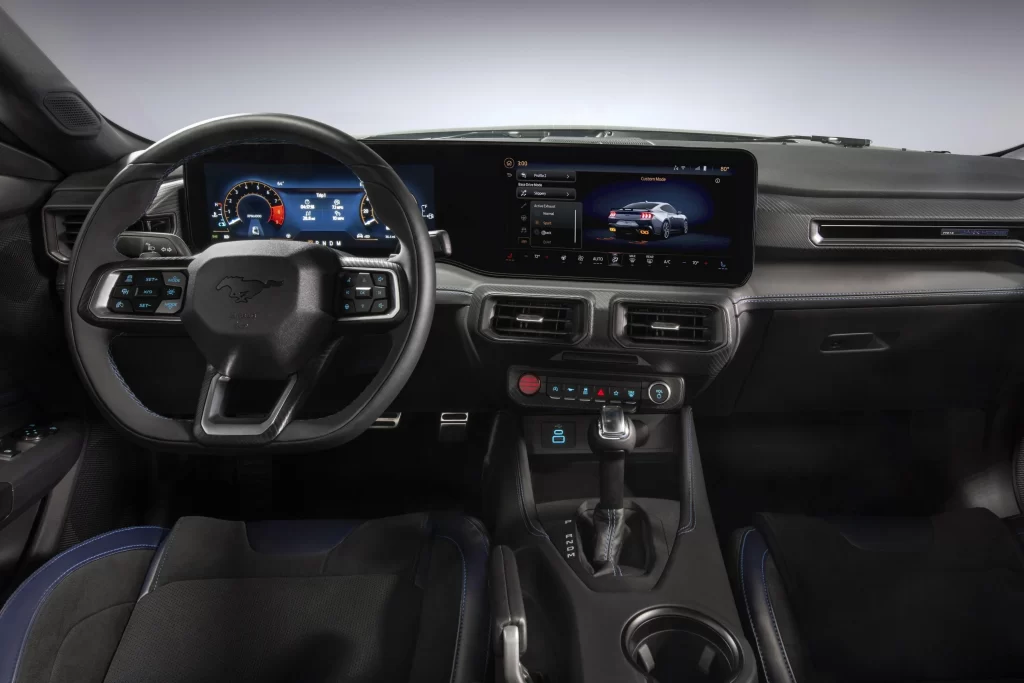 Elevating the in-car entertainment, the vehicle is equipped with a 12-speaker Bang & Olufsen audio system with a subwoofer, delivering crystal-clear sound quality.
Further enhancing the driving experience, the Mustang Dark Horse incorporates an 8-inch touchscreen infotainment system and a 12-inch digital instrument cluster, granting access to a wide array of functions and settings.
Driving Experience
The 2024 Mustang Dark Horse offers more than just an exhilarating driving experience—it prioritizes safety and practicality. Equipped with advanced technologies, the vehicle takes measures to prevent or mitigate accidents.
Features such as blind spot and lane departure alerts, rear cross-traffic alerts, and a pre-collision safety system work in tandem to assist the driver in avoiding potential hazards. Additionally, the Mustang Dark Horse incorporates a post-collision safety system to provide further protection in case of an unfortunate event.
Enhancing convenience and safety, the vehicle includes adaptive cruise control, which automatically adjusts speed and distance from the vehicle ahead. Another notable feature is FordPass Connect, enabling the driver to remotely start, lock, unlock, and locate the vehicle using a smartphone app.
Pricing
It's anticipated that the 2024 Mustang Dark Horse will arrive at showrooms in late 2023. The starting price of the vehicle is $54,495 for the automatic gearbox and $49,995 for the manual transmission. The automobile is a unique and special pony car because production is capped at 5,000 units annually.
A brand-new kind of pony automobile that blends power, performance, style, and technology is the 2024 Mustang Dark Horse. It's a vehicle that will entice both devoted Mustang enthusiasts and brand-new buyers eager for an exhilarating driving experience.