In a momentous revelation, Ford has finally introduced the long-awaited and highly anticipated 2024 edition of its esteemed mid-size pickup, the Ford Ranger. This latest iteration of the Ranger showcases a comprehensive overhaul, boasting a visually striking appearance that draws inspiration from its larger sibling, the F-150.
In addition to its bold and captivating design, the 2024 Ford Ranger presents an array of fresh engine options, enhanced interior features, and cutting-edge technology. In this article, we will delve into the essential particulars of the 2024 Ford Ranger, encompassing its pricing, engine performance, towing capacity, fuel efficiency, interior comfort, and a multitude of safety features that ensure peace of mind.
Redesigned Exterior and Pricing
The 2024 Ford Ranger proudly exhibits a meticulously redesigned exterior, proudly displaying an even more audacious front-end styling reminiscent of its revered counterpart, the F-150. Diverging from its predecessor, the all-new Ranger is exclusively available in a crew cab configuration, which boasts the convenience of four full-size doors.
As for the pricing, the 2024 Ranger commences at a base price of $34160 for the XL trim, ascending to a noteworthy $45120 for the top-tier Lariat trim. Positioned perfectly in the middle, the XLT trim, with a price tag of $37,100, strikes a harmonious balance between affordability and an enticing array of desirable features.
Powerful Engine Options and Performance
Engine enthusiasts will revel in the choices offered by the 2024 Ford Ranger, as it caters to a diverse range of preferences. The entry-level models are endowed with a turbocharged 2.3-liter four-cylinder engine, bestowing an impressive power output of 270 horsepower.
However, for those with an insatiable appetite for power, the Ranger now offers a brand-new twin-turbo gasoline-fired V-6 engine on higher trims, delivering an astonishing 315 horsepower. Seamlessly harmonizing with these engines, a 10-speed automatic transmission propels the Ranger forward, offering the choice of rear- or four-wheel drive.
Moreover, the Ranger showcases its mettle by boasting an exceptional towing capacity of up to a staggering 7,500 pounds, further amplifying its performance credentials.
Modern and Tech-Loaded Interior
Stepping into the realm of the 2024 Ranger's interior unveils a domain of contemporary elegance fused with technological advancement.
The cabin showcases an expansive, vertically oriented infotainment system, which spans from a standard 10.1-inch display to an optional 12.4-inch screen, epitomizing sophistication. Equipped with Ford's latest Sync 4 interface, these state-of-the-art infotainment systems offer seamless connectivity and unfettered access to a myriad of controls.
Moreover, the interior design impresses with its generous provision of storage solutions, including an ingeniously concealed upper glovebox, commodious door pocket cubbies, and ample storage compartments beneath the rear seat.
Safety and Driver-Assistance Features
The 2024 Ford Ranger leaves no stone unturned when it comes to ensuring the safety and well-being of its occupants, as it incorporates a comprehensive suite of driver-assistance features. Standard equipment encompasses essential elements such as forward-collision warning and automated emergency braking, guaranteeing peace of mind on every journey.
Elevating the safety quotient even further, higher trims and option packages present advanced features like blind-spot monitoring, rear cross-traffic alert, and adaptive cruise control. While the Ranger takes pride in its commitment to safety, it is worth noting that complimentary scheduled maintenance is not included in its warranty as Ford continues to refine and innovate.
Fuel Efficiency and Real-World MPG
As of yet, the Environmental Protection Agency (EPA) has not officially released the fuel economy ratings for the 2024 Ranger. However, based on the performance of its predecessor, one can anticipate similar figures.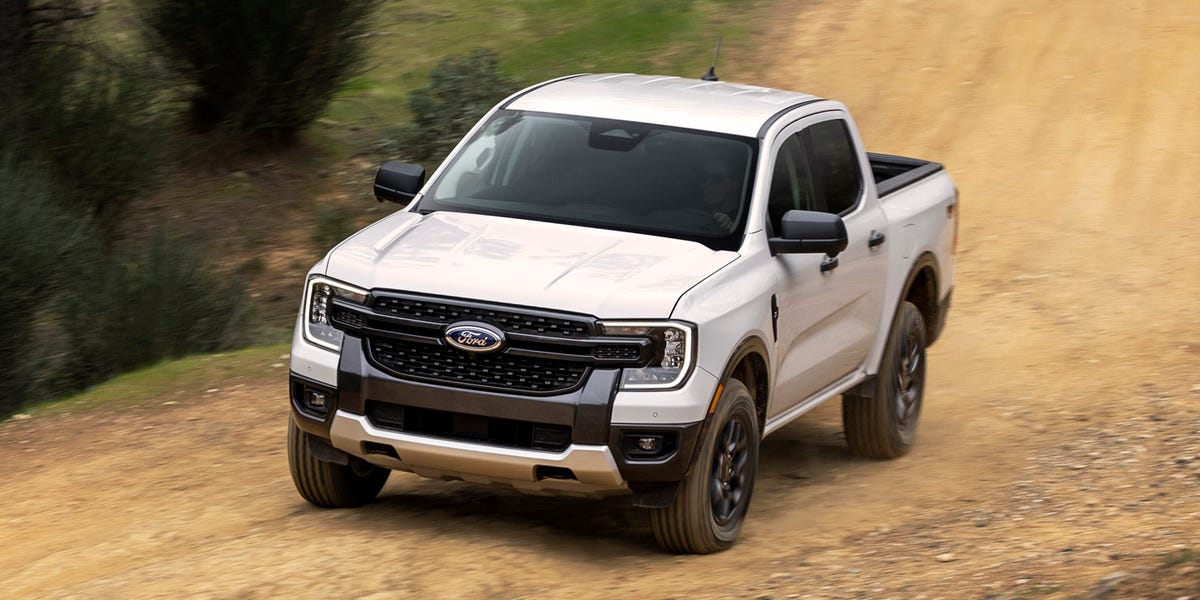 The entry-level turbo four-cylinder engine has earned acclaim for its commendable fuel efficiency, ensuring a satisfying balance between power and economy. Once the EPA reveals the official statistics, we will diligently provide updates on the Ranger's fuel economy, including its performance on our rigorous 75-mph highway fuel economy test.
Conclusion
The grand arrival of the 2024 Ford Ranger establishes it as a force to be reckoned with in the fiercely competitive mid-size pickup truck segment. Boasting an arresting design, formidable engine options, cutting-edge technology, and a capacious interior, the Ranger confidently sets its sights on rivaling formidable adversaries such as the Chevrolet Colorado, GMC Canyon, and Toyota Tacoma.
Whether one seeks a reliable work companion or an intrepid adventure partner, the 2024 Ranger offers an alluring package that seamlessly combines rugged durability with contemporary comforts. Ford's unwavering dedication to delivering exceptional performance and groundbreaking innovations shines brilliantly through this latest iteration of the Ranger.