Prepare to be amazed by the all-new 2024 Chevrolet Trax as it breaks free from the shackles of its predecessor, emerging as an extraordinary budget crossover that redefines what it means to offer exceptional value.
Priced below an impressive $22,000, this revamped Trax model surpasses its forerunner in terms of space, style, and features, making it an irresistible choice for the cost-conscious consumer.
In this comprehensive article, we will delve into the countless key features and remarkable highlights of the 2024 Chevy Trax, accentuating its stunningly redesigned exterior, enhanced interior, and unforgettable driving experience.
Distinctive Exterior Design
In a league of its own, the 2024 Chevy Trax boasts a thoroughly refined exterior that oozes undeniable visual appeal. Unlike its previous iteration, this new model showcases a lengthier, lower, and wider body, resulting in an even sportier and more contemporary appearance.
While the base LS model offers a simple yet highly functional design, the LT, RS, and Activ trims steal the show with their alluringly stylish wheels, distinctive grille trims, and exquisitely shaped headlights and taillights. As a bonus, Chevrolet offers an extensive array of vibrant paint colors, allowing you to tailor your 2024 Chevy Trax to match your unique preferences.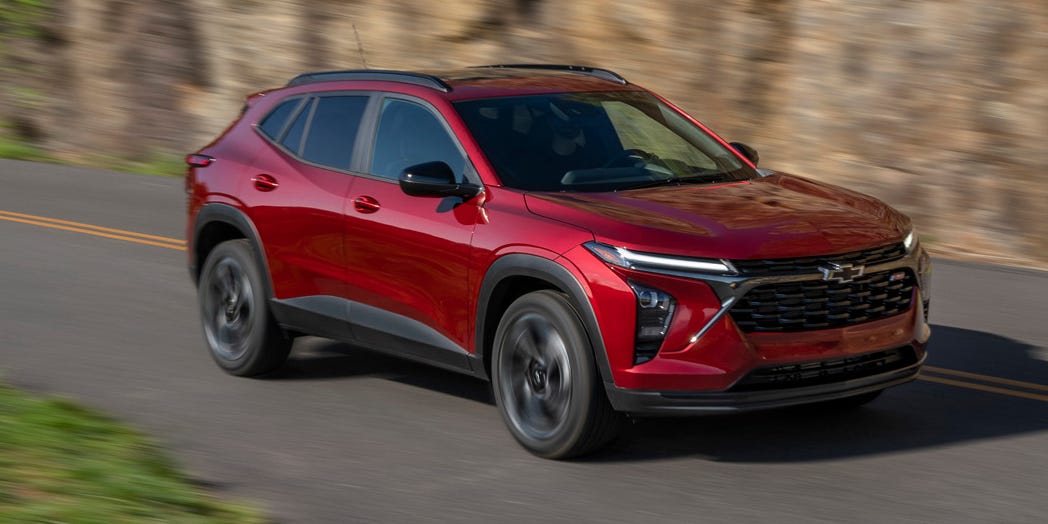 Redesigned Interior And Technology
The enhanced dimensions of the 2024 Chevy Trax definitely have car enthusiasts excited. A generous increase in space translates to improved rear legroom and an augmented cargo capacity, making the 2024 Chevy Trax an irresistible option for those who seek ample room for both passengers and belongings.
Thanks to the longer wheelbase and wider track, the cabin of the 2024 Chevy Trax is now a comfortable and spacious sanctuary. Notably, Chevrolet has ingeniously crafted a flat floor in the rear, elevating the vehicle's overall practicality to unprecedented heights.
Standard features include analog gauges and an 8.0-inch touchscreen, while optional upgrades offer an even more lavish experience with a digital gauge cluster and an expansive 11.0-inch central screen, providing a wealth of display real estate for a vehicle in this class.
Powerful Performance
The 2024 Chevy Trax offers a driving experience that seamlessly aligns with its affordable nature. Striking an ideal balance between ride comfort and handling, this remarkable crossover skillfully tames rough roads while minimizing body roll during spirited driving.
Although the steering could benefit from an improved on-center feel and a quicker ratio, it undeniably provides adequate feedback for confidently maneuvering the 2024 Chevy Trax. Beneath the hood lies a sole powertrain option—a turbocharged 1.2-liter inline-three engine, harmoniously paired with a smooth six-speed automatic transmission.
Generating an impressive 137 horsepower and 162 pound-feet of torque, the 2024 Chevy Trax possesses ample power for all your daily driving needs.
The engine's remarkable low-end torque and minimal turbo lag combine to deliver a flawlessly responsive and effortlessly smooth performance. With a fuel economy rating of 30 mpg combined, the 2024 Chevy Trax confidently competes in its class, ensuring you enjoy both efficiency and power.
Conclusion
In the realm of budget crossovers, the 2024 Chevrolet Trax reigns supreme, offering unparalleled value, style, and functionality, all at a truly affordable price point. Its redesigned exterior emanates an aura of contemporary allure and sportsmanship, while the interior provides a truly generous expanse of space and supreme comfort.
Although it may not be the epitome of dynamic driving, the Trax fulfills all expectations of an economical crossover. With its enticing pricing and a wealth of impressive features, the 2024 Chevy Trax is destined to become one of Chevrolet's most sought-after models.
If you find yourself in search of an affordable crossover that boasts a spacious interior and an abundance of features, the 2024 Chevy Trax is undoubtedly a prime candidate worthy of serious consideration