In 2024, be ready for a significant makeover! The Hyundai Elantra N, renowned for its striking design and potent performance, is anticipated to dominate the market once more. This flamboyant sport compact car has been capturing everyone's attention since it made its debut in 2022, and the impending 2024 edition aims to enhance it even higher.
The 2024 Elantra N will preserve the technical brilliance and unmatched dynamic features that set it apart from its rivals, despite the fact that some specifics are yet unknown. This article explores what is currently known about the eagerly awaited 2024 Elantra N as well as the thrilling enhancements that are in store for you and other interested fans.
Redesigned Exterior and Colors
Hyundai is giving the 2024 Elantra N a dramatic facelift, refining its bold exterior and elevating its road presence. The already-bold appearance has undergone painstaking refinement, giving it an enhanced road presence that is unavoidable.
You'll first notice a thinner, more streamlined grille on the front fascia. This blends seamlessly with modernized headlamps and a striking horizontal lighting bar. A lower red accent strip, a striking addition that highlights the fact that the 2024 Elantra N is the sportiest model in its portfolio, adds to the car's athletic charm.
New 19-inch wheels increase its aggression even further, boosting not just its appearance but also solidifying its dominant posture on whatever route it conquers. The rear has sharp taillights and a unique wing to maintain uniformity.
Dimensions and Engine Performance
The Elantra N's proportions should resemble those of the current model through 2024. It will continue to be 184.1 inches long, 71.9 inches wide, and 55.7 inches tall, keeping its external dimensions constant. A wheelbase measuring 107.1 inches supports its balanced driving experience.
A thrilling drive is assured by the powerplant hidden behind its svelte facade. The powerful 2.0-liter turbocharged four-cylinder engine that powers the Elantra N and produces 276 horsepower and up to 289 lb-ft of torque is expected to stay in place.
Two gearbox choices will effectively deliver power to the front wheels: a basic six-speed manual gearbox or, for those who want additional convenience, an optional eight-speed wet dual-clutch automatic gearbox.
N Performance Features and Handling
The eagerly awaited 2024 Elantra N's N Corner Carving Differential, a state-of-the-art electronic limited-slip differential, comes back with a fury. This cutting-edge innovation, with its remarkable abilities, increases stability through challenging corners and ensures unmatched accuracy in handling and control.
Additionally, drivers may personalize their driving experiences with the car's Eco, Normal, Sport, N, and Custom drive modes, ensuring that every ride is enjoyable and personalized to their tastes.
Hyundai debuts the revolutionary N Grin Shift (NGS) innovation, which heightens anticipation even more. This much-awaited upgrade is expected to deliver brief bursts of ten more horsepower, an adrenaline-pumping increase that will elevate enthusiastic driving to new heights.
Interior and Infotainment
There are several fascinating elements we can look forward to in the 2024 Elantra N, even though we don't yet know all the details of the inside. To improve the driving experience, sporty bucket seats, an eye-catching N steering wheel, and alloy sport pedals will probably be added.
Hyundai is also quite likely to keep the present 10.25-inch touchscreen interface and digital instrument panel.
These cutting-edge components provide you with easy access to important information and entertainment at your fingertips.
This model also raises the standard for your driving enjoyment with features like the Hyundai Digital Key, wireless device charging, Android Auto and Apple CarPlay compatibility, and an amazing eight-speaker Bose audio system.
Price and Availability
While specific pricing remains undisclosed, the 2024 Elantra N is expected to align with the updates and enhancements. The actual pricing information for the 2024 Elantra N has not yet been made public. The cost is projected to match the changes and enhancements made to the basic Elantra range, though.
The present model has a $32,900 starting price, and it's anticipated that the refurbished version would cost somewhat more, maybe $34,000.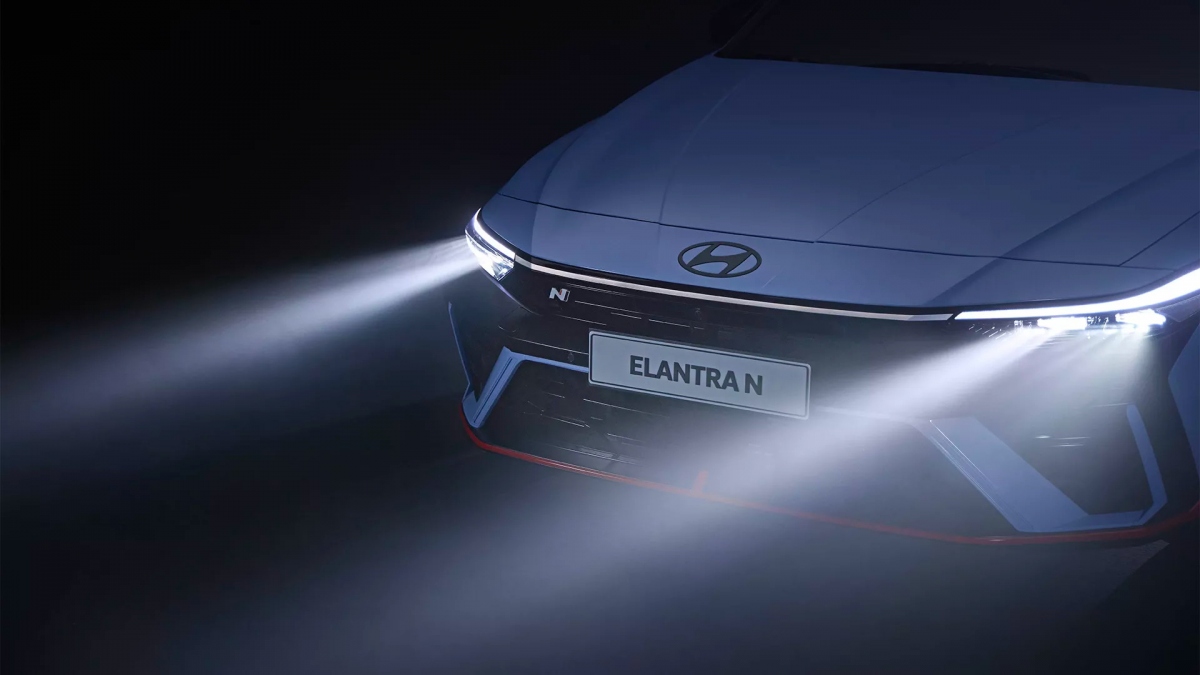 The 2024 Elantra N is anticipated to make its North American debut shortly after its introduction in China in the second half of 2023. This implies that Hyundai's enhanced performance sedan will be a fierce competitor for rival sedans like the Honda Civic Si and Volkswagen Golf GTI.
Conclusion
The Hyundai Elantra N in 2024 has got a dramatic makeover. It is poised to keep its status as a premium performance sedan thanks to its revised exterior, thrilling performance, and high-tech inside.
The 2024 Elantra N ensures an amazing journey for anybody fortunate enough to get behind the wheel by fusing the best aspects of its predecessor with exhilarating advancements. Before this extraordinary sporty compact vehicle goes on sale, enthusiasts and potential customers are eagerly awaiting further information.