With the introduction of the 2024 Toyota Grand Highlander, families seeking more room and comfort have finally found their ideal vehicle. This "grand" version of the well-liked Toyota Highlander SUV offers an unrivaled amount of space for both passengers and baggage.
The Grand Highlander is available in XLE, Limited, and Platinum trim levels and offers three distinct engine choices, including two remarkable hybrid models. Join us as we set out to discover all the unique characteristics, outstanding performance abilities, and other aspects that genuinely distinguish this family-oriented SUV.
More Space, More Comfort
According to how the seating is arranged, the Grand Highlander's spacious and comfortable cabin may easily fit seven or eight passengers. Particularly impressive is the third row, which easily fits large people. The Grand Highlander's interior design includes a symmetrical dashboard arrangement, which gives the vehicle a unique look.
Starting with the base XLE variant, this vehicle offers an abundance of generous luxuries, such as power-adjustable heated front seats, a 12.3-inch touchscreen infotainment system, wireless smartphone charging, and a variety of driver-assistance technologies.
Three Powertrain Options
The 2024 Grand Highlander does not fall short in terms of available engine options. Whatever your tastes or demands may be, it has you covered.
The basic engine is a powerful 2.4-liter turbocharged four-cylinder unit that produces an outstanding 265 horsepower and 310 lb-ft of torque. Both front-wheel drive and all-wheel drive are available, and both come with an eight-speed automatic gearbox.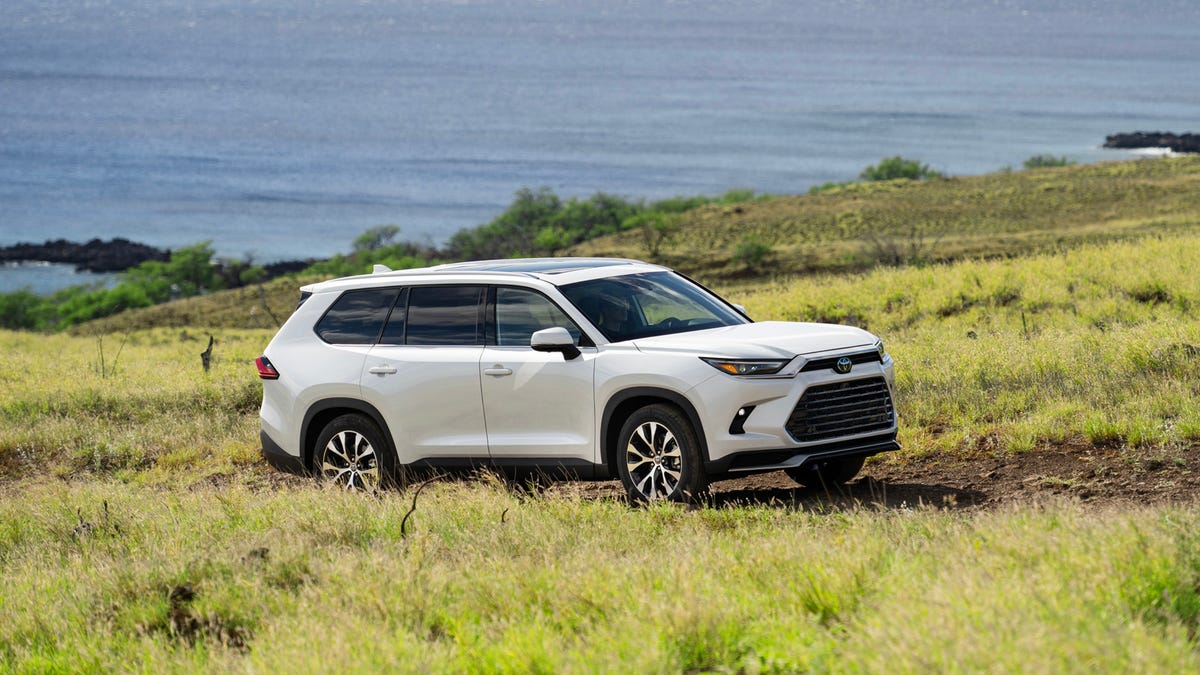 There are two hybrid versions available for people who value environmental friendliness. First up is the standard hybrid setup, which combines a 2.5-liter four-cylinder engine with two electric motors to provide 243 horsepower overall. Opt for the top-tier Hybrid Max powertrain if you want even more power without sacrificing economy.
This configuration combines an electric motor with the 2.4-liter turbocharged engine to produce an astounding 362 horsepower net output.
In addition to offering remarkable performance, the Hybrid Max also enables the Grand Highlander to tow up to an incredible 5000 pounds, making it ideal for unforgettable family outings that need considerable pulling power.
Fuel Efficiency and Real-World MPG
The EPA has not yet released its official fuel efficiency estimations for the Grand Highlander. The 2.5-liter hybrid powertrain is expected to achieve an excellent combined fuel economy of 34 mpg, according to Toyota. A thorough assessment of the real fuel efficiency will be made on a specified 75 mph highway fuel economy route in order to offer accurate results.
Infotainment and Connectivity
The 12.3-inch infotainment touchscreen in the Grand Highlander, which comes standard with Toyota's newest software interface, is impressive.
A smaller, 7.0-inch digital display that effortlessly integrates into the gauge cluster as a complement adds usefulness and aesthetics. The Limited and Platinum trims provide a bigger 12.3-inch all-digital gauge display for customers who want even more.
In order to improve convenience for all passengers, every model of the Grand Highlander has a wireless smartphone charging station.
Additionally, Limited and Platinum versions offer an optional upgrade to a thrilling 11-speaker JBL sound system that raises the bar for in-car entertainment for individuals looking for an outstanding audio experience while traveling.
Top-Notch Safety Features
Has prioritized safety in the Grand Highlander and made sure that every model is outfitted with the full TSS 3.0 array of driver-assistance systems.
This comprehensive package includes a number of cutting-edge technology, including blind-spot monitoring, automatic emergency braking, adaptive cruise control, automatic high-beam headlights, lane-departure warning with lane-keeping assistance, and a very effective road-sign recognition system. Families benefit greatly from this extensive package of safety precautions as they embark on their travels.
Conclusion
Be prepared to be astounded by the 2024 Toyota Grand Highlander. With this new look, an already popular SUV is brought to even greater heights.
Prepare yourself for more room than ever, improved comfort that will make every trip enjoyable, and a wider range of engine options to meet your unique demands.
You can be confident that the Grand Highlander will cover you wherever life takes you, whether it's on routine commutes or thrilling road adventures.
Everyone may travel comfortably and enjoy every minute thanks to its roomy cabin. Families all around the world will soon be clamoring for this spectacular experience with the newest addition to Toyota's famed SUV portfolio.