The 2024 Toyota Prius, which made a bold comeback with its spectacular facelift the year before, will astound you with its return.
This most recent model of the legendary hybrid not only offers outstanding fuel economy but also flaunts a sleek and fashionable appearance that fully demolishes its prior reputation as a "nerdy car."
We will examine the outstanding qualities, outstanding performance, cutting-edge technology, and overall value provided by the exceptional 2024 Toyota Prius in our in-depth analysis.
Efficiency and Performance
With the 2024 model, the Prius has maintained its stellar reputation for outstanding fuel efficiency. No matter whatever trim level is selected, this car outperforms expectations by getting an EPA-estimated 57 mpg in combined city and highway driving.
A 2.0-liter four-cylinder engine and an electric motor are smoothly integrated to produce an excellent power output of up to 194 horsepower (196 horsepower for AWD versions), which is made possible by the hybrid powertrain that achieves this exceptional fuel economy.
Experience the 2024 Prius' upgraded engine characteristics for a more enjoyable ride. This variant offers adequate performance for simple highway merges and passing maneuvers with enhanced acceleration and a 0-60 mph speed of under 7.7 seconds.
Additionally, the new model's structural modifications and revised suspension guarantee a smoother and more pleasant ride.
Infotainment and Technology
The Prius outperforms its rivals in terms of technology. Depending on the specification level, its infotainment system offers either an amazing 8.3-inch or 12.3-inch touchscreen. A user-friendly UI and incredibly responsive controls make it simple to explore the features. Both Apple CarPlay and Android Auto should come with flawless wireless communication as basic features.
With practical features that put convenience first, Toyota ups the ante with thoughtful additions like a wireless charging pad and many USB-C connections scattered around the interior.
The Prius also comes with Toyota's driver-assist technologies, which offer functions like adaptive cruise control and lane-keeping assistance. The outcome? is a comfortable and intuitive driving experience that improves safety and guarantees tranquility on every trip.
Interior Comfort
The inside of the 2024 Prius blends utility and user-friendliness when you walk inside. The dashboard's layout adheres to a traditional style, making it simple to locate and use controls.
However, some drivers could find the digital instrument cluster overpowering because of the volume of information provided. Its positioning behind the steering wheel may also make it difficult for certain people to see.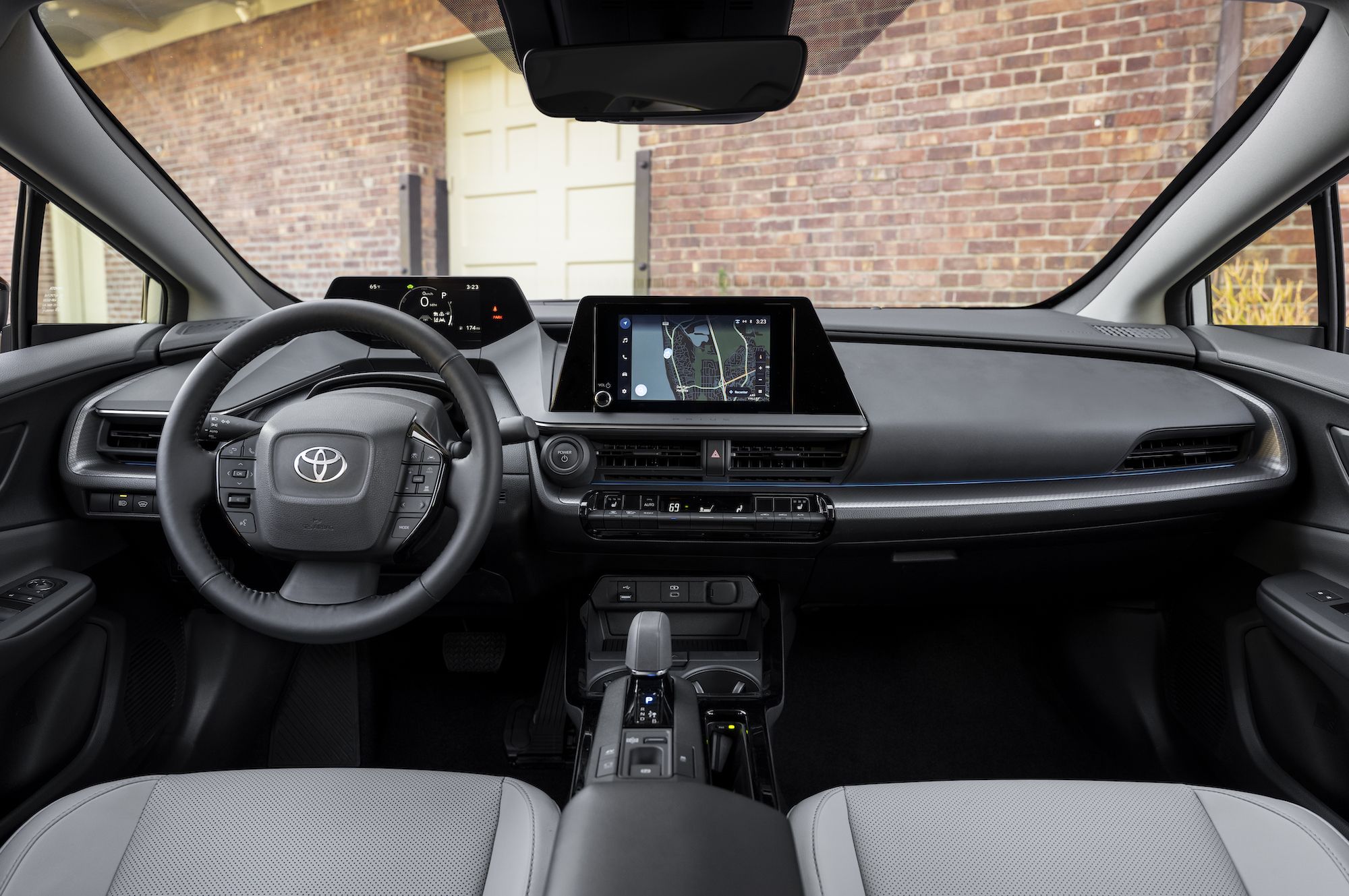 Although the latest model of the Prius has a more aesthetically pleasing exterior, it regrettably makes space and visibility in the rear sacrifices. Rear seat entrances have been shrunk, which can be uncomfortable for larger people who might not have enough headroom.
Additionally, the large roof pillars and tilted back window make it difficult to see behind the vehicle.
Value And Trims
Toyota offers a basic warranty that lasts three years or 36,000 miles, whichever comes first. Additional protection is also provided for the battery and hybrid parts. Although the Prius may cost more than certain compact sedans, its pricing is still competitive with that of midsize sedans.
The midlevel XLE trim is advised for people wanting a well-rounded selection of features at an affordable price. However, considering alternate choices like hybrid SUVs or midsize sedans may be advantageous if more passenger or cargo room is required.
Conclusion
Take the 2024 Toyota Prius, which proves that a car can be both fashionable and fuel-efficient without sacrificing performance. This hybrid is an appealing option for eco-conscious people who commute frequently thanks to its attractive facelift and improved engine.
By offering remarkable fuel efficiency, user-friendly tech features, and a pleasurable driving experience, the Prius stands out in the hybrid industry. Although there may be some trade-offs in terms of load capacity and rear visibility, the Prius' unquestionable value and economy place it among the top candidates in its class.