The outstanding and significant 2024 Ford Expedition joins Ford's already impressive lineup of SUVs. This SUV is the biggest in Ford's lineup and stands out for its massive dimensions.
It features a roomy three-row configuration that is ideal for families or individuals looking for plenty of passenger and baggage capacity.
We will look into the key enhancements and features of the 2024 Ford Expedition in this in-depth evaluation, rating its performance and contrasting it with other vehicles in its class.
What to Expect?
Given that the Ford Expedition had a midcycle redesign in 2022, it is anticipated that it will look essentially the same in 2024. Nevertheless, the introduction of the Timberline trim, which emphasizes Ford's concentration on off-road capabilities, demonstrates its commitment to accommodating a variety of consumer preferences.
All-terrain tires, F-150 Raptor skid plates, and increased ground clearance make this trim choice appealing to drivers who want to explore uncharted territory.
Performance and Powertrain
A strong six-cylinder engine with a massive 3.5-liter capacity and the capability to produce up to an astounding 440 horsepower is included in the 2024 Ford Expedition.
The Expedition can easily handle any driving circumstance, whether it is negotiating congested city streets or setting off on long-distance drives, thanks to this tremendous power.
With a staggering 9,000 pounds, the Expedition has a genuinely outstanding towing capacity. This makes it the ideal option for easily towing boats, trailers, or even recreational vehicles.
The Heavy Duty Trailer option can be selected by those looking for more strength and adaptability in their towing endeavors, improving the Expedition's already exceptional towing capabilities.
You require rear-wheel drive, which is standard, for a comfortable and steady ride. But it doesn't end there; all models come with the option of four-wheel drive if you desire improved grip in muddy conditions or inclement weather.
The Expedition has a completely independent suspension that guarantees a smooth ride, adding to your driving comfort. The Expedition is the ideal vehicle for individuals seeking both space and comfort thanks to this feature, which perfectly complements the spacious interior of the car.
Interior and Tech Suite
Experience the 2024 Ford Expedition's interior for modernism and cutting-edge technology. Enjoy smooth entertainment and connectivity with Ford's Sync 4 software-powered sophisticated infotainment system.
Enjoy wireless connectivity for simple Apple CarPlay and Android Auto integration. Choose Ford's hands-free driving aid, BlueCruise, to increase safety and convenience on long travels.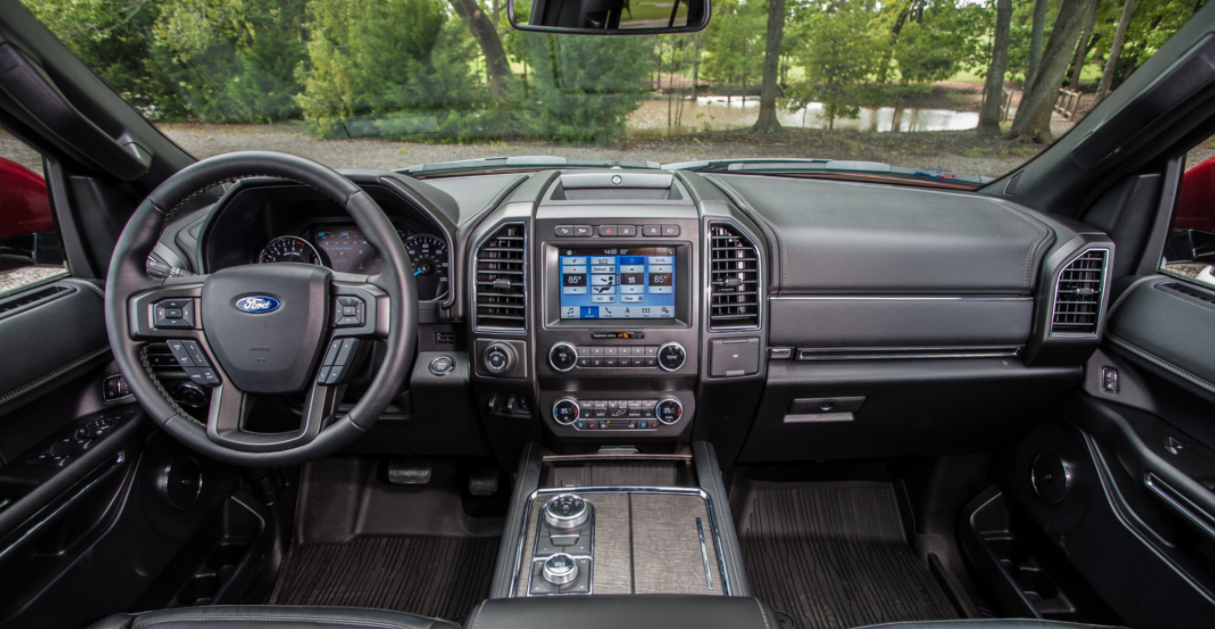 Families of any size will be comfortable in the seating configurations since the three-row configuration provides plenty of head and leg room. The Expedition Max variation, which increases length for greater luggage capacity, is ideal for individuals who need even more storage if even more room is needed.
Competition and Comparison
The 2024 Ford Expedition faces fierce competition in the full-size SUV market from rivals, including the Chevrolet Tahoe, GMC Yukon, Yukon XL, and Toyota Sequoia. The Expedition stands out, though, because of its great towing capability and a wide array of cutting-edge technology features.
Price and Manufacturing
Auto aficionados may look forward to the launch of the highly awaited 2024 Ford Expedition in the autumn of 2023.
With an estimated beginning price of $56,000, this vehicle provides a number of add-on features and upgrades that can increase the final price to nearly $70,000 for an XLT model with all available options and four-wheel drive.
The Expedition, which was proudly created in Louisville, Kentucky, is a shining example of top-notch American engineering and craftsmanship.
Conclusion
In conclusion, the 2024 Ford Expedition continues to be a solid and capacious full-size SUV. The Expedition remains a formidable competitor in the market despite the lack of significant modifications for the 2024 model year, owing to new features like the Timberline trim and an improved technology package.
The 2024 Ford Expedition offers a tempting option to think about for families looking for a strong, powerful, and comfortable car for their forthcoming road excursions.