The advent of the 2024 BMW X3 is highly anticipated by admirers of premium SUVs and automobiles. With its perfect balance of performance, elegance, and cutting-edge technology, this small SUV from legendary Bavarian carmaker BMW never fails to leave an impression and offers an unparalleled driving experience.
The 2024 BMW X3 is ready to once again establish a new standard in its sector thanks to impending improvements.
Sneak Peek: Spy Shots Reveal Exciting Upgrades
The BMW X3 will receive some exciting enhancements, according to spy photos from 2024. There are several exciting things to look forward to, even if it's unknown if the upgrades will be ready for the 2024 model year or if they're planned for a potential 2025 release.
Redefined Infotainment and Connectivity
One cannot ignore the inclusion of a single, softly curved glass panel in the 2024 BMW X3. Two side-by-side displays are held in place by this distinctive innovation, giving the cabin a contemporary and streamlined appearance.
This multimedia arrangement substitutes a responsive touchscreen interface for the conventional centrally located iDrive controller, as seen in the current makeover of the X1. The infotainment system's navigation and control are now considerably easier thanks to this enhancement.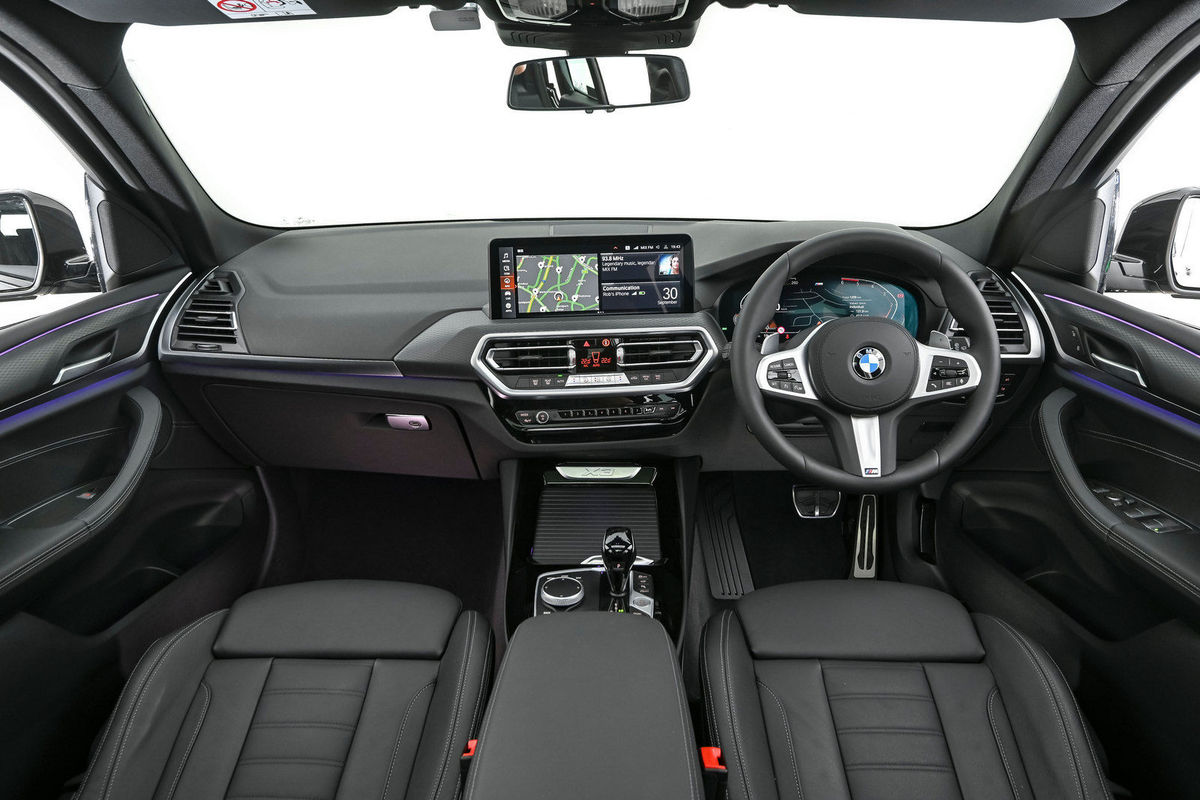 BMW will also include the most recent iteration of iDrive in the 2024 BMW X3, demonstrating its continued commitment to being a leader in automotive technology. This guarantees flawless wireless communication for Apple CarPlay and Android Auto integration, keeping drivers up to date with cutting-edge technological developments.
Electrification and Performance
The future 2024 BMW X3 is slated to adopt this trend with some type of electrification as the automobile industry moves into an electric era. A plug-in hybrid model, aimed at environmentally aware drivers who nevertheless want excellent performance, is expected to be presented.
While these developments hold a lot of potential, it's crucial to understand that the introduction of electrification may change the available powertrain alternatives. A hybrid setup like that seen in the 330e sedan may eventually take the place of the powerful inline six-cylinder engine now used in M40i variants.
Design Evolution
It is projected that the 2024 BMW X3 will undergo minimal design modifications, preserving its compact size while providing noteworthy upgrades. The general proportions are anticipated to remain the same as it is positioned between the X1 and X5 versions.
However, BMW's distinctive appearance, particularly the kidney grille, will get even more improvements. According to BMW's modern design choices, expect a bigger grille with conspicuous black plastic details surrounding it.
The complete BMW portfolio will follow this evolutionary path, guaranteeing that the X3 will continue to stand out on the road through 2024.
Exterior Enhancements
See the BMW X3 of the future! Get ready to be wowed by its updated front design, which now features a more aggressive and dominating appearance.
Observe how the bumper and grille have grown in size, radiating confidence at every curve. And that's not all; interim lighting cues suggest that the final production version will include slick LED matrix headlights, and sportier alloy wheel treatments only accentuate its already sporty character.
But wait until you reach the back! The BMW X3 doesn't skimp on either elegance or usability. Look at the modified tail lights and enlarged roof spoiler; they not only improve the vehicle's appearance but also increase its aerodynamic prowess.
Uncompromised Power and Performance
Speculation is that the forthcoming BMW X3 xDrive will be powered by a powerful 3.0-liter, six-cylinder turbocharged petrol engine. With an estimated 355 horsepower and 500 Nm of torque, this beast should provide a thrilling driving experience.
BMW combines this engine with an eight-speed automated gearbox to further improve performance. The outcome? A comfortable and responsive ride that precisely satisfies every driver's need for on-road thrills.
Conclusion
Expectations should be low because the 2024 BMW X3 is going to transform the market for upscale small SUVs. Prepare yourself for a dose of stunning design, innovative technology, and amazing electric features.
The introduction of the 2024 BMW X3 represents a crucial turning point in BMW's illustrious portfolio as the company bravely leads the way in automotive innovation.
Get ready for a driving experience that blends uncompromised luxury with sheer adrenaline; this outstanding car is poised to revolutionize what's possible in its sector.