2023 Audi introduced the refreshed Audi Q8, marking five years since its initial release. This flagship SUV and the high-performance SQ8 received significant updates in its mid-cycle revision. This article explores the changes and improvements brought to the Audi Q8 for 2024.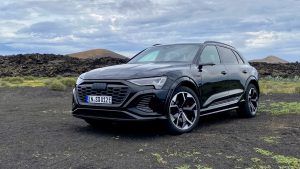 Refreshing the Design
The 2024 Audi Q8 and SQ8 have noticeable design changes, starting with the front fascia. Audi has introduced octagonal elements to the Singleframe grille, distinguishing it from its A-badged counterparts and reinforcing its position atop the hierarchy. Both variants sport chunky air intakes, emphasizing a sporty and aggressive stance.
Illuminating the Future
One of the standout features of the new Q8 is its advanced lighting technology. The standard LED headlights are now high-intensity, with a matrix LED setup option.
The HD Matrix LED headlights are even more impressive, incorporating laser technology for enhanced high-beam illumination. These lights offer four customizable light signatures through the infotainment system, adding a touch of personalization to the driving experience.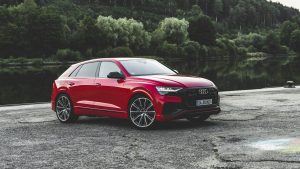 OLED Taillights
At the rear, Audi adopts OLED technology for the taillights, similar to the A8 sedan and Q5 crossover. These taillights not only offer dynamic turn signals but also provide an important safety feature.
When a vehicle approaches within 6.6 feet (2 meters) of the stationary Q8, all OLED elements activate to enhance visibility, ensuring a safer driving environment.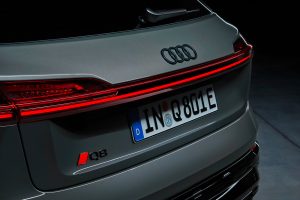 Exterior Options and Finishes
The facelifted Q8 boasts three new metallic paint options (Chili Red, Ascari Blue, and Sakhir Gold) and a range of alloy wheel designs ranging from 21 to 23 inches in size.
Inside the cabin, there are nine decorative inlays to choose from, along with new upholstery options. Audi offers finishes such as fine grain ash, carbon twill, and aluminum linear silver grey, varying by trim level and variant.
Powertrain Options
The 2024 Audi Q8 will be available in Europe with various powertrain options. The 55 TFSI model features a 3.0-litre gasoline engine producing 335 horsepower and 369 lb-ft (500 Nm) of torque.
This power allows the luxury SUV to accelerate from 0 to 62 mph (100 km/h) in just 5.6 seconds, with a top speed electronically limited to 155 mph (250 km/h).
The 45 TDI model offers a 3.0-liter, six-cylinder engine for diesel enthusiasts, generating 228 hp and 369 lb-ft (500 Nm). It completes the 0-62 mph (0-100 km/h) sprint in 7.1 seconds, reaching a top speed of 140 mph (226 km/h).
Stepping up to the 50 TDI model increases power to 282 hp and 441 lb-ft (600 Nm), enabling a 0-62 mph (0-100 km/h) acceleration in 6.1 seconds and a maximum speed of 150 mph (241 km/h).
The Mighty SQ8
For those seeking more power, the Audi SQ8 has a 4.0-litre V8 gasoline engine that boasts a massive 500 hp and 568 lb-ft (770 Nm) of torque.
This powerhouse can sprint from 0 to 62 mph (0-100 km/h) in just 4.1 seconds, with an electronically governed top speed of 155 mph (250 km/h). The V8 engine can deactivate four cylinders to enhance fuel efficiency when maximum power is not required.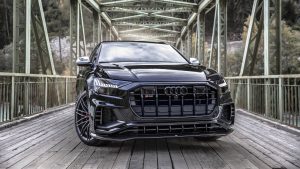 Wheels and Brakes
The SQ8 has 21-inch wheels and 285/45 tires as standard, with optional 22- and 23-inch wheel choices, including a dedicated 23-inch set with 285/35 rubber. Braking is handled by 400-mm front and 350-mm rear discs, featuring S-badged front brake calipers in black or red.
Like the standard Q8, the SQ8 includes Quattro permanent all-wheel drive and an eight-speed Tiptronic gearbox, which offers quicker gear changes to match the sportier performance.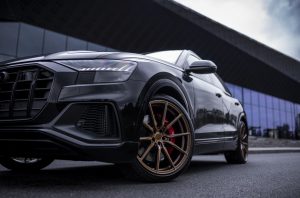 Pricing and Availability
The 2024 Audi Q8 and SQ8 will be available for order in Europe later this month. Pricing in Germany starts at €86,700 for the 45 TDI, followed by €89,700 for the 50 TDI, €89,900 for the 55 TFSI, and €119,500 for the high-performance SQ8.
In conclusion, the 2024 Audi Q8 and SQ8 represent a significant refresh of Audi's flagship SUV, offering updated design elements, advanced lighting technology, a choice of powertrains, and a host of personalization options.
With these enhancements, Audi is poised to continue its battle against rivals like the 2024 BMW X6, ensuring that the Q8 remains a compelling choice in the luxury SUV segment.