This loud, boisterous, naturally aspirated V-8 life will be missed.
You've probably heard Dodge will discontinue production of the current-generation Challenger and Charger after the 2023 model year.
The carmaker has revealed a series of seven "Last Call" special versions for its iconic muscle vehicles, the first of which will be the 2023 Dodge Challenger Shakedown.
The 2023 Dodge Challenger Shakedown bears homage to the original Dodge Shakedown Challenger concept, which caused quite a stir when it was presented at the 2016 Specialty Equipment Market Association (SEMA) Show in Las Vegas.
The 2023 Dodge Challenger Shakedown special edition follows the original motif of a black-and-red interior and exterior that merges a modern and retro feel.
In accelerating, you shake down a car before racing it to see whether it needs any mechanical repairs.
It signifies something else in the context of the 2023 Dodge Challenger R/T Scat Pack Widebody Shakedown—it's a reference to the Shaker package that comes with it, an equipment group with retro roots dating back to the 1970s original.
INTERIOR
The Shakedown model has black Nappa leather seats with micro suede details and red contrast stitching on the inside. The red stitching extends to the steering wheel and dashboard, where a "Shakedown" badge is also present. The interior is also decked out in Demonic Red seatbelts.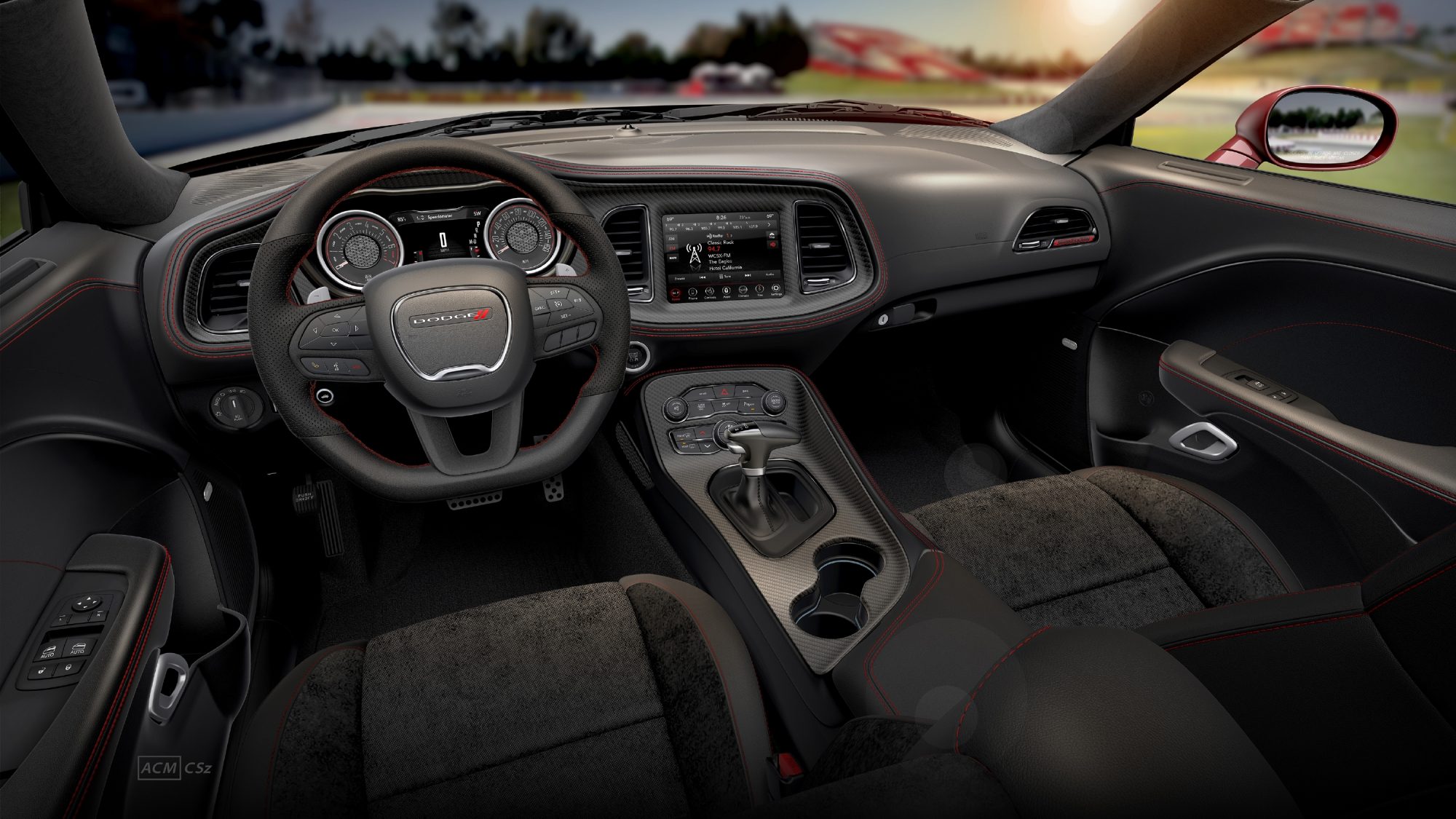 Similarly, all Shakedown models come with carbon-fiber and micro suede interior décor, the Technology package (adaptive cruise control, automatic high beams, rain-sensing windshield wipers), the Plus package (heated steering wheel and power-adjustable steering column), and more.
Exterior
The Dodge Challenger Shakedown special-edition vehicle has the following distinguishing features: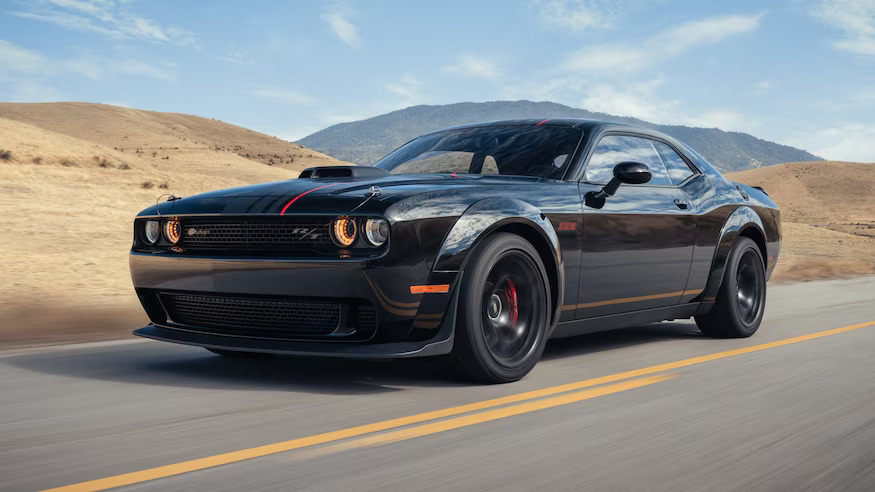 Legendary cold-air-grabbing Mopar® Shaker hood
Mopar Shaker intake
"Shaker" under hood decal
Red "392" Fender graphics
"Shakedown" spoiler graphic
Shakedown stripe with red accent
Black "Challenger" grille badge
Unique R/T grille badge
20-by-9.5-inch Low Gloss Black Slingshot wheels
20-by-11-inch Carbon Black warp-speed wheels (Widebody)
Red six-piston Brembo brakes
"Shakedown" instrument panel (IP) badge
Premium Black Nappa/Alcantara seats with red stitching
Red interior accent stitching on IP, console, steering wheel, seats
Demonic Red seatbelts
Performance
The Challenger Shakedown is powered by the "392" 6.4-liter naturally aspirated Hemi V-8 found in the 2023 Challenger R/T Scat Pack, which delivers up to 485 horsepower and 475 lb-ft of torque.
By 200cc, it is Dodge's highest displacement engine in the 2023 Challenger series. Supercharged variants, equipped with 6.2-liter V-8 engines, provide more power through boost and are faster. Still, a quarter mile time of 12 seconds without boost or nitrous is nothing to scoff at.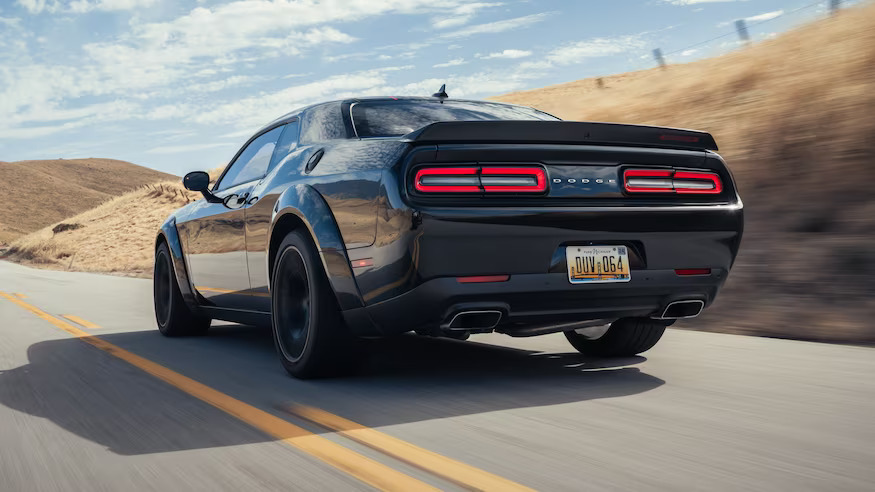 Not only does the 2023 Challenger Shakedown have a distinct design, but Dodge has stated that just 1,000 examples will be produced. This will feature 500 Challenger R/T Scat Pack copies and 500 R/T Scat Pack Widebody copies.
The Challenger R/T Scat Pack only has an eight-speed automatic transmission (with small finger-sized paddle shifters) rather than the usual six-speed manual.
When connected to the 392, this gearbox includes a limited-slip differential. This Challenger Scat Pack Widebody Shakedown also includes the Competition Suspension kit, which includes firmer springs, larger anti-roll bars, and a programmable adaptive suspension, as well as the Dynamics package includes upgraded brakes.
Dodge has not yet published the price for the 2023 Challenger Shakedown, but the firm has stated that pricing and specific dealership allotments will be announced when orders open later this fall.
The 2022 Challenger R/T Scat Pack starts around $52,000 with all of the options from the Shakedown version, while a similarly equipped Widebody model adds another $10k. The 2023 Shakedowns start a few thousand dollars higher, at $55k-$65k.