In Ford's truck and SUV-heavy model lineup, the battery-electric Mach-E Rally is closest to a hot hatch.
This new Mach-E Rally results from a combination of Ford's most powerful Mustang Mach-E electric SUV variant, the GT, and the company's discontinued Focus RS rally sport monster. Ford first debuted the Mustang Mach-E Rally at the Goodwood Festival of Speed in July but has now released additional information. The vehicle will be manufactured in early 2024 (yep, this isn't a one-off performance vehicle), with deliveries following "shortly" afterward.
The Rally isn't quite as large as the Focus RS, but the added suspension modifications, protective underbody protection, and extra tuning allow it to compete on dirt roads. Ford claims that Mach-E Rally prototypes have undergone "500-mile simulating rally-cross durability trials" to withstand off-road adventures. The manufacturer has added extra shielding for the dual motors to protect them from dirt and debris and film to protect the paint on the door cladding and fender arches.
According to Ford, the Mach-E Rally will be priced similarly to the GT Performance Edition at around $65,000. However, exact pricing will not be released until closer to production time (and may be subject to price swings).
Interior
The interior of the Rally has been updated somewhat to remind you that you're driving a special Mach-E. The dash has delicate gloss white accents, and the bottom spokes of the steering wheel are glossy white. Additionally, the interior door trim has extra contrasty stitches, and the seats have a "Mach-E Rally" mark and gloss-white seatbacks. There's no need to look up while driving because the Rally lacks the panoramic glass roof seen on premium Mach-E versions.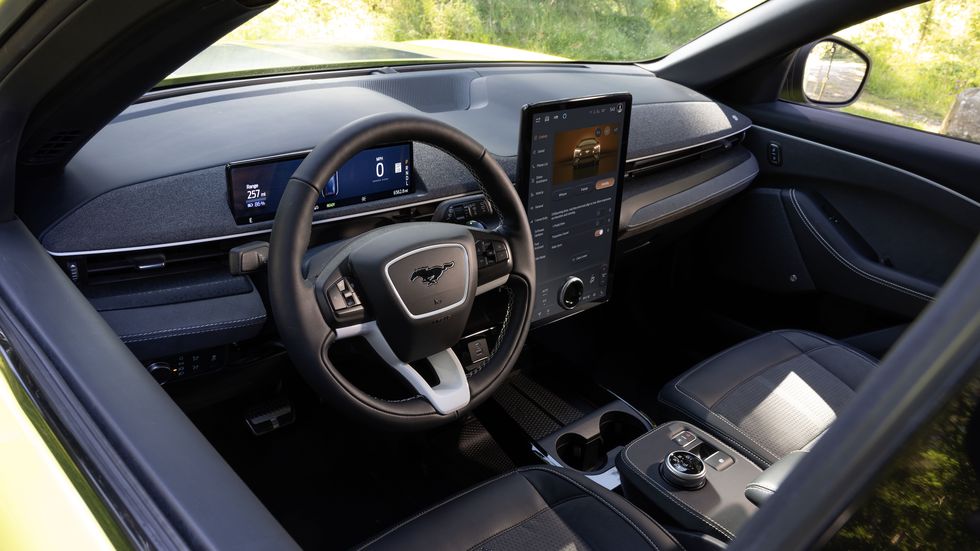 The Rally's interior technology, including the 15.5-inch touchscreen, is the same as that of other Mach-E models. However, the software includes a new RallySport Drive Mode that allows for more yaw for bolder slides, a linear throttle response for better control, and revised damping for better corner performance. This can translate to increased traction for daily drivers on snowy and rainy roads. It also has Michelin's all-season Cross Climate2 tires, which include sidewall grooves and directional treading.
Ford also offers a 90-day trial of its latest BlueCruise hands-free driver assistant system (version 1.3), which users can buy or postpone. According to Ford, the upgraded version has improved lane-change assistance, lane repositioning, and overall performance curve handling and tight lane driving.
The Rally has an additional set of lights up front, two circular fog lamps on the nosecone that Ford claims are rally-inspired. Grabber blue, shadow black, explosion green, grabber yellow, star white, and a new glacial gray are among the color selections.
Exterior
Whatever your opinions regarding the Mustang moniker, the Mach-E Rally gets the rally look. The rear spoiler is reminiscent of the one found on the now-defunct Focus RS hot hatch, while the rest of the Rally's body kit is aggressive and allows for functional fog lights up front. The two racing stripes that go down the length of the hood and onto the back hatch are standard. In keeping with the gloss white theme, gloss white highlights can be found on the dash, steering wheel spokes, and door stitching, while the Ford-designed seats have gloss white seat backs and debossed "Mach-E Rally" writing.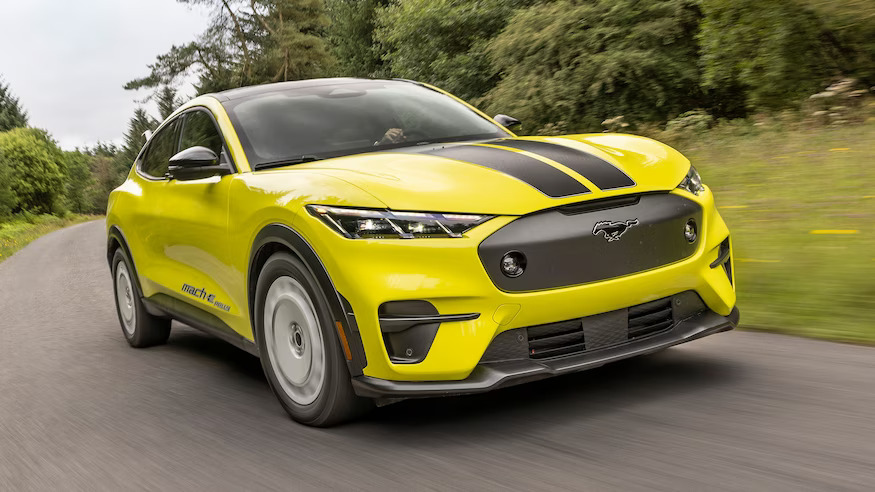 The four typical color options are Grabber Blue, Shadow Black, Eruption Green, and Grabber Yellow. Start White or the new Glacier Gray are available at an additional fee.
The Mach-E Rally will have the most recent BlueCruise 1.3 driver assistance system. It is expected to stay active for more extended, more consistent periodswhile also improving Lane Change Assist, In-Lane Repositioning, and performance around bends and narrow lanes. Other changes include an "always there" camera button from the center screen to help with off-roading adventures, and the battery charge percentage will be visible in all drive modes. Is there anything "cool" about this for rallying? No, however, it is helpful for everyday driving.
Performance
The Rally begins with the current-generation Mach-E GT Performance. Ford adds an upgraded rear motor, increasing total torque output to 650 lb-ft (between the front and rear motors), while peak horsepower remains 480. Maximum power output from the 91-kWh battery will be available longer than the current GT Performance's five seconds, but Ford has not indicated by how much.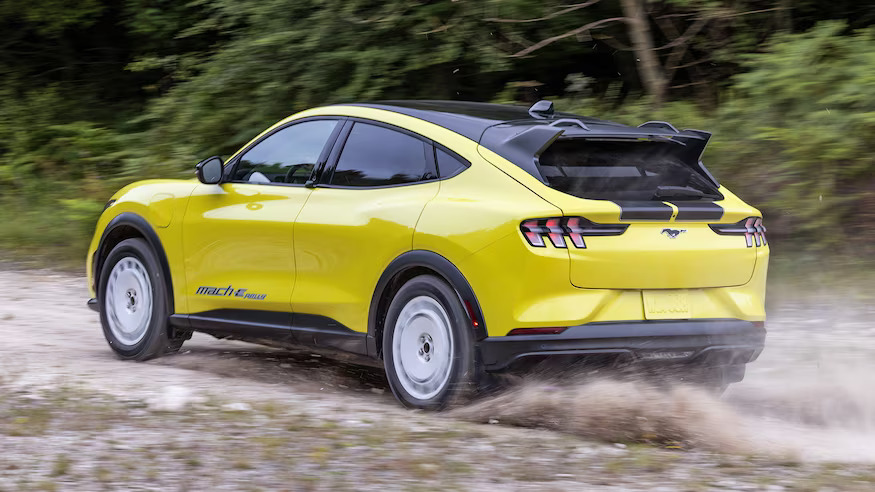 These powertrain changes will likely result in a 3.5-second 0-60-mph pace, but the range will be reduced from 260 miles to 250 miles. This 10-mile range penalty, according to the Rally's off-road tires and other physical alterations, was an intentional choice. Reducing range for any reason sounds weird in a society obsessed with EV range, but Ford claims Mach-E users drive 30-ish miles each day, which is in line with the national average for all car owners and hence not unique to Mach-E consumers.
Aside from range, the battery can be charged from 10% to 80% in just over 36 minutes using a 170-kW DC fast charger.