The not-so-mini Mini Countryman has undergone a complete facelift and will soon offer a 308-horsepower electric motor as an option. The 2025 Countryman Electric will have a battery pack that should cover up to 240 miles between charges, joining the Cooper Electric hatchback.
That 308 horsepower rating is for the dual-motor all-wheel-drive SE ALL4 variant. Still, a Countryman E model with a single 201 horsepower electric motor driving the front wheels will also be available.
The Countryman Electric is a stylish vehicle with both powertrain options, offering a clean exterior and a well-appointed inside filled with entertaining features like a sophisticated infotainment system.
Exterior
According to Thomas Sycha, head of Mini exterior design, the new Countryman is 5.1 inches longer, 2.4 inches higher, and has larger tire arches to accept wheels up to 20 inches. The crossover now has shorter overhangs, a reworked C-pillar, and a more recognizable octagonal grille.
It also sits more upright. The front LED headlamps are now more angular and aren't chrome-framed anymore; chrome is completely gone from the car in favor of more eco-friendly materials.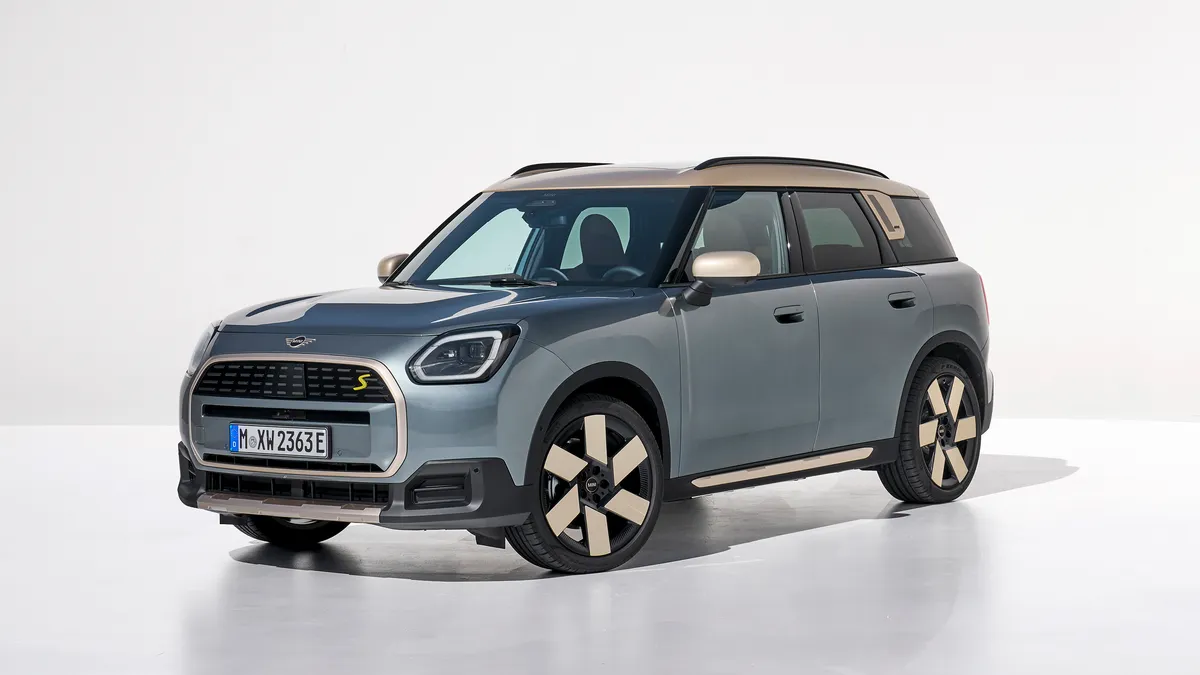 There will be two models: the Countryman E (for electric, those with internal combustion engines are C) and the higher-performance and all-wheel-drive Countryman SE ALL4. There are four trim levels: Trims: Essential, Classic, Favored, and John Cooper Works.
The JCW has a distinctive glossy black front grille frame and logo. Finish the look with a contrasting roof in Chili Red inspired by motorsports, matching C-pillars, and red or black hood stripes.
The roof comes in different colors and transforms from looking like a helmet to a surfboard riding topside. An effort to increase aerodynamics led to the flush door handles. The aerodynamic drag coefficient for the Countryman is 0.26 as opposed to 0.31 for the present model.
Interior
The Countryman receives a brand-new interior with sustainable materials and a streamlined design, similar to the Cooper hatchback's renovation.
The customizable ambient lighting components are effectively concealed under a fabric-colored dash pad and change color and shape according to the drive mode. Additionally, the new Countryman is a little bit bigger than the model from the previous generation, which enhances both passenger and cargo space.
When a Countryman arrives at our office for testing, we'll see how many carry-on bags we can fit inside its cargo bay and update this article accordingly.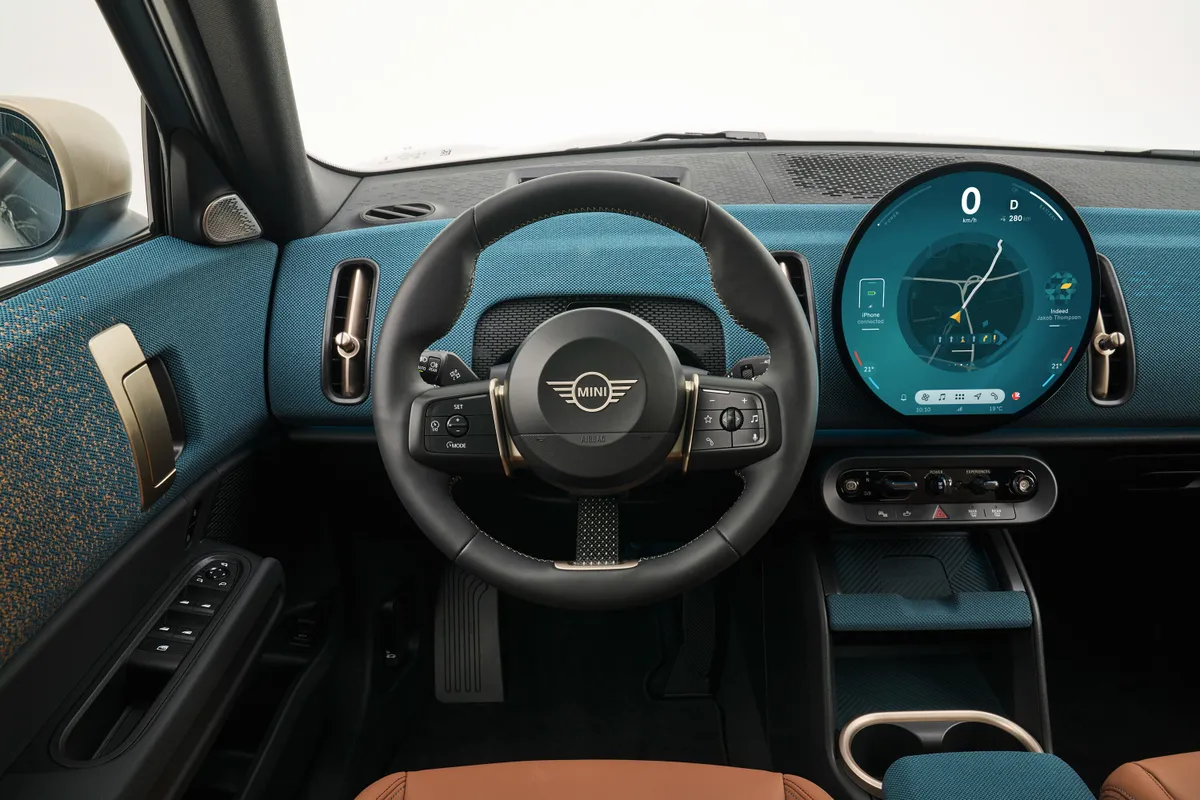 The circular dashboard display that Minis has had for a long time is now totally digital in the 2025 Countryman Electric. This panel doubles as an infotainment and gauge display, and it is powered by Mini's most recent software interface, which offers a ton of customizability.
In addition to several pre-programmed display backdrops, the system enables you to upload photos. So you can easily make that happen if you want a picture of your pet to be there.
There will be an option to download video games to the system so you can spend time at the public charging station, and Apple CarPlay and Android Auto will be standard.
Performance
Beginning with the base E trim, which will have a 201-hp electric motor on the front axle, two variations of the Countryman Electric will be available. Dual motors and all-wheel drive are features of the more potent S E ALL4 model, which will be available.
This combination produces 308 horsepower and propels the small SUV significantly faster. The front-wheel-drive, single-motor E requires 8.6 seconds to reach 60 mph, compared to the dual-motor SE's 5.6 seconds, according to Mini.
We'll update this article with our driving impressions whenever we can test drive the Countryman Electric.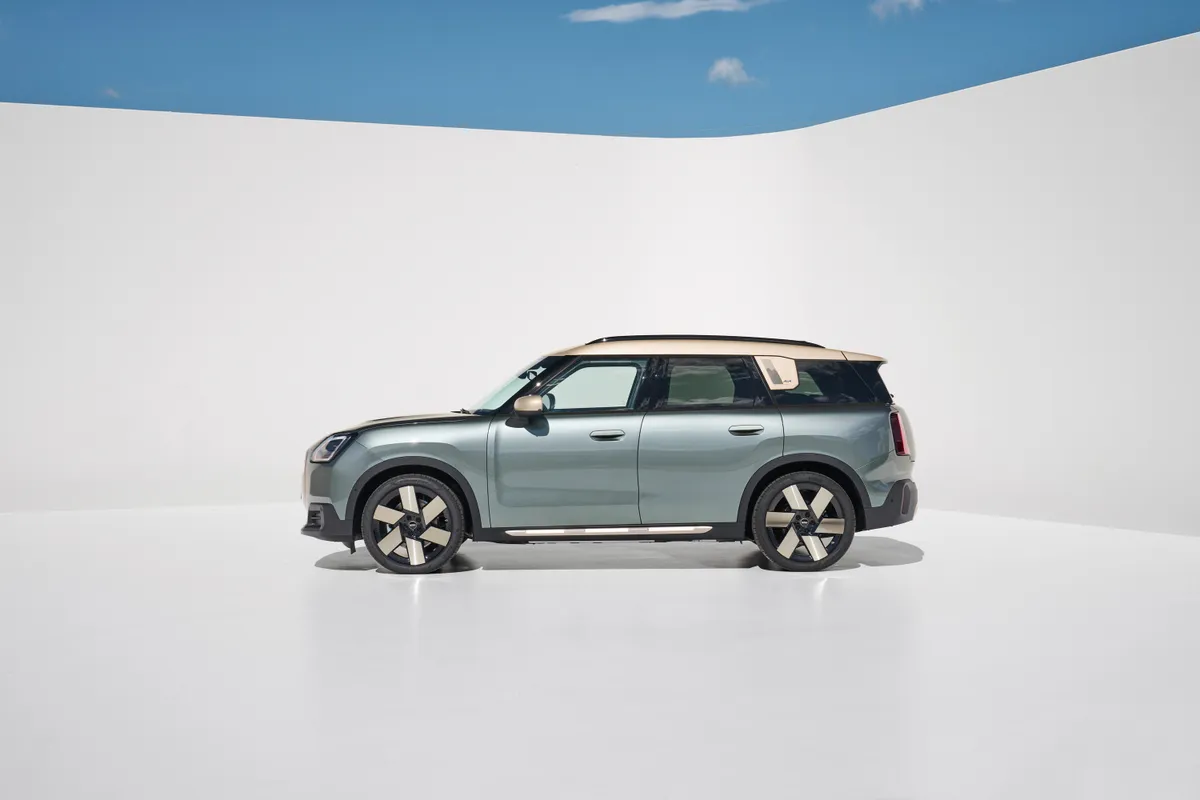 The battery pack for the Countryman Electric will have a range of up to 240 miles, but that is only for the front-wheel-drive E.
Choosing the SE with all-wheel drive and greater horsepower should reduce that estimate to 225 miles per charge. Rival EV SUVs like the Tesla Model Y and Kia Niro EVs also have a greater driving range per charge at a comparable price.
The Countryman Electric's fuel efficiency is yet to be estimated by the EPA or Mini, although it won't likely be as good as Mini's other EV, the Cooper Electric hatchback. Visit the EPA website for additional details about Countryman Electric's fuel efficiency.
The 2025 Countryman will be the first Mini equipped with Level 2 driver assistance technologies for partially autonomous driving and a complete complement of safety features like adaptive cruise control, steering, and lane assist.
When nearing an exit, the car will help the driver discover gaps in traffic flow so they can change lanes while driving at a slower pace while hands-free.
The first Mini to be produced in Germany will be the Countryman. The ICE vehicles will initially go on sale in the first half of 2024, then the electric versions in the latter part of this year.