In late 2024, the Concept CLA Class is expected to begin manufacturing.
Today in Munich, Mercedes-Benz unveiled the Concept CLA-Class electric car. The current product terminology and comments describing it as "close to production" imply that aspects seen here will be included in the CLA's impending complete overhaul.
Reps claim that the new electric luxury vehicle production would start in late 2024, indicating that the finished product will be the 2025 Mercedes-Benz CLA for the American market.
Three more spinoffs will arrive after that: a wagon model we probably won't see and two SUVs that might replace the GLA and GLB.
We misunderstood the Mercedes-Benz representatives when they said we would witness a concept for an all-electric CLA and one of the most energy-efficient electric cars ever made.
The entry-level, small CLA sedan's electric version is not only a Tesla Model 3 rival with Mercedes cachet and a friendly mid-century style; it is also rumored to be one of the most energy-efficient electric vehicles on the road.
Exterior
The design also includes a cutting-edge heat pump that, even in the winter, works similarly to a home heat pump by extracting heat from the outside air and transferring heat from the engine to the cabin.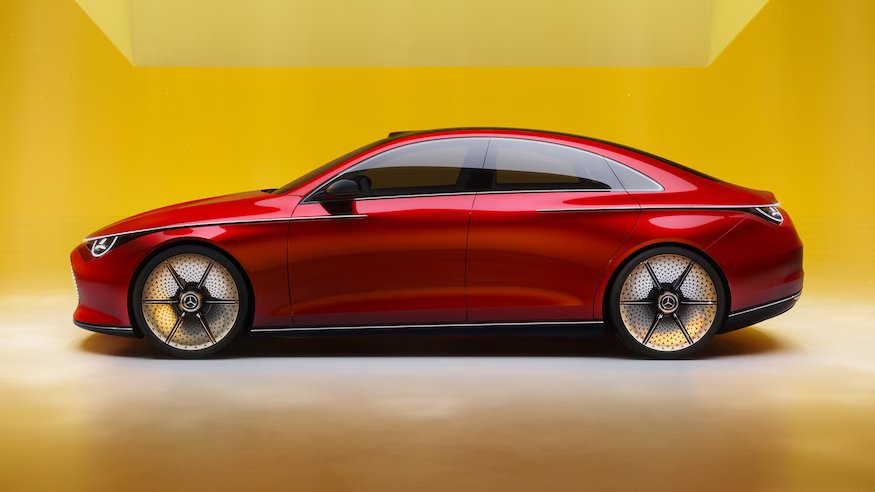 The concept is an "electric first" clean-sheet design using the new Mercedes-Benz Modular Architecture (MMA), created to support entry-level EVs.
It has many concept-car embellishments, but it looks like a next-generation CLA-class should. Its approximate 185-inch length is nearly the same as the existing CLA, which has a length of 184.6 inches (no precise dimensions were provided, but the designer acknowledged it).
The concept has wide 21-inch six-spoke wheels with 255/35R-21 front and 285/30R-21 rear tires mounted on them. Some of the design highlights are a superbly carved shark snout with a noticeable undercut and smooth flanks with a flowing Coke-bottle form.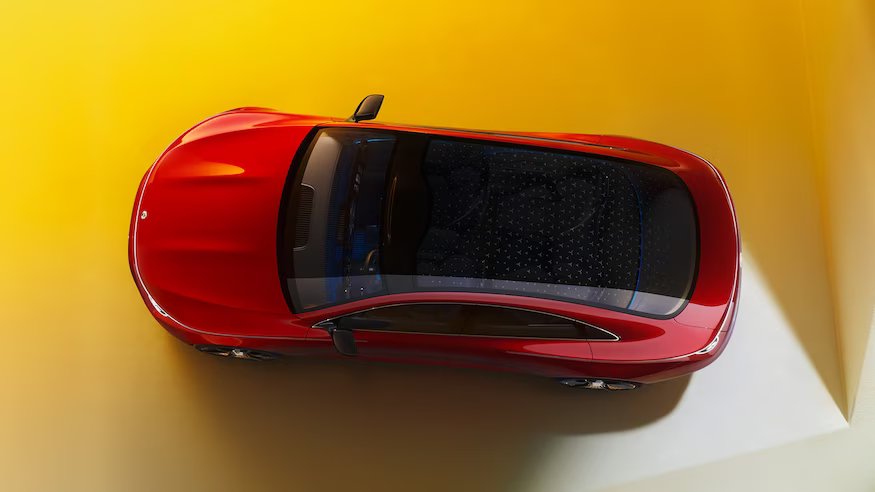 Its bonnet is also unusually long for an EV because it intends to sell ICE engines. The car's proportions align with the tracks, including a wider stance, a longer wheelbase, and shorter overhangs than the existing CLA.
Interior
An MBUX with EQXX influences Super screen dominates the space because it serves as the cabin's de facto dashboard. The panel continues uninterrupted to the passenger side, where your companion can theoretically watch movies, control the audio system, export navigation routes to the driver, and more (specific US features are still unclear).
The instruments and infotainment sub-screens are still in their usual locations.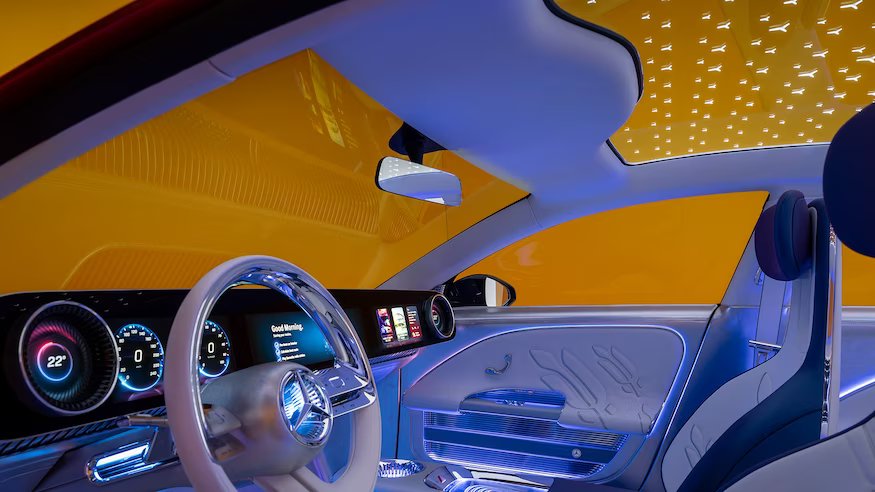 MB drives it.OS chip-to-cloud architecture, which Mercedes claims will produce a distinctive user interface and user experience by connecting all of the car's electrical capabilities.
We have doubts because the device only functioned in a demo mode, and the concept had few physical controls, making an evaluation impossible.
The MB.However, OS chip cannot be avoided because it is kept inside a glowing, water-cooled box resembling a flux capacitor from Back to the Future on the floor below the Super screen. That most likely won't occur, I agree.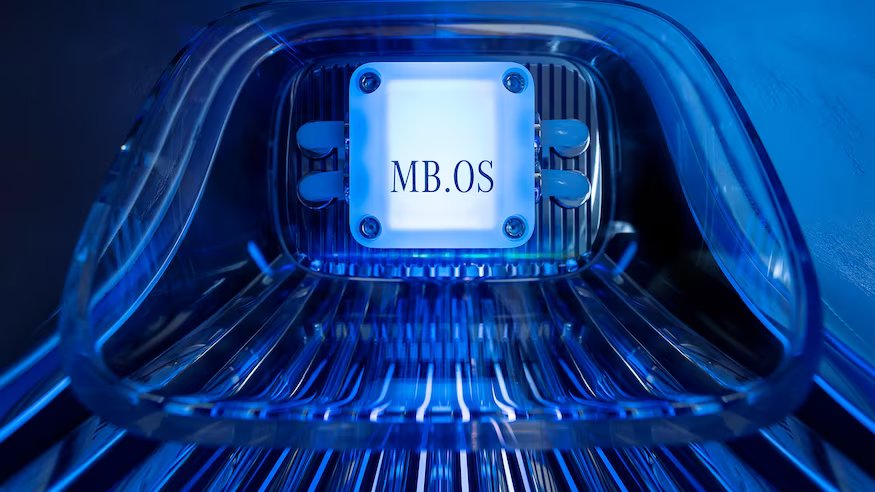 The starry-night roof, which is decorated with hundreds of three-pointed stars, and other interior components of the proposal are similarly unlikely to be realized. There is no visible tint on that roof, and the structural cross member aft of the windshield header is absent.
There is more silver-hued leather on the floor than we have ever seen in our entire lives, and the one-piece four-seat bucket seats are likewise improbable.
But it's simple to look past all of that and picture a more production-ready design, with a tinted glass roof supported by an extra cross member and conventional-looking seats and décor. Also desirable would be more switchgear in the physical sense.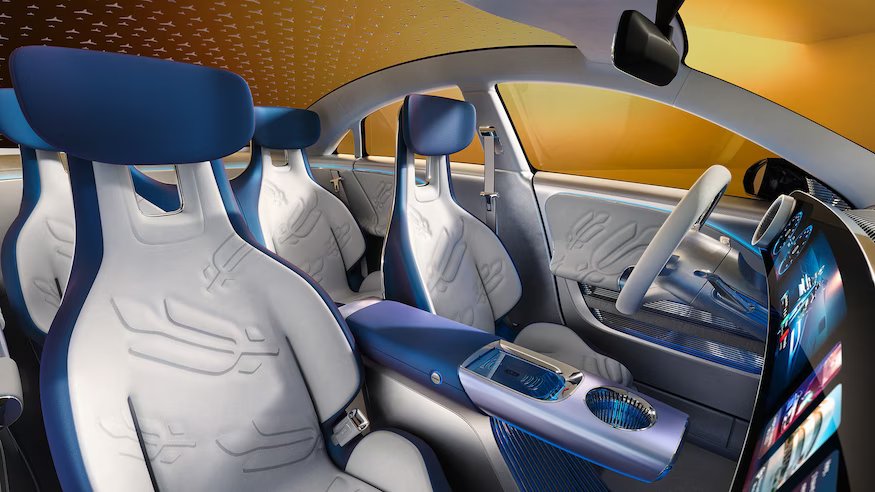 This may be why we particularly appreciate the two sizable protruding rotational climate knobs at either end of the Super screen. You hold them, crank them to change the temperature, and their centers have a reading built-in.
However, the air doesn't come out of them; instead, it escapes through slots in a secondary dash behind the floating screen. The interior is decorated with slotted vents that resemble the lamella structures on the undersides of mushrooms.
The speaker grilles, cupholder lining, horn button details, and the non-skid basement floor beneath the floating console are all made with ribbing inspired by lamella.
Performance
Mercedes was not ready to say whether the ICE cars will be front-drivers like the present CLA or utilize rear drive like the EV concept, but the EV will be available in single-motor rear-drive and dual-motor all-wheel drive models.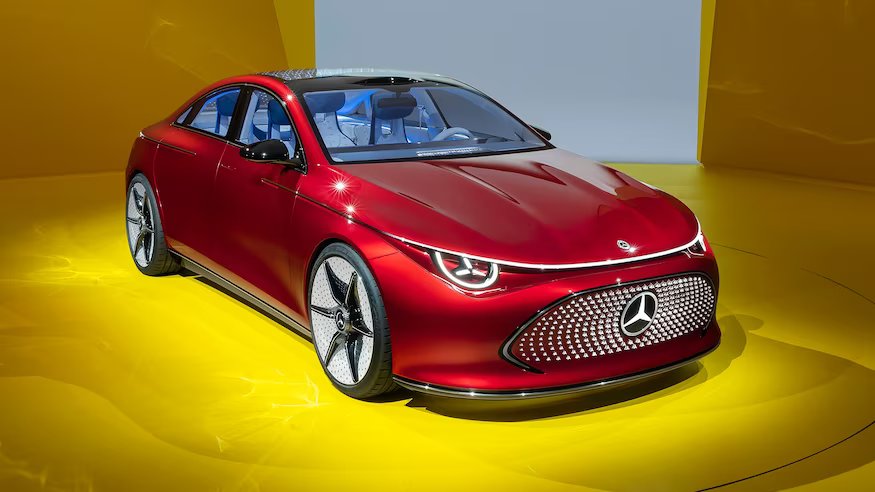 The Concept CLA Class that was displayed uses MB.EDU (Mercedes-Benz Electric Drive Unit) technology from the Vision EQXX concept, which requires "close to zero percent" rare-earth elements to power a single rear-mounted permanent magnet synchronous motor that produces 235 horsepower.
Instead of the typical direct-drive system, a two-speed transmission is used, which improves efficiency over a broader range of speeds. Another significant step toward efficiency is the use of an 800-volt design by the motor and battery.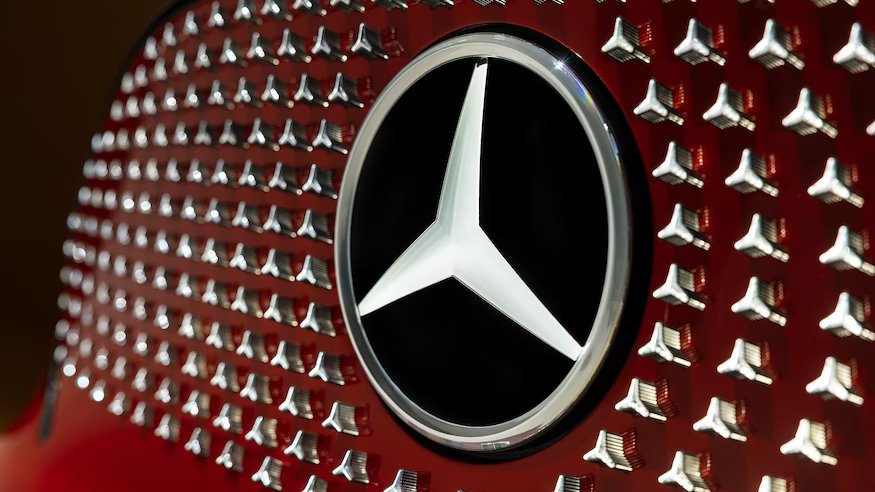 The few performance specifications that were made public highlight the benefit: a predicted range of 750 km and deficient consumption of 12 kWh per 100 km on Europe's WLTP test cycle. Our translation translates to a range of about 400 miles and an efficiency of about 150 MPGe in more familiar EPA metrics.
Additionally, the 800-volt architecture enables DC fast-charging at 250 kW, which might increase range of up to 200 miles (using American measurements) in just 15 minutes.
Mercedes did not disclose the size of the battery. Still, based on the calculations used to get the estimations above, it is anticipated to have a usable capacity of 90.0 kWh.
It turns out that there will be two different lithium-ion battery chemistries available. The more expensive variant includes anodes with silicon-oxide content that boost energy density, which undoubtedly provides the concept's extended range.
Lithium-iron phosphate will be used in the entry-level model; this is a less expensive material choice. However, it is also expected to produce a battery with a lower kWh rating and shorter range. Even still, with 400 miles at the top, it should be an exciting number.