Ram 1500 is the new EV that has taken the world by strong with its insane motors that are able to do wonders and generate a great deal of power. This is a twist on the gas-powered Ram 1500, which is a fully electric pickup truck just like its compititators.
The exterior that is shown here is without a doubt one of the best that is ever seen of a pickup truck, and it can described as a rugged body frame with a chassis and a bunch of LEDs that make the exterior shine even brighter.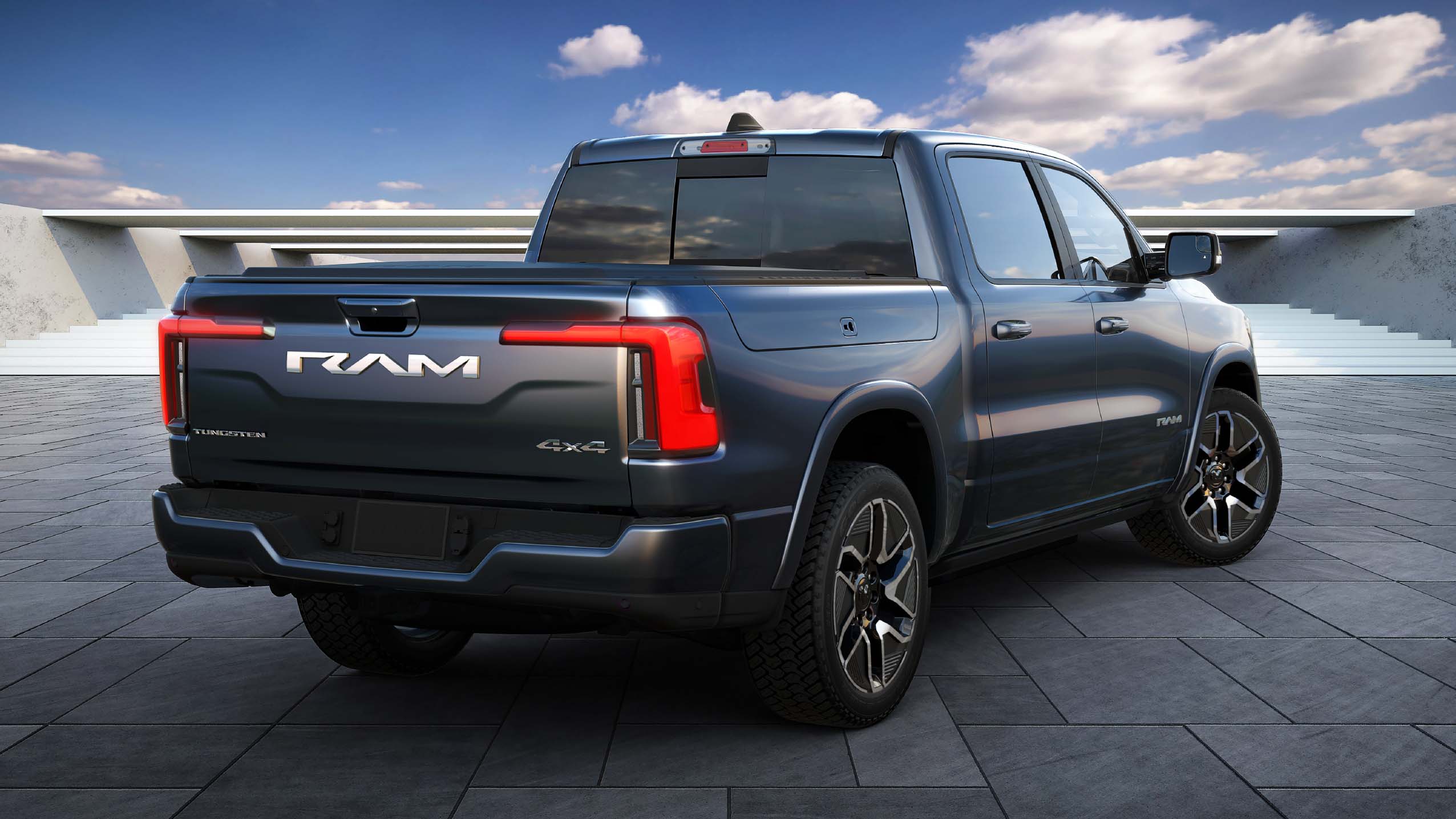 This gives it a very powerful presence that can be felt by anyone, which speaks volumes about its exterior. The interior is on par with the best of the best interior that is offered in its rival pickup truck.
Ram 1500 REV will be going against the Ford F-150 Lightning and Rivian R1T, All of these pickup trucks are great, which makes the race for the number one spot a very difficult task.
2025 Ram 1500 REV Trims
The trims that will be available for the RAM 1500 Rev haven't been revealed by the company, which is a very unfortunate thing, but it could be similar to that of the previous model of Ram 1500, which means that the trims of the 2025 Ram 1500 will have the are as following the trims names:
• 2025 Ram 1500 REV Tradesman
• 2025 Ram 1500 REV Big Horn
• 2025 Ram 1500 REV Laramie
• 2025 Ram 1500 REV Rebel
• 2025 Ram 1500 REV Longhorn
• 2025 Ram 1500 REV Limited
• 2025 Ram 1500 REV Tungsten
These might be the names of the trims that might be available for the up-and-coming Ram 1500 REV. But this should be taken with a grain of salt.
2025 Ram 1500 REV Engine
There will be two different battery packs available in Ram 1500 REV, each of which will have its own specific advantages. The all-wheel will be standard on all the models.
Now let's talk about the battery; the first one is the 168-kWh battery, which will be able to generate 654 horsepower with 620 pound-feet of torque.
The second battery will be a larger 229.0-kWh battery, but its hoursepower or torque is still yet to be revealed by the company.
Furthermore, Ram said that this pickup truck will be able to go from 0-60mph in 4.4 seconds. The company, also revealed that a small battery is capable of towing up to 14,000 pounds and a payload of 2700 pounds.
As for the range, the smaller 168.0-kWh battery might be able to go 350 miles, and the larger battery should be able to go 500 miles of range.
2025 Ram 1500 REV Interior
The size of this truck is no joke as it is very spacious on the inside and is very comfortable at that. The space for carrying things is also very large because of which a person can carry a lot of things at once and very easily.
The display that will be present in REV will be two 14.5-inch touchscreens that will hold all the features within it. There are features such as a 360-degree camera and voice assistance from both Android and Apple.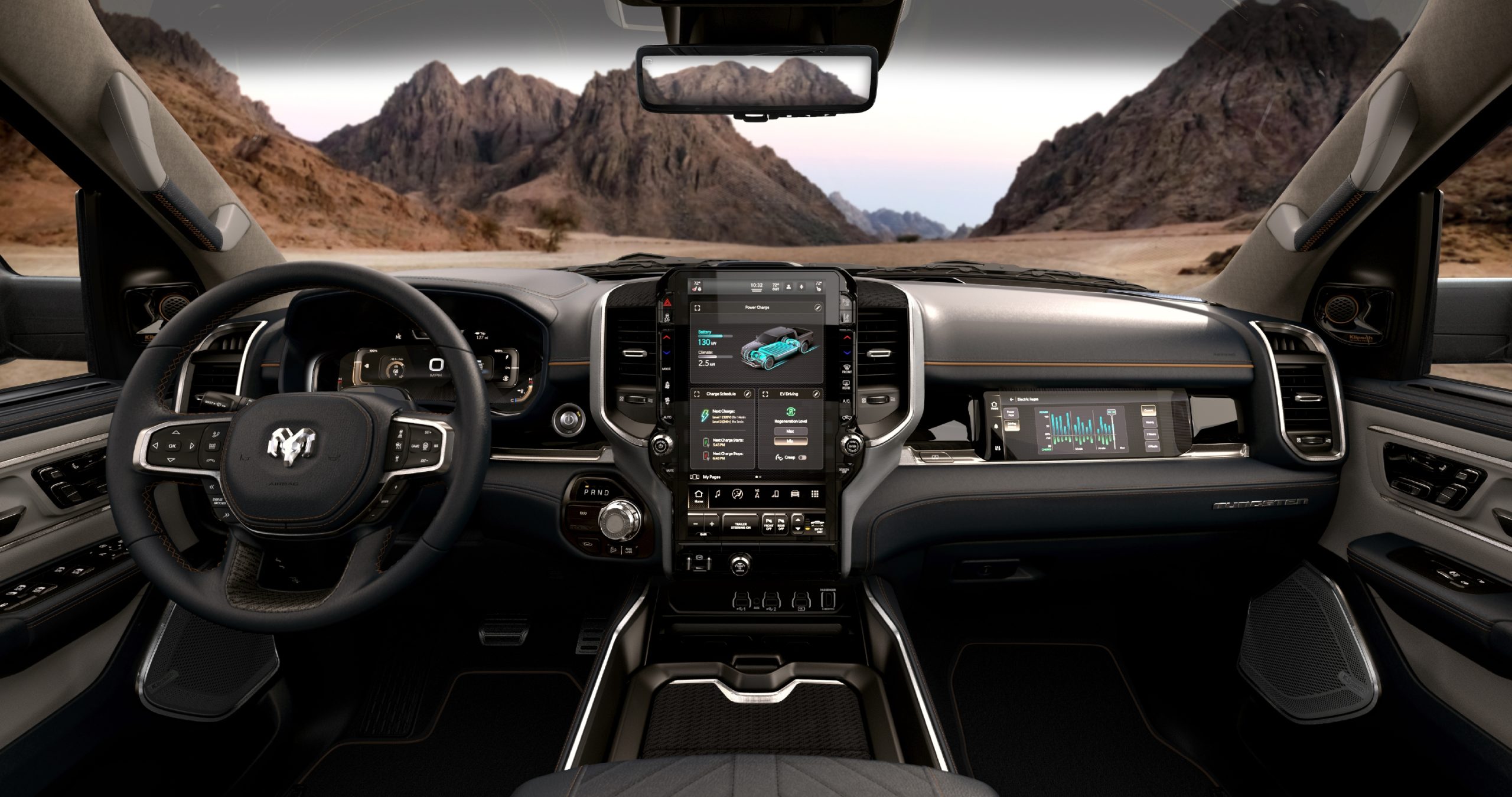 There is also a Smart Home Control function, which will allow passengers to adjust lights, thermostats, audio systems, and cameras from the front seat. Lastly, Android Auto and Apple CarPlay will be available.
2025 Ram 1500 REV Price
The price details of the 2025 Ram 1500 REV are yet to be revealed, but many believe it will start from $55,000 or $57,000. As for the high-end model, the price will be a lot higher than the basic model and the other models will be around
$85,000.
2025 Ram 1500 REV Release Date
The release date of this amazing pickup truck hasn't been revealed by RAM yet, but it is expected to arrive in Q4 2024, which means it could be released anywhere in October, November, or December.