Stellantis is prepared to deliver its most recent news as the 2023 North American International Auto Show is currently underway in Detroit.
The Jeep Gladiator will be upgraded for 2024, just like the Wrangler before it, with new fascias, increased safety equipment, and updated standard features. Here is all the information you require regarding the new Jeep pickup.
Here is the 2024 model update that everyone anticipated: The 2024 Jeep Gladiator mostly receives a copy-paste update of practically everything that was added to the Wrangler's predecessor in response to the Ford Bronco, which has begun to challenge it.
However, as these are two different models, we'll examine what has been updated on each and focus on what is specifically new to the 2017 Gladiator pickup.
Interior
There are seven new wheel designs in addition to the new seven-slot grille, which replaces the whip antenna with one built into the windshield.
The same newly wrapped instrument panel is inside, but it has been rearranged with circular vents on the outer edges and a narrow rectangular one in the center to make place for a larger 12.3-inch LED display.
It has full-array local-dimming (FALD) technology, which significantly improves visibility in bright conditions, such as when the roof is off and the windshield is folded down.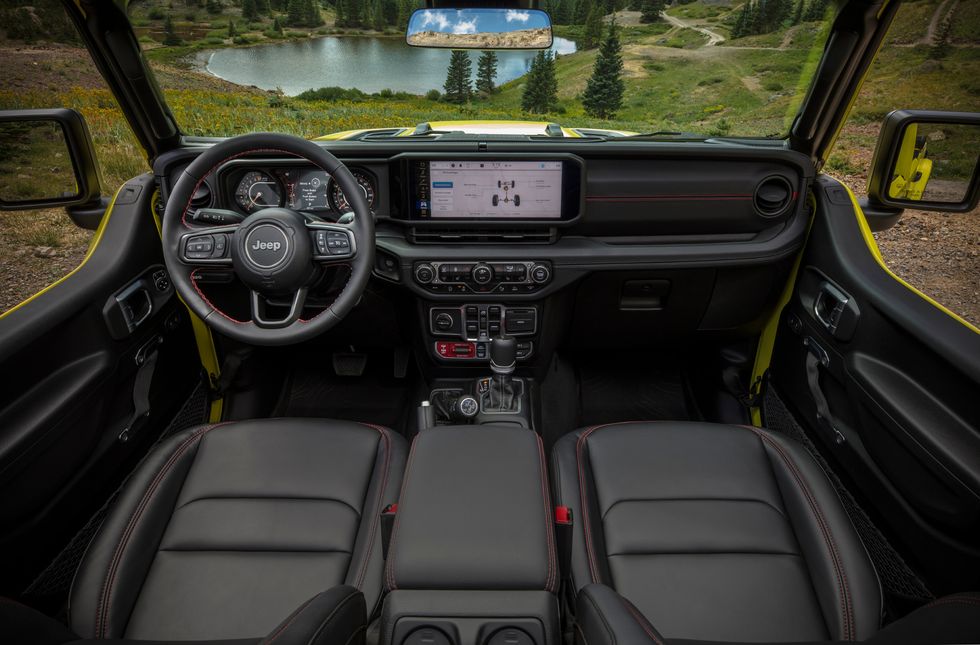 The Uconnect 5 infotainment system is run on that screen, and it contains Jeep Adventure Guides software with Trails Off-road programming, just like the Wrangler.
It also supports wireless Apple CarPlay and Android Auto. This third-party app simplifies off-roading for beginners by providing turn-by-turn directions along 62 Jeep Badge of Honor trails in addition to another 140 or so off-road trails, all of which receive curated descriptions of nearby points of interest and regular updates as the trails change over time. (For only $40 per year, a larger selection with 3,000 trails is accessible by subscription.)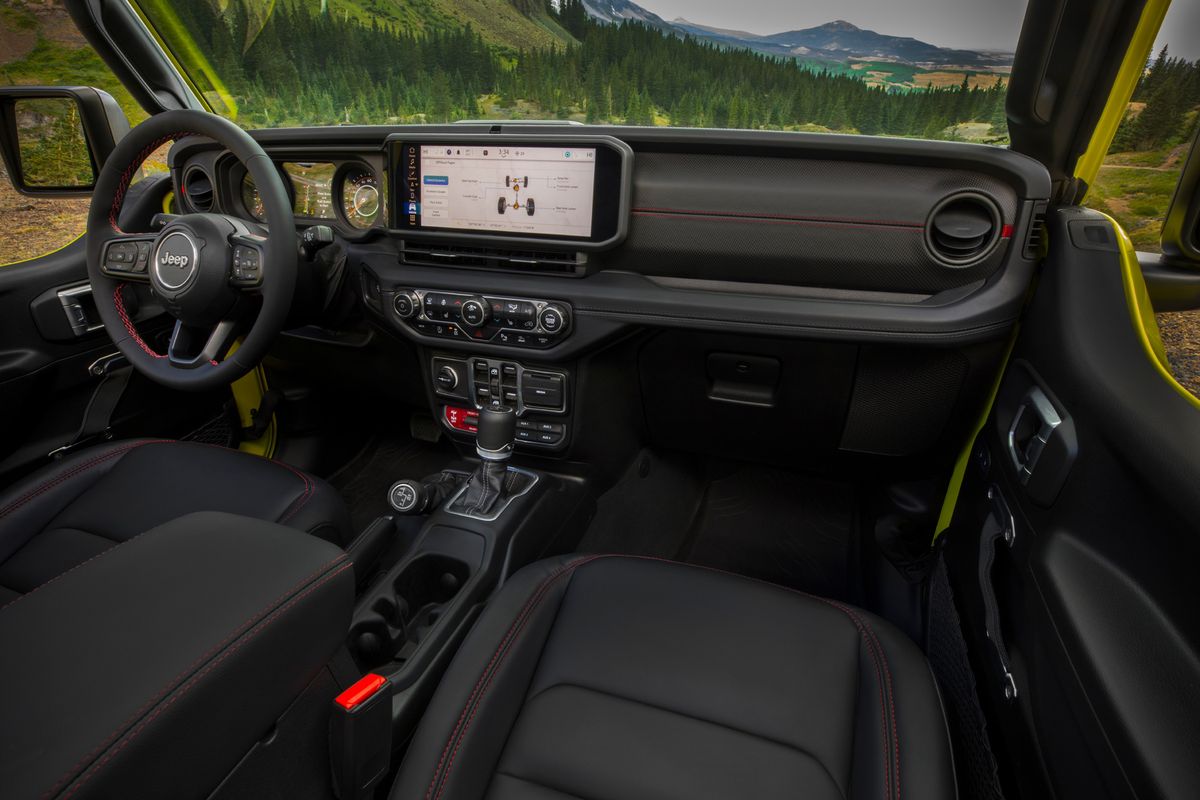 Lower-spec versions have interiors that are mostly black with gray accents; Mojave variants have a new Mantis Green (a dark olive color) option; and Rubicon models have red inside accents on black.
The front seats are electronically protected against underwater fording occurrences and include a 12-way power adjustment option. On Sport S grades and higher, adaptive cruise control with a stop feature is standard.
With the addition of acoustic glass, a new array of seven microphones, and noise cancellation, all Gladiators now have sound deadening intended for the diesel engine. These upgrades considerably enhance speech recognition when using Uconnect 5 and making Bluetooth-enabled phone calls.
Exterior
American Expedition Vehicles (AEV) offers three upfits packages for the 2024 Gladiator as an additional option. A 2.0-inch suspension lift and 35-inch BFGoodrich All-Terrain T/A KO2 tires are features of the Upcountry and Upcountry+. Both setups come with distinctive wheels and fender flares, but only the "+" package adds a beefier front bumper and a cover plate without a winch.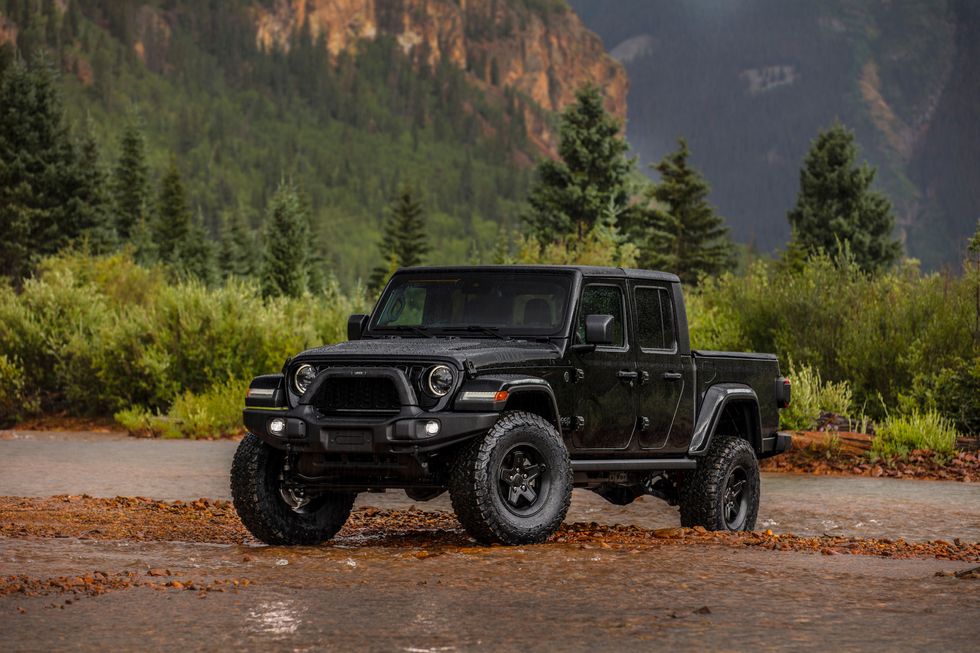 AEV's Level II package, which adds 37-inch BFG tires and a 2.5-inch suspension lift with Bilstein dampers, is more severe. A 57-degree approach angle, a 26-degree breakover angle, and a 34-degree departure angle are further noteworthy measurements.
The Level II package also includes the front bumper, front skid plate, and Warn Zeon 10-S winch stated before. The local Jeep dealers are where the AEV upfits must be ordered.
Performance
The Gladiator loses its diesel option and will launch the 2019 model year with only the slower, less effective 3.6-liter V-6, whereas the Wrangler provides four different powertrains.
However, Jeep has promised to electrify every model in its portfolio by 2025, so we're placing a wager that a Gladiator 4xe will be added to the lineup in 2024. This 470-hp combination could end up being far more environmentally friendly and just as speedy as the diesel.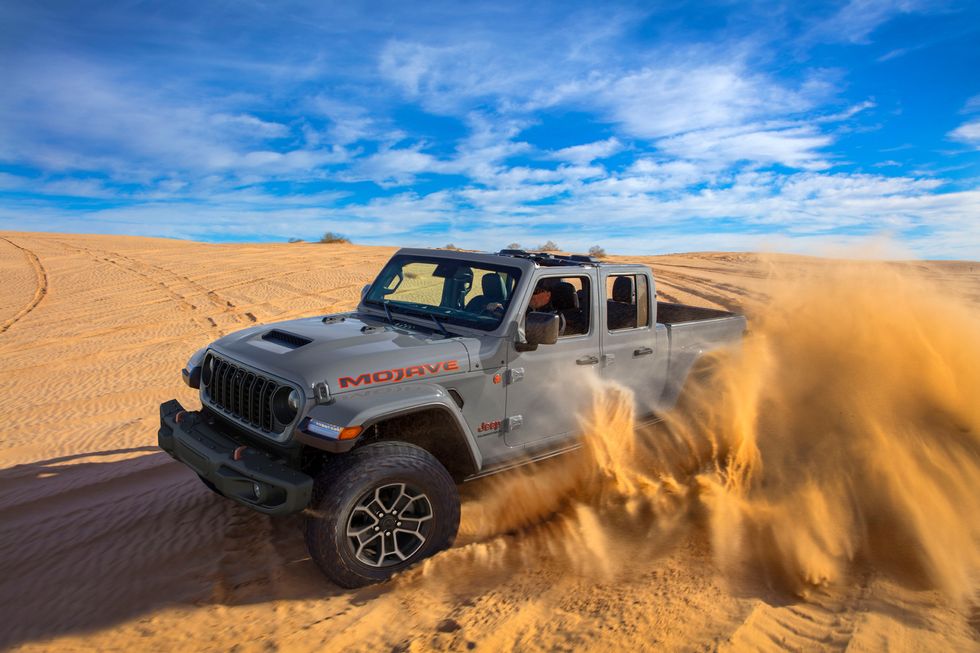 Pricing for the 2024 Jeep Gladiator is not anticipated to alter significantly until it goes on sale in late 2023, with the exception of covering higher standard equipment levels at the top of the range.