Although some people may think that adding a second rear axle is more for aesthetic purposes than for practical ones, the truth is that doing so can boost your Ford pickup truck's capacity for carrying additional weight.
Ford appears to have considered this change on their own and went above and beyond simply adding a "dead" or "lazy" axle to increase load capacity. The Blue Oval may be thinking of it as a method to incorporate an electric motor into a hybrid or PHEV conversion as well.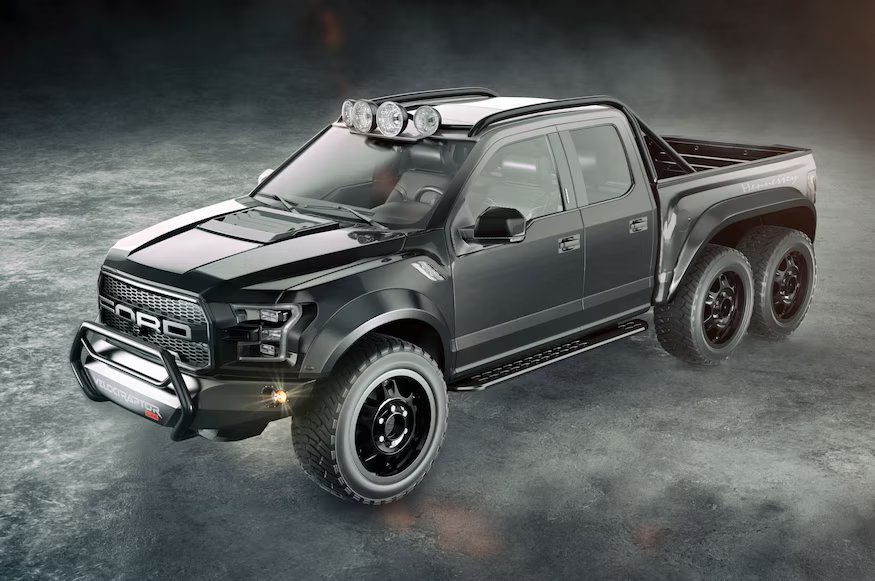 We'll give CarBuzz credit for discovering the patent, but we have our doubts about whether or not this will be an improvement to the F-150. The illustrations' depiction of a frame with an inboard shock design is largely responsible for this. Outboard shocks have been a part of the F-150 frame since 2005 in an effort to enhance ride comfort.
On the other hand, the "old school" inboard shock mounting is still used on the F-Series Super Duty. The fact that this technology aims to boost a truck's payload and towing capability makes it more likely that it will be used on the Super Duty line of trucks (more particularly, more towards the chassis cab, which we'll explain in a bit).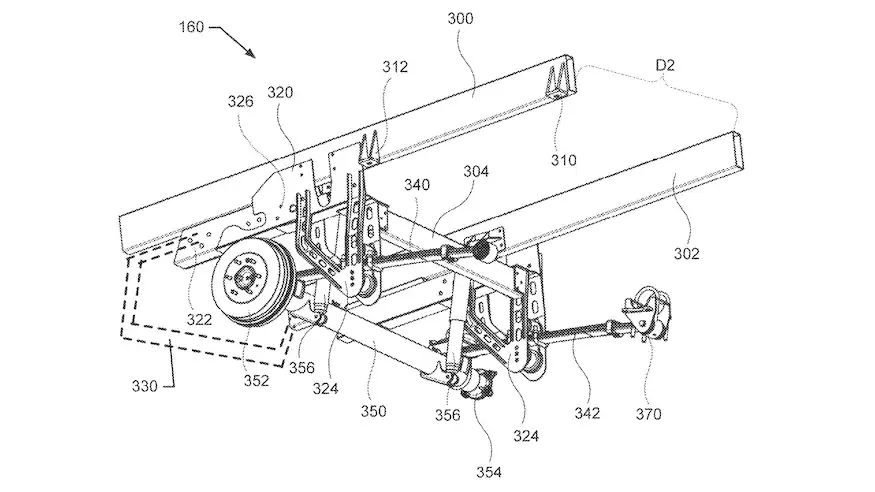 A second box section frame and supporting box frame structure must be added to the truck's main frame in order to accommodate a second rear axle. By attaching the extension to the current truck frame, this solution would stretch the frame to accommodate the extra leaf-sprung axle and add more support.
Ford appears to believe that everything could be bolted on using already-existing mounting points (primarily for the bed attachment) and frame holes.
The other difficulty is that the additional axle would require a new wheel well, so even though the new support structure would increase the bed's height, the previous bed would no longer be usable.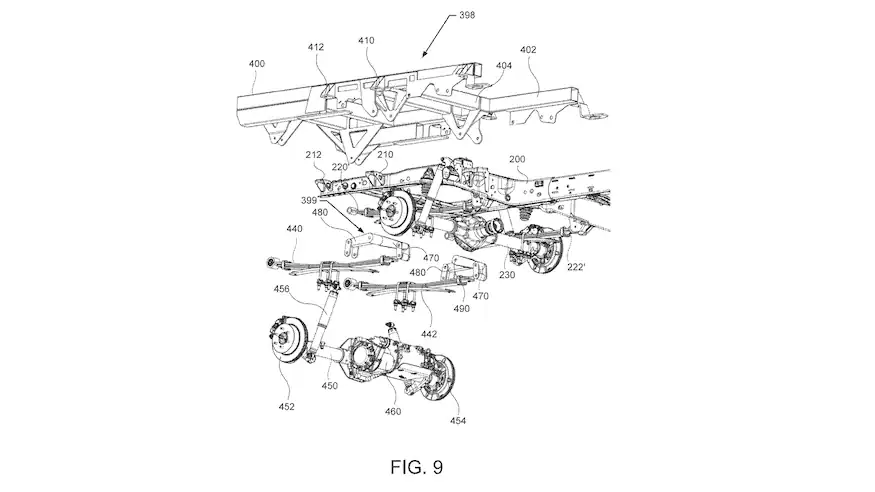 Ford did not specify a solution, which again suggests that this notion may be applied to Super Duty chassis cab vehicles, some of which may not have beds at all. Due to the absence of a bed, commercial owners would have alternatives for what to use in its place, such as a box truck, tow truck, or other commercial uses a Super Duty chassis cab provides for.
The patent starts to make more sense for commercial usage than private use when you provide customers the choice of a second axle that is fitted by a dealer. Again, we'll grant that "weirder things" have indeed occurred in the past.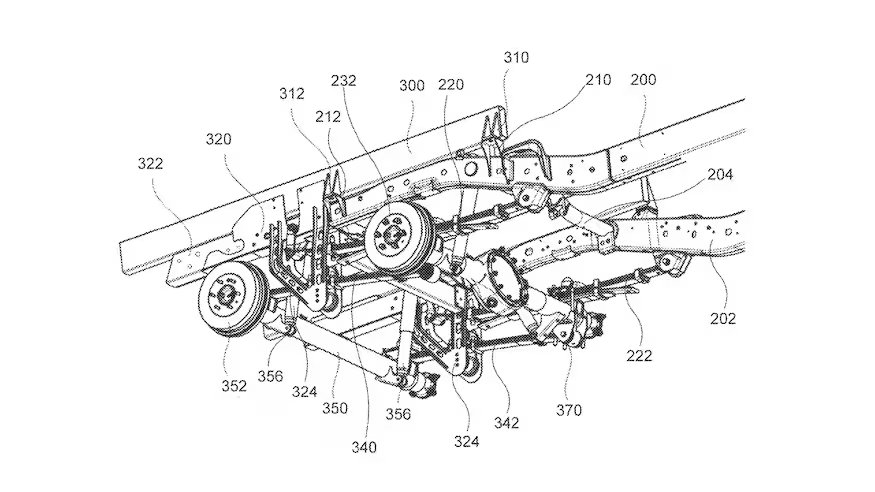 The front eyes would join to new leaf spring mounts for the existing axle, but this construction would include the required parts to permit the rear axle leaf springs to flex appropriately as they bear the weight of the truck and load.
The previous front leaf spring perch would be replaced by this new attachment, which would also include additional U-bolts to fasten onto lower plates that the rear axle's front leaf eyelets could attach to. These significant adjustments would better meet the needs of superduty vehicle customers who want to tow heavier payloads, which would make the expense of such a modification justifiable.
We also know that Ford has developed a hybrid system that can be employed in addition to an ICE engine that is already in place. Though strangely does show an outboard shock arrangement on both axles, just like the contemporary F-150, this additional motor-on-axle setup would necessitate a different suspension design.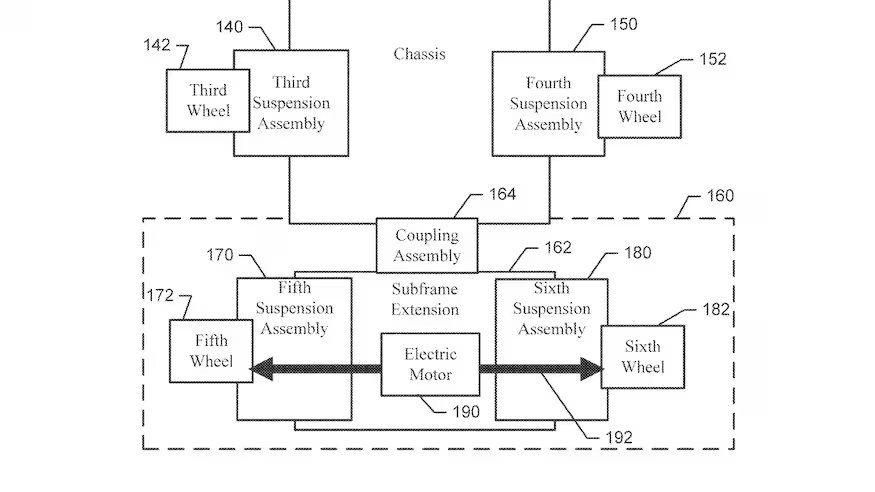 This patent also demonstrates the usage of a hanger on the front leaf eyelet of the rear axle and how it is attached to a pivoting structure that also holds the hanger and rear leaf eyelet of the front axle. This pivoting device offsets the hanger attachments so that the new rear axle leaf spring system is inboard the old axle leaf spring system, enabling the front axle rear hanger to function properly.
This is shown in Figure 9, where the front axle's driver's side hanger is outside of the new leaf spring on the back axle. The sole component that would connect the two axles is the pivoting framework; nevertheless, there isn't a new lower leaf bracket for the old axle.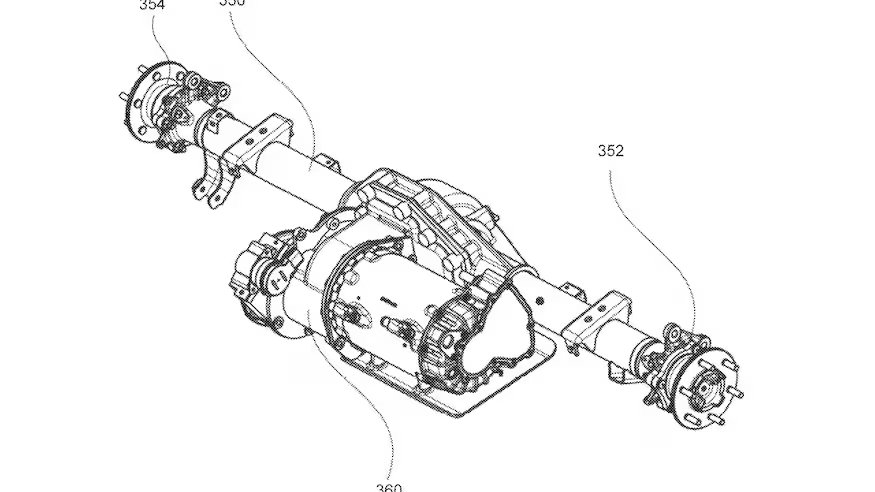 Once more, it's very plausible that Ford wants to make this twin-axle upgrade system compatible with both the F-150 and the Super Duty lines. The patent's design, however, screams commercial, with F-150 buyers more interested in buying a chassis cab than in competing with their neighbor's Raptor R.