The Toyota Grand Highlander and the Lexus 2024 TX SUV are both built on the same platform. The 2024 TX SUV will take the place of the three-row RX-L SUV in the Lexus lineup. The TX should provide plenty of room for adults to spread out in the back seat, whereas the RX-L was never very roomy.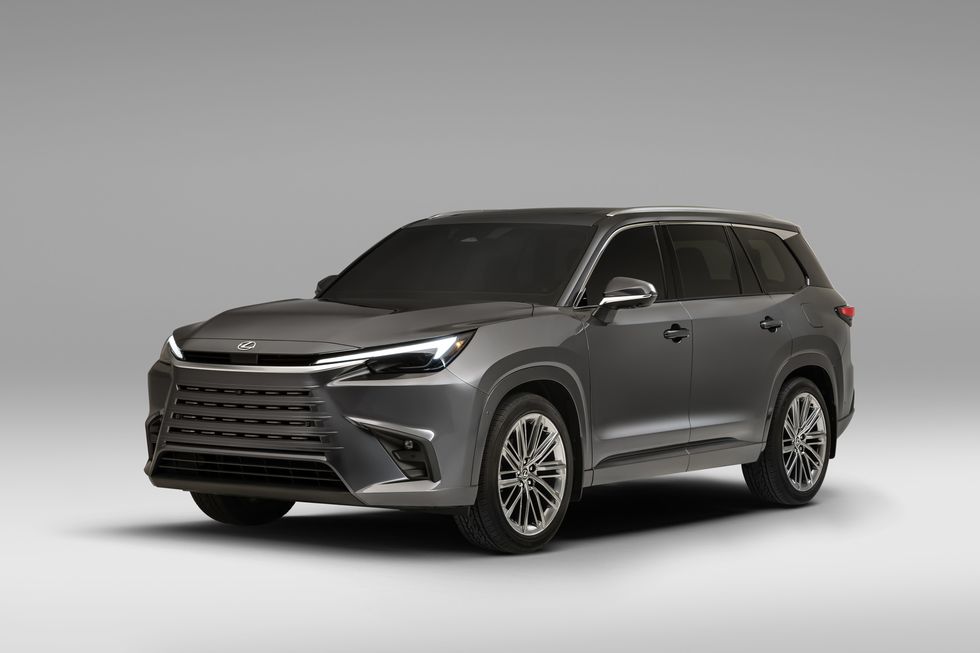 The Toyota version is already very comfortable inside, so we anticipate a profusion of luxury amenities to warrant the Lexus logo, but the company hasn't yet revealed a complete equipment list. Three distinct powertrains, including two hybrids, one of which is a plug-in hybrid, will be available.
A turbocharged four-cylinder engine powers entry-level models, while the plug-in hybrid is expected to produce a robust 406 horsepower and have a 33-mile electric-only driving range.
Interior
The TX's three rows of seating can accommodate up to seven people, depending on the interior arrangement you select. The total capacity is reduced to six by an optional set of second-row captain's seats, but purchasers planning to use the TX as a family SUV may find that tradeoff beneficial for providing sibling separation.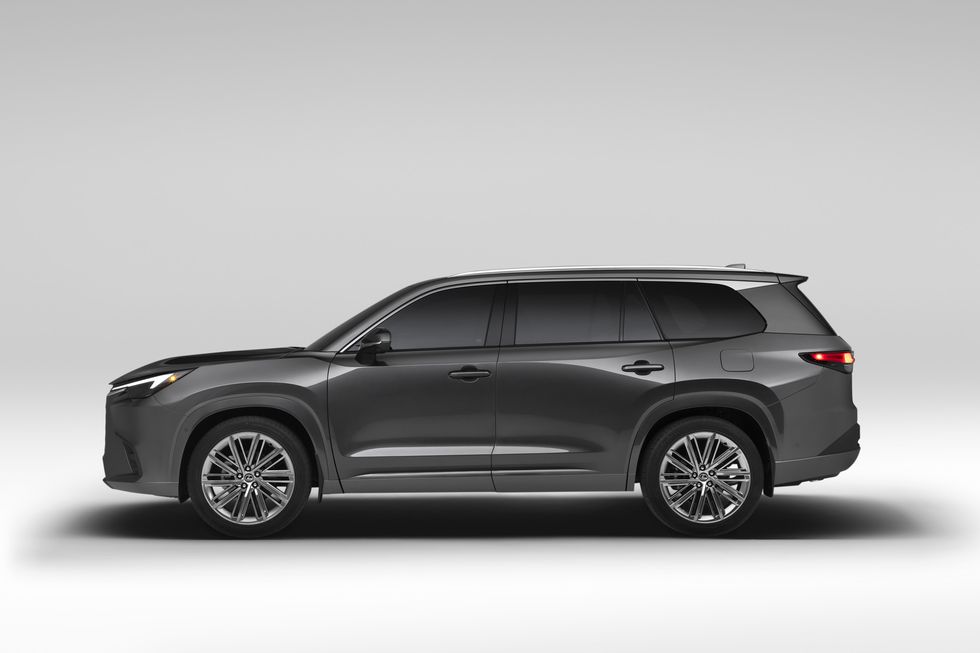 There are lots of storage containers, and Lexus has lots of charging ports inside the TX's cabin as well. Although we don't yet have a complete list of the TX's standard and optional features, we anticipate that it will be long on comfort and luxury.
Examples of such features include a panoramic sunroof, leather upholstery, heated and cooled seats, and possibly even massage for the front passengers. We'll update this article with more information as soon as we learn more.
The TX comes standard with a large 14.0-inch infotainment screen that runs Lexus' most recent infotainment interface, which we found to be quick and easy to use. A wireless smartphone charging pad, in-dash navigation, and wireless Apple CarPlay and Android Auto are anticipated to come standard.
A 12.3-inch digital gauge display may be set to show the driver a variety of data, and an optional head-up display gives the driver access to yet another digital readout. Although Lexus hasn't yet revealed the TX's standard radio, which is likely to be a 10-speaker system similar to the one found in the 2024 GX SUV, it has stated that a 21-inch Mark Levinson premium stereo will be an option.
Performance
A 2.4-liter, four-cylinder turbocharged engine powers TX350-badged models. This base engine has an eight-speed automatic transmission, 275 horsepower, and either front- or all-wheel drive. The TX500h F Sport Performance raises the bar by including standard all-wheel drive and a hybrid-assist system that increases horsepower to 366 horsepower.
This model has a six-speed automatic transmission rather than an eight-speed. The TX550h+, however, which produces 406 horsepower with the help of a 3.5-liter V-6 engine and a plug-in hybrid system, is the most potent model of the TX.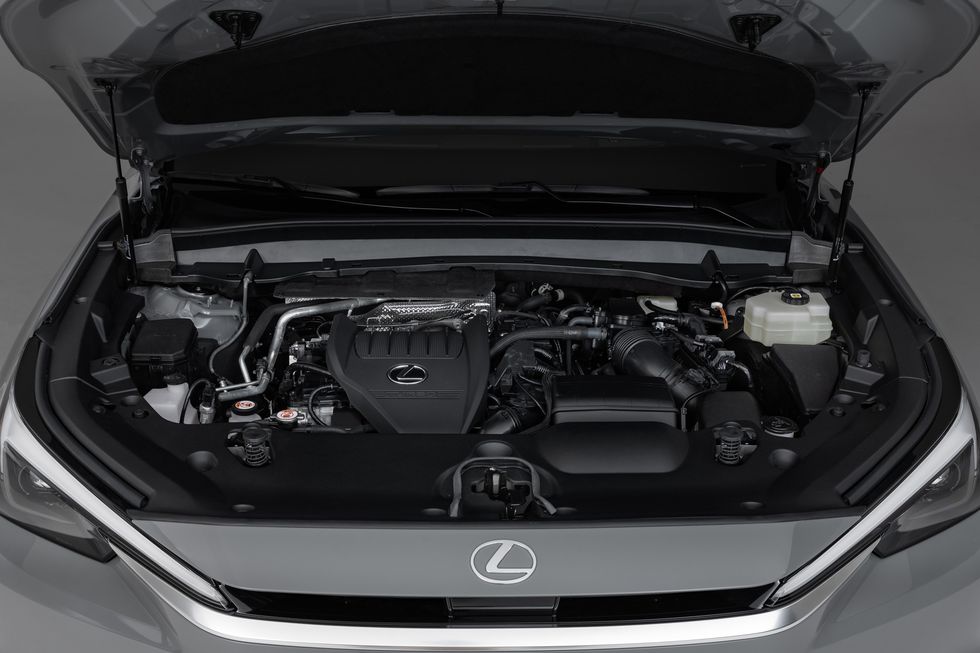 The TX550h+ comes standard with a continuously variable automatic transmission and all-wheel drive. When we have an opportunity to drive, we'll put the TX to the test.
We'll take the TX to our test track when we have a chance to get behind the wheel, and we'll update this article with test results and driving impressions.
The plug-in hybrid Lexus TX550h+ model hasn't been fully disclosed, but we do know that it should have enough battery capacity to run the three-row SUV for roughly 33 miles before requiring recharging. We'll update this item when we learn more about the battery's capacity, the anticipated charging time, and an official range prediction.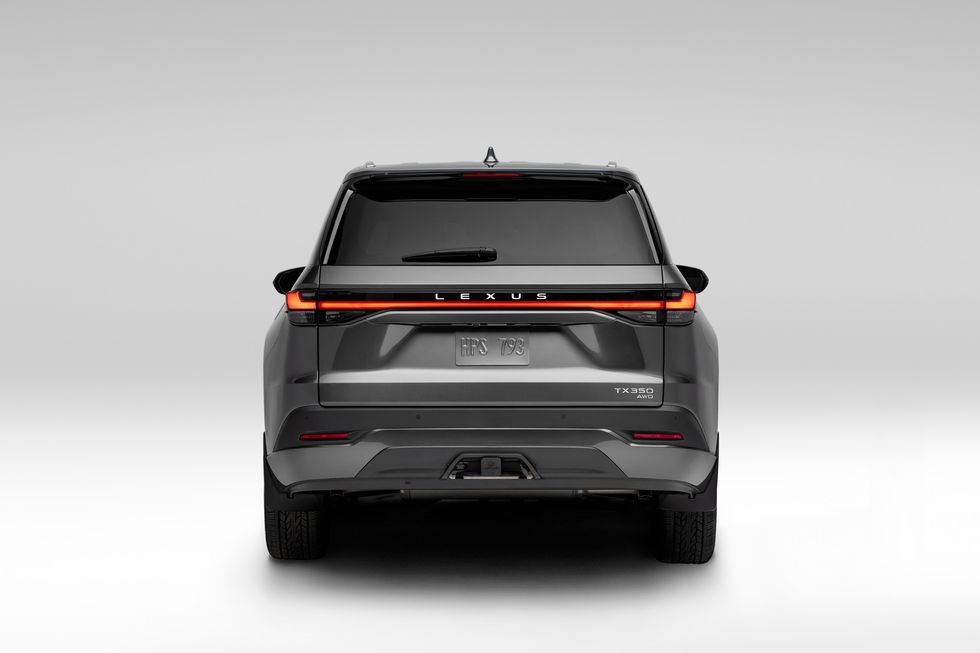 The EPA hasn't yet commented on predictions for the TX's fuel economy, but Lexus tells us it anticipates the TX350 to achieve a combined rating of 21 mpg, while the hybrid TX500h and TX550h+ versions are anticipated to achieve combined ratings of 24 mpg and 30 mpg, respectively. We'll take the TX on our 75 mph highway fuel economy route as soon as we can, and we'll update this article with the results of our actual tests. Visit the EPA website for more information about the TX's fuel efficiency.