We anticipate that the Ioniq 5 N, like other gas-fired models from the company's N performance brand, will provide its thrills at a high-value pricing point. Although it shares a chassis with the Kia EV6 GT, the Hyundai N division has made all of its own tuning to give its hottest electric SUV its own unique go, stop, and turn characteristics.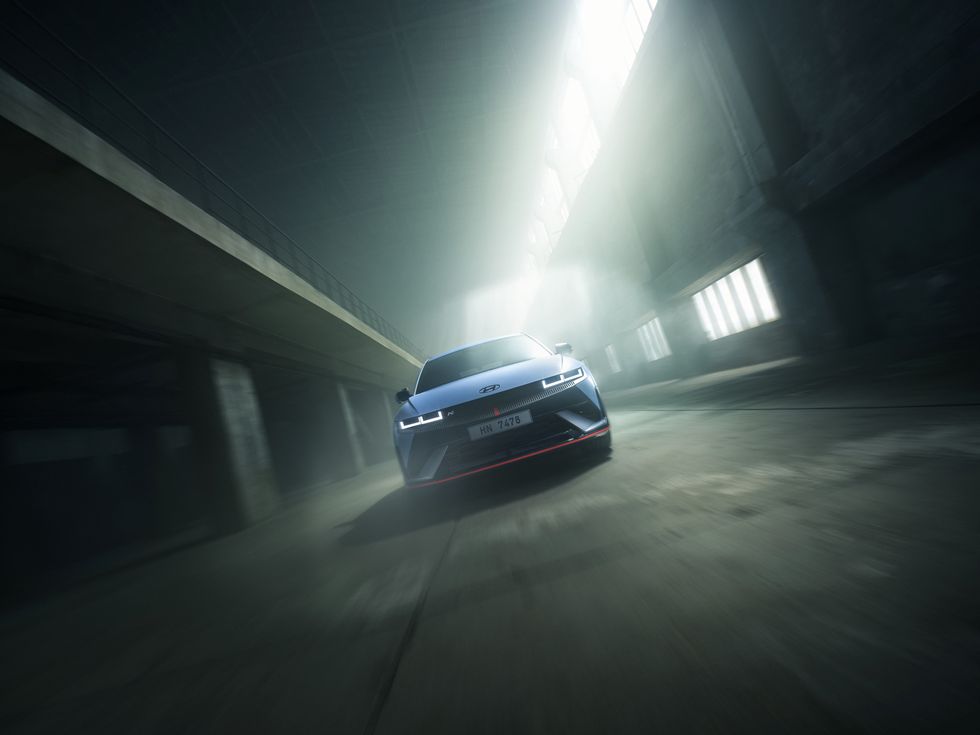 The dual electric motors of the Ioniq 5 N ordinarily produce 601 horsepower, but the N Grin Boost feature gives them an adrenaline boost that temporarily increases power output to 641 horsepower. In contrast to its more pedestrian siblings, the beefed-up Ioniq flaunts athletic hardware, just like other N models.
A racier nosepiece, a massive back diffuser, bigger wheels, sticky tires, powerful brakes, and wider fenders. We were eager to try the finished product after our test drive of a pre-production prototype.
2024 Hyundai Ioniq 5 N Exterior
From the outside, the Ioniq 5 N's improvements seem quite modest, which is more of a statement of how well-equipped the base SUV is for handling and aerodynamics. The N has lighter, larger, lightweight forged 21-inch aluminum wheels with Pirelli P-Zero 275/35R21 tires, and it is also broader and lower.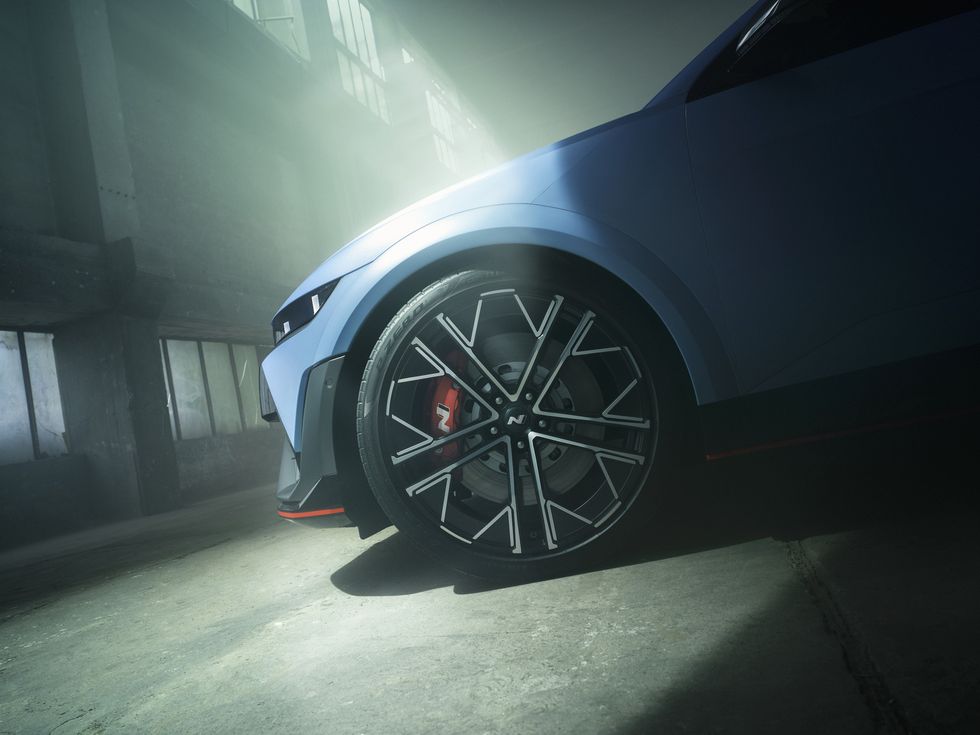 Corner Rascal, Racetrack Capabilities, and Everyday Sports Car appear to be the three main corporate pillars for Hyundai's N performance business, which is still relatively new. The last two objectives go without saying because Hyundai wants its performance vehicles to be suitable for both on- and off-road use.
The third pillar, Corner Rascal, is in charge of making sure the vehicles are enjoyable to drive by adjusting the handling to increase the driver's interest.
A redesigned air curtain, a new N Mask graphic front fascia with functional mesh, and three active front air flaps improve brake cooling. The revised bumper designs lengthen the vehicle by a little over 3 inches overall. There is a new rear diffuser, a wing-style rear spoiler with an integrated brake light, and a new air outlet to improve airflow.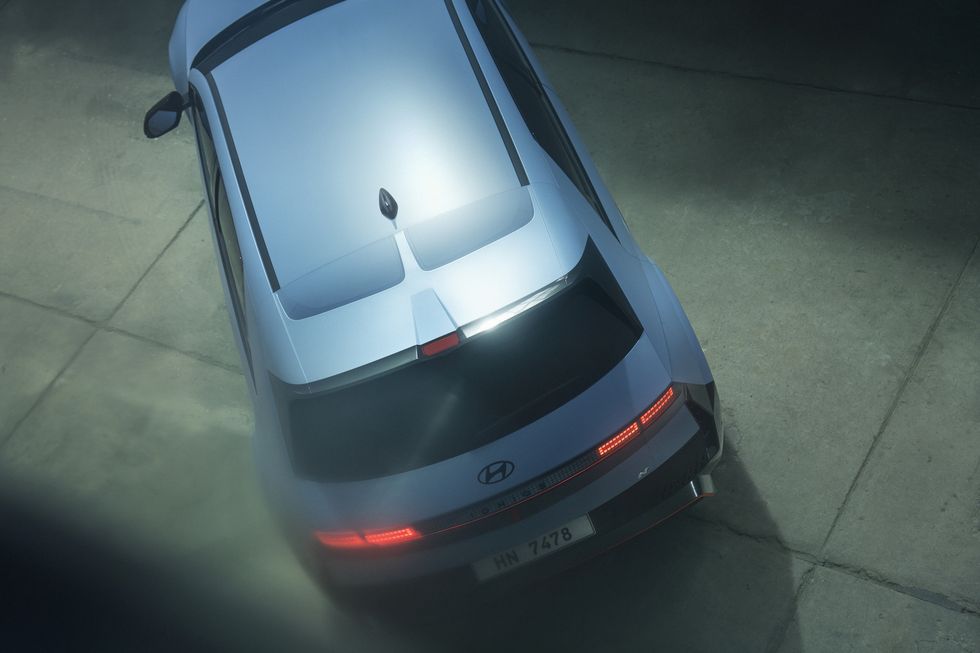 A new N accent color, Luminous Orange Matte, is now used to draw attention to external features that are dark and contrasted.
2024 Hyundai Ioniq 5 N Interior
Many eco-friendly components are included within the Ioniq 5 N, including a door garnish made of recycled paper, PET, and TPO made from sugarcane, tire-based pigment, recovered Alcantara fabric, and leather that has undergone minimal processing.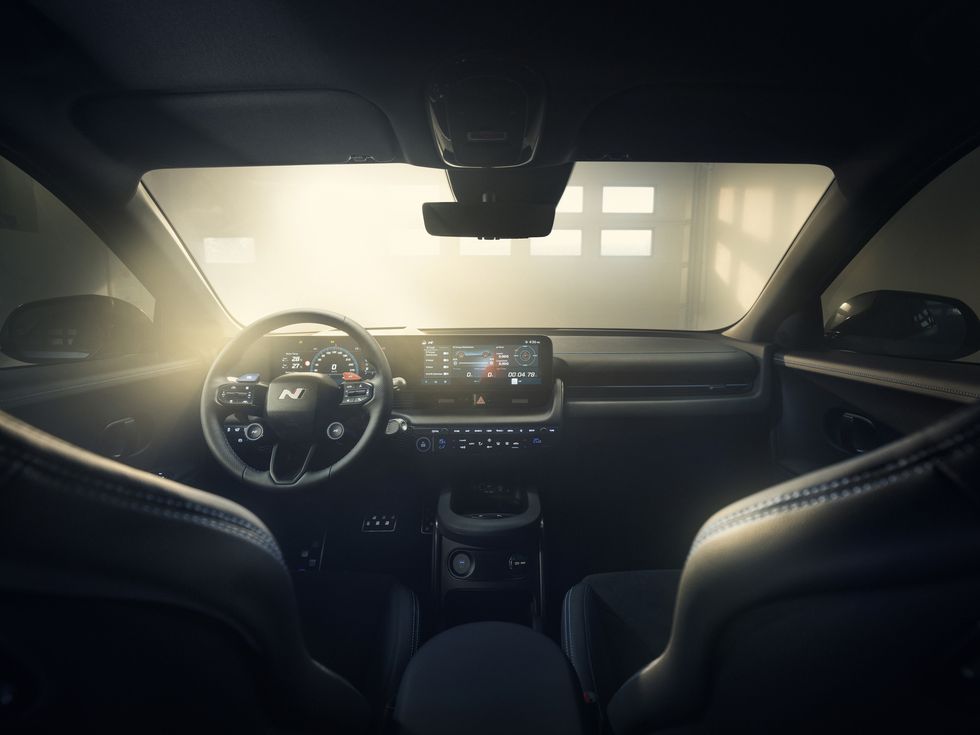 Two-tone racing bucket seats with a reduced seating position and reinforced bolsters are available in cloth and leather or eco-Alcantara and leather. The N Grin Boost button on the steering wheel enhances power output for 10 seconds. There are also N-specific knee and shin supports, a sliding armrest, and a steering wheel with four dedicated drive mode buttons.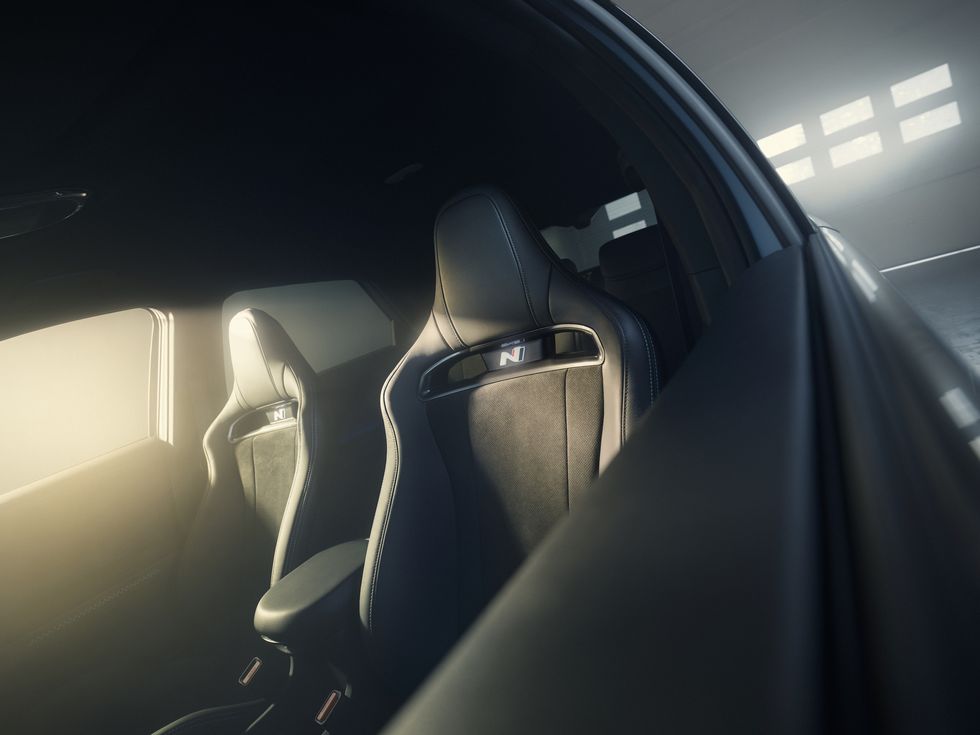 The N model employs the same 12.0-inch touchscreen infotainment system and 12.0-inch digital gauge cluster as the normal model, though Hyundai hasn't provided specifics about this yet. This suggests that the N will come standard with Apple CarPlay and Android Auto in addition to the same speech recognition software.
2024 Hyundai Ioniq 5 N Performance
With an 84-kWh battery providing power, Hyundai claims that its two e-motors have a combined output of 600 horsepower and 545 lb-ft of torque, enabling a 0-62 mph time of 3.5 seconds. There is currently no range prediction, and the top speed is set at 160 mph. The base Ioniq 5 AWD generates 320 horsepower and 446 lb-ft of torque, and its EPA-estimated range is up to about 260 miles.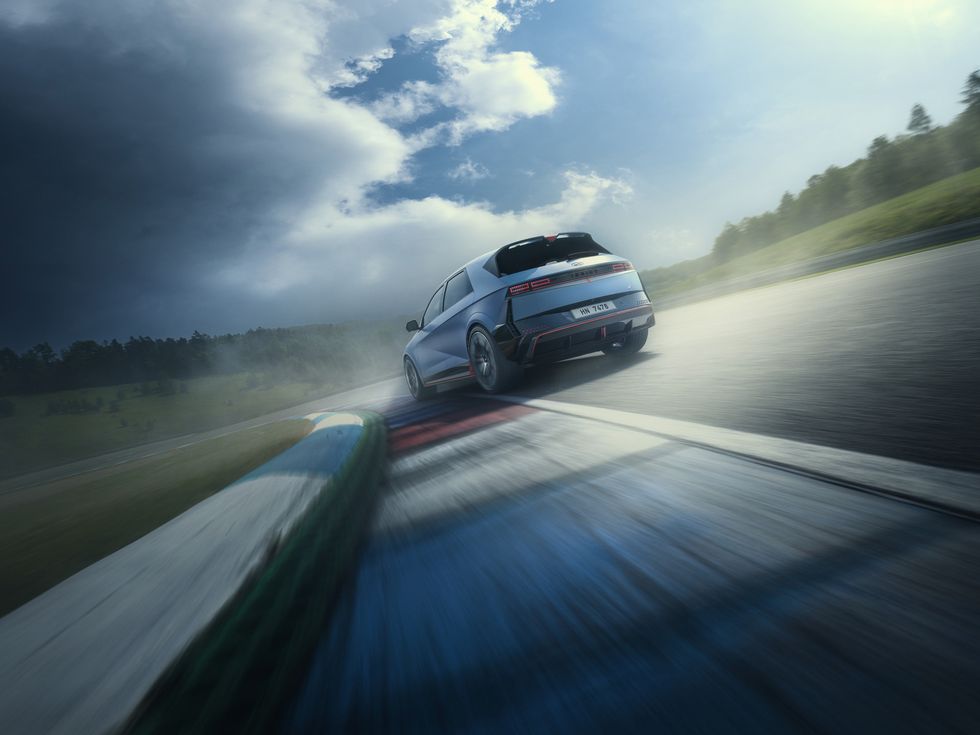 N Battery Preconditioning, N Race, N Pedal, N Brake Regen, N Drift Optimizer, N Torque Distribution, N Launch Control, N Grin Boost, N Active Sound +, N e-shift, N Road Sense, and Track SOC are a few of the sprightly EV's other self-explanatory branded systems that help customize the driving experience. A dedicated cooling system is also present, which includes a larger cooling area, an upgraded motor cooler, a better battery chiller, and more effective packaging.
Depending on the task at hand, N Battery Preconditioning adjusts the vehicle's battery cells to the most power-efficient temperature. The battery can be prepared for brief bursts of high power in "Drag" mode, while cells are optimized in "Track" mode to sustain lower temperatures across numerous laps.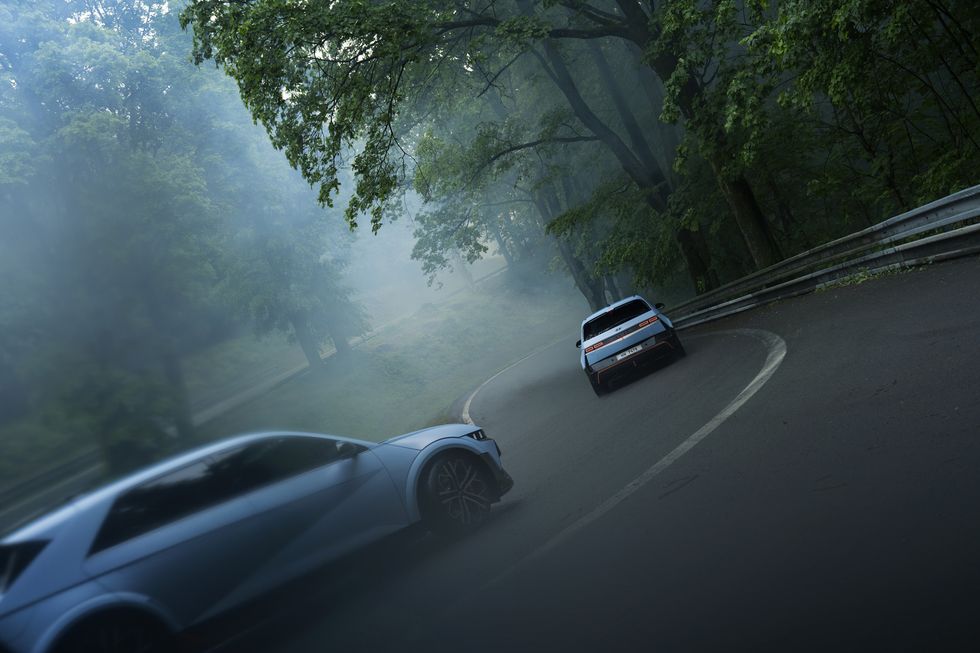 Similar to this, the N Race system can prioritize peak power in "Sprint" mode while prioritizing temperature in "Endurance" mode to limit peak power for a slower rise in temperature.
The objective is for an Ioniq 5 N owner to travel to any conventional high-performance driving experience (HPDE) track day and run a complete session without losing power, as we discovered in our prototype drive.
The N Active Sound+ system combines futuristic EV sounds with combustion-like noises, engine and exhaust notes, and crackles; drivers can choose from a variety of sound profiles. The interesting N e-shift system mimics the gearshifts of the eight-speed dual-clutch (DCT) combustion-powered N division vehicles using an electric motor.
When using the sportier features and settings, N Road Sense can automatically suggest when to do so, and Track SOC assists drivers in keeping an eye on the battery and vehicle over long drives.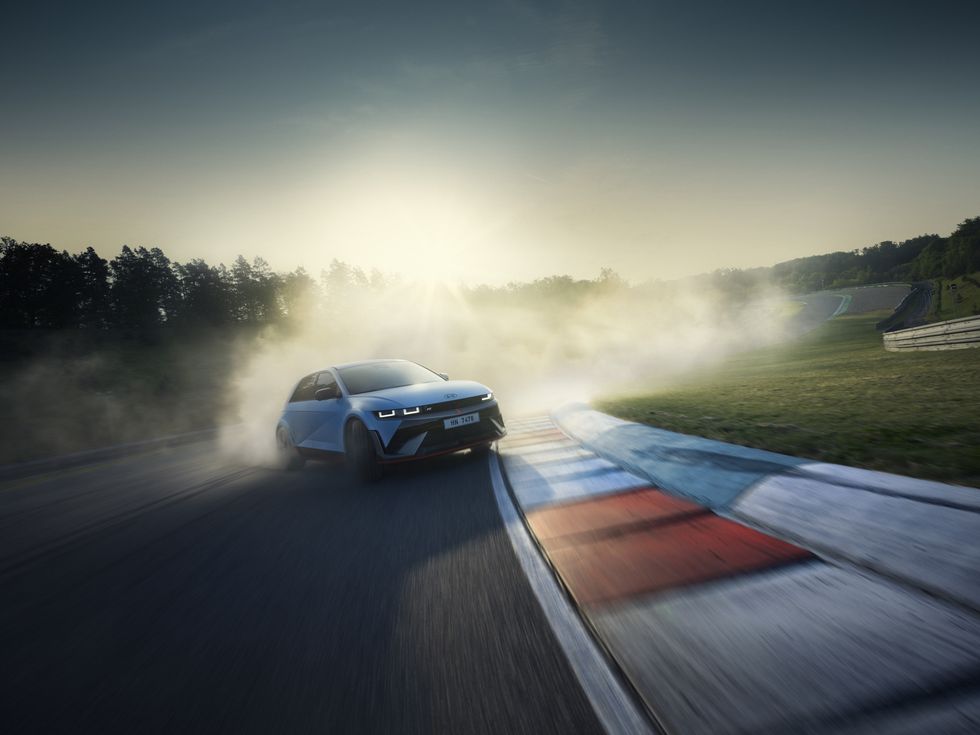 The N Drift Optimizer can help maintain the drift angle based on the driver's inputs and can simulate a clutch push to send the car sideways. By the use of e-motors, the N Torque Distribution provides 11 levels of modification to the fully variable front and rear torque applications. N Launch Control helps the automobile establish traction and accelerate as rapidly as feasible from a stop as it says it will.
The N Grin Boost feature, which offers up to 20 seconds of enhanced, boosted performance, has previously been seen on gas models. A bit differently, the Ioniq 5 N EV's powertrain provides a maximum of 641 horsepower and 568 lb-ft of torque in just 10 seconds, which is approximately 40 horsepower and 22 lb-ft more than the regular output.