After the disastrous Clarity car, Honda's second effort at an EV, the 2024 Prologue SUV, has debuted sporting a subdued appearance that doesn't trumpet its environmentally friendly goal.
The Ultium battery pack that powers GM's latest EVs, notably the Equinox EV, which the Prologue shares parts with, also powers the Prologue, built on a platform that General Motors collaboratively developed.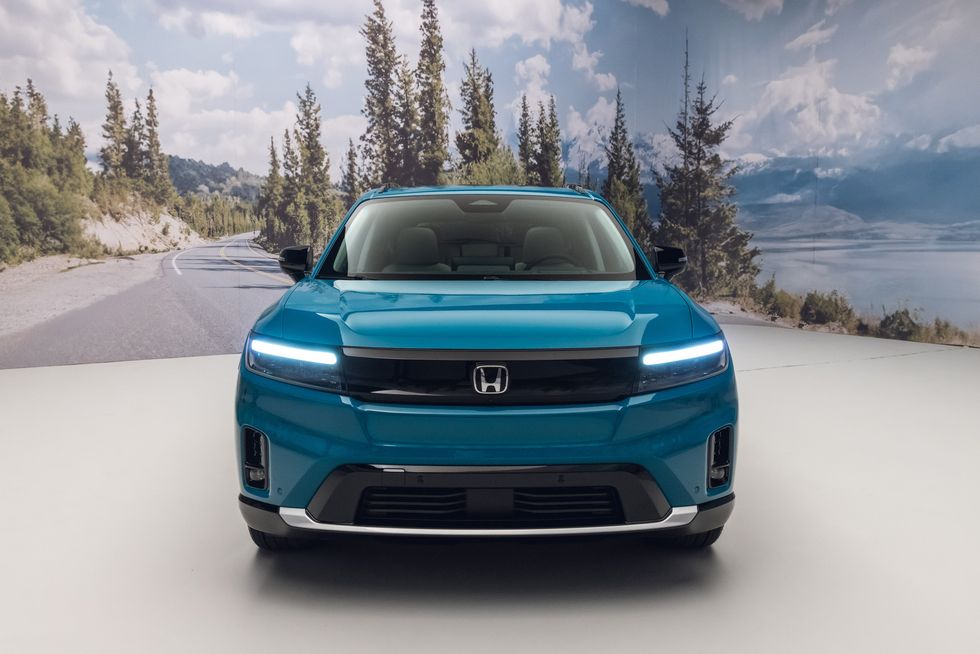 A single-motor powertrain with about 210 horsepower is the norm; however, a dual-motor, all-wheel drive system with 288 horsepower is an option. Depending on the arrangement, the driving range per charge should be between 250 and 320 miles.
The Prologue is comparable to the mid-size Passport and will replace the CR-V in the Honda range. The Prologue in this image has 21-inch wheels, a big sunroof, and basic LED lighting fixtures.
It borrows features from previous Honda cars, such as an upright infotainment display in tablet form, a streamlined dashboard, and a clutter-free center console.
If you're searching for something finer, the Prologue has been redesigned as the ZDX by Honda's premium Acura brand.
2024 Honda Prologue Interior
EX, Touring, and Elite are the three trim options for the Prologue. The base model has plenty of amenities because it has heated front seats, a power driver's seat with lumbar support, dual-zone temperature control, and a wireless smartphone charger.
Upgrading to the Touring adds memory seat settings, an auto-dimming rearview mirror, and a 12-speaker Bose audio system, in addition to replacing the fabric inside with leather. The Elite has a head-up display, heated steering wheel, ventilated front seats, and perforated leather in additional colors.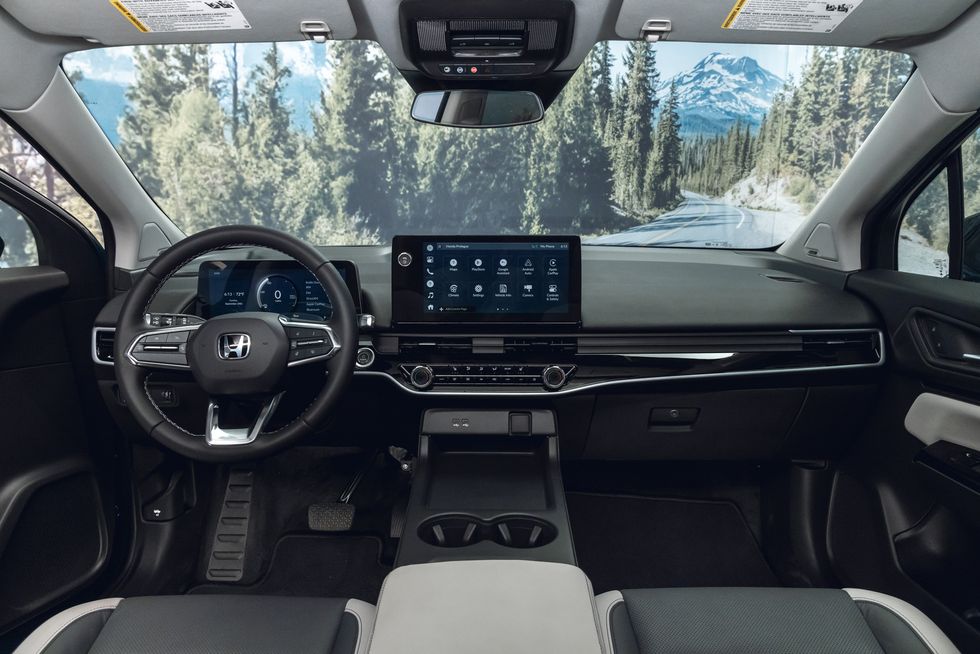 All variants have a horizontal 11.3-inch touchscreen infotainment system and an 11.0-inch digital gauge cluster. The latter includes wireless Apple CarPlay, Android Auto, and Google software, which includes a wide variety of apps.
Together with all that technology, every Prologue offers a variety of driver aids, like as rear cross-traffic braking, rear pedestrian recognition, and blind-spot steering assistance. Taller rear-seat occupants, particularly on versions with the panoramic sunroof, will have to contend with a lack of headroom.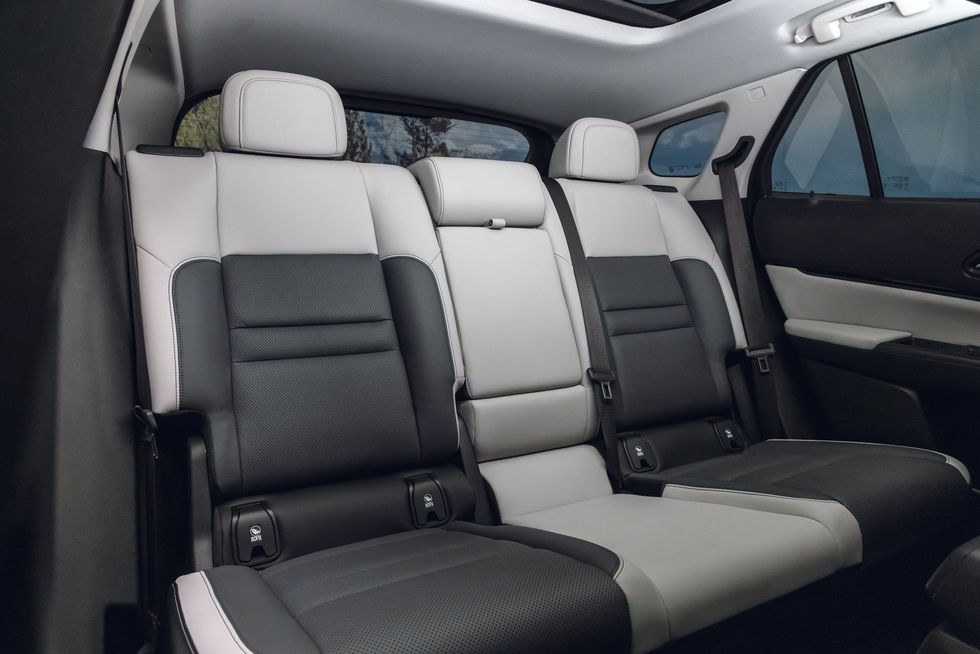 There are 25 cubic feet of room behind the back seats, which somewhat recline. The area increases to 58 cubes when the seatbacks are folded down. An extra cube of storage is located beneath the cargo floor. Sadly, there is no frunk because of how the front electric motor is packaged.
2024 Honda Prologue Exterior
The Prologue is 192 inches long, barely three inches longer than the mid-size Honda Passport, and a little over seven inches longer than the small Honda CR-V. Also, the electric SUV features a long 121.8-inch wheelbase (the same as the previously unveiled Acura ZDX), contributing to its roomy interior.
The Prologue resembles a station wagon since it is wider than tall (64.7 inches), similar to the now-gone Ford Flex.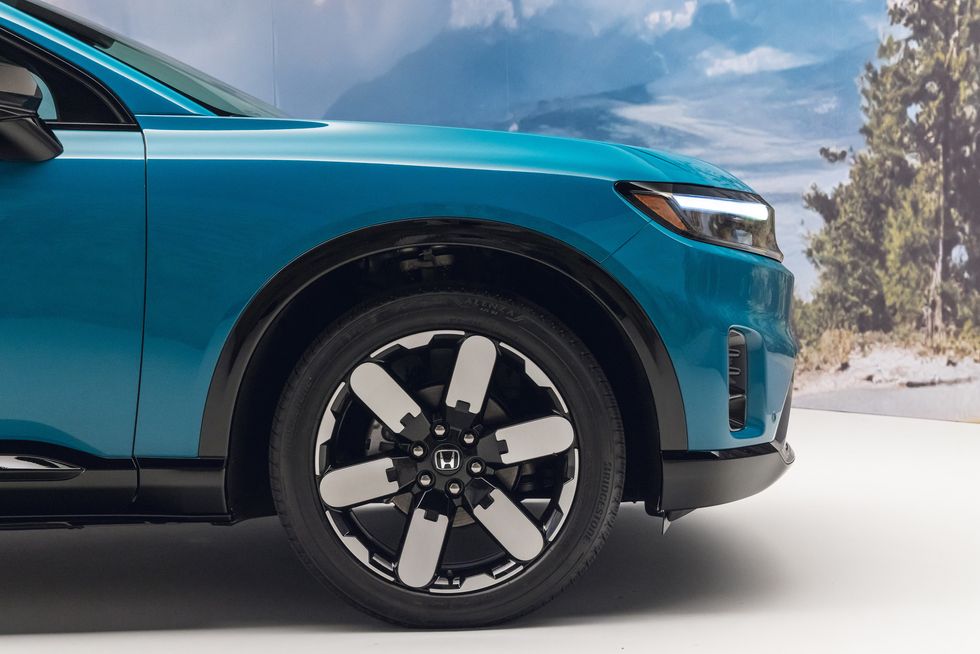 The Prologue's design was created by Honda's Los Angeles design team and has minimal overhangs and smooth external surfaces.
We believe it looks good even though the simple design is plain compared to brand-new with a Kia or Hyundai label. The top-of-the-line model's pair of 21-inch wheels enhances its dimensions.
2024 Honda Prologue Performance
A single-motor front-wheel-drive or a dual-motor all-wheel-drive system is available for the Prologue. The latter produces 333 pound-feet of torque and 288 horsepower, according to estimates.
Honda hasn't disclosed the single electric motor's power output. Still, based on the Prologue's platform-mate, the front-drive Chevy Equinox EV, we estimate it will deliver roughly 210 horsepower and 243 pound-feet.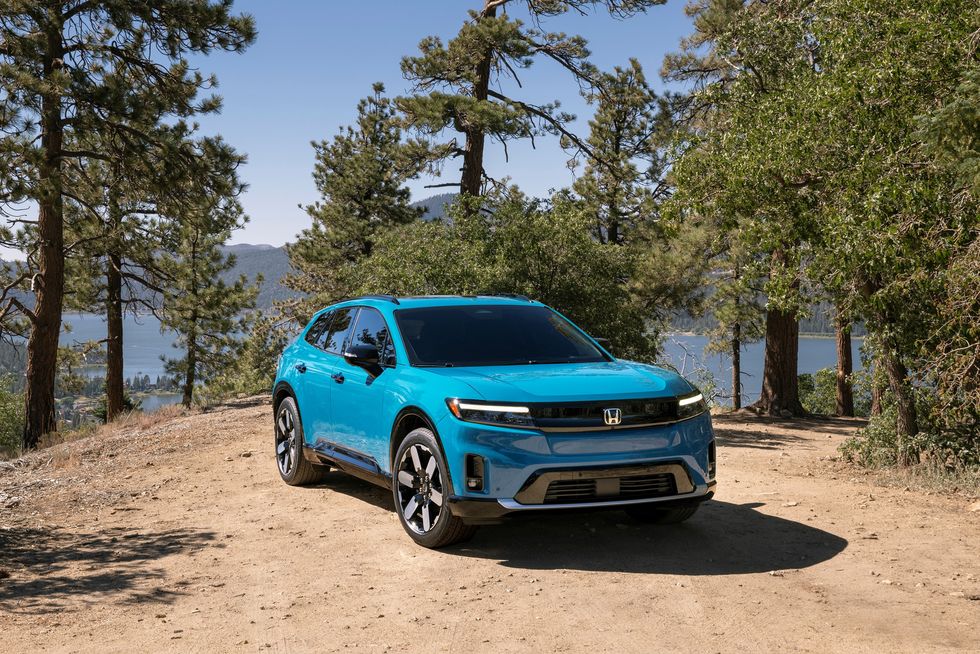 No matter the engine, acceleration, and deceleration are represented by simulated noises, but it is unclear whether these sounds improve or degrade the driving experience.
Honda predicts that the front-drive Prologue will have a maximum driving range of 300 miles with an 85.0 kWh battery pack. There is no estimate for the all-wheel-drive vehicles, but we anticipate it to be comparable to the 280-mile projection for the Equinox EV.
When connected to a DC fast charger, the Prologue's battery is anticipated to add 65 miles of range in 10 minutes at a maximum charging rate of 155 kW.
Also, customers have a choice between three alternative pricing packages. Both come with a $100 public charging credit and a $500 installation incentive. They are an 11.5 kW home charger and a 7.6 kW portable charging kit. The third choice is a credit for public charges of $750.
2024 Honda Prologue Pricing
Honda has not yet announced the 2024 Prologue's entire price, although the EX is anticipated to start between $45,000 and $50,000. The top-tier Elite will probably add another $10,000 or so. Before the year ends, customers may place orders for the electric SUV, with delivery beginning in early 2024.