Just outside of Fresno, a jerk in a beat-up Silverado decided to check what the Mercedes-Benz G550 could accomplish.
He finessed brake and accelerator to indulge in a no-doubt common kind of peacocking: the brake stand, lined up at a red light, a ribbon of dead-straight roadway across the junction.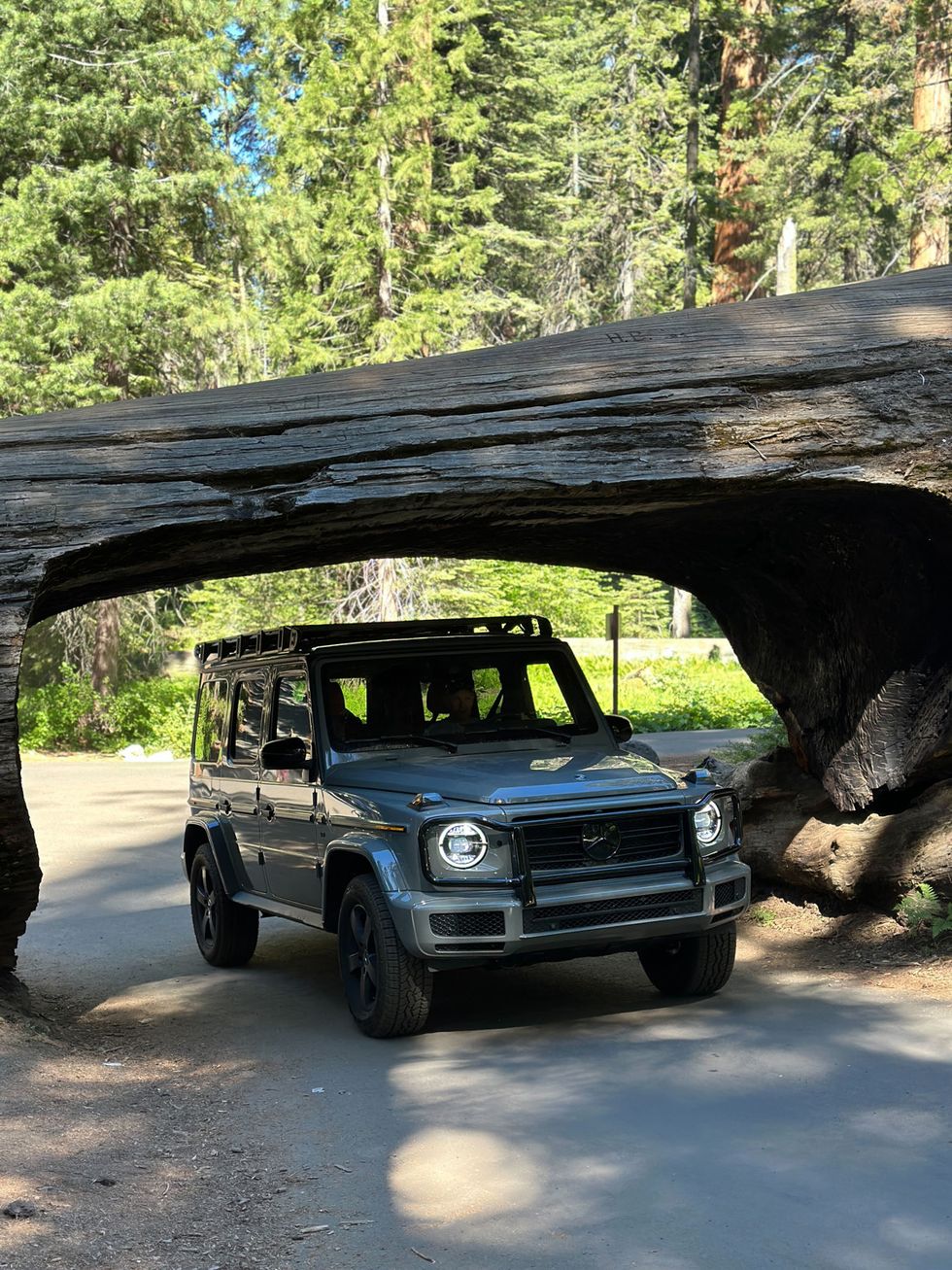 The light went green, and the Silverado was soon destroyed by the rectilinear Teutonic SUV in lane two despite its warmed, cleaned, and sticky back tires. It isn't surprising, given that a G550 runs the quarter-mile in 13.9 seconds at 100 mph, and old farm trucks often don't.
Yet the driver of the Chevrolet certainly loved the show nonetheless. It's entertaining to watch a grizzly bear gallop, as long as it's away from you.
2023 Mercedes-Benz G550 Interior
Every G-wagen comes standard with a massive 12.3-inch infotainment display, which is largely operated by a rotary knob and touchpad situated on the center console.
The system, which includes handy steering-wheel controls and voice instructions, is simple to use and less distracting than touch-heavy competitors.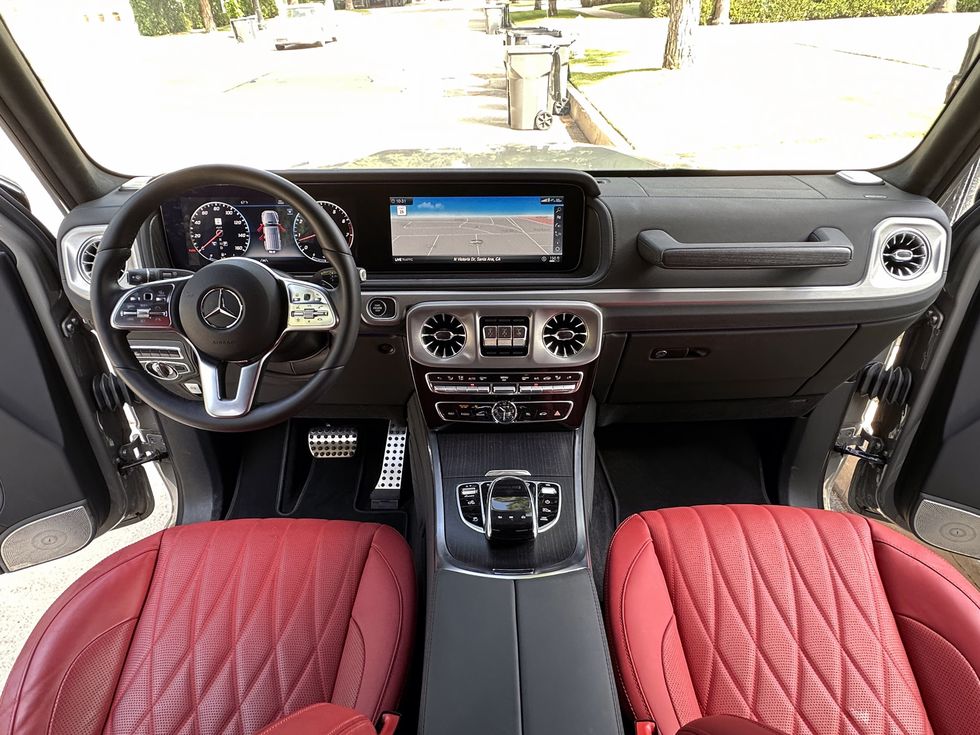 It also has Apple CarPlay and Android Auto, as well as a Burmester music system with 15 speakers and 590 watts. Customers searching for additional features might choose a Wi-Fi hotspot or a rear-seat entertainment system.
Buyers may enjoy massaging front seats with ventilation, a heated steering wheel, Nappa leather upholstery, and a digital gauge display by checking a few option boxes. The G manufaktur choices provide the most sumptuous look and allow for more than 54 possible interior upholstery, but they are somewhat expensive.
2023 Mercedes-Benz G550 Exterior
This G550 is equipped with the G Professional package, which replaces the SUV's normal 19-inch wheels and pavement-optimized tires with black 18-inch wheels wrapped in 265/60R-18 Falken Wildpeak A/T all-terrain tires.
The G's elegant running boards are gone, and the roof is replaced with a towering rack-slash-observation-platform with a rear-mounted ladder.
The G550's normal Real Mall Crawlers of Miami-Dade aesthetic, which is tailored to the audience and use case for modern G-wagons, is gone.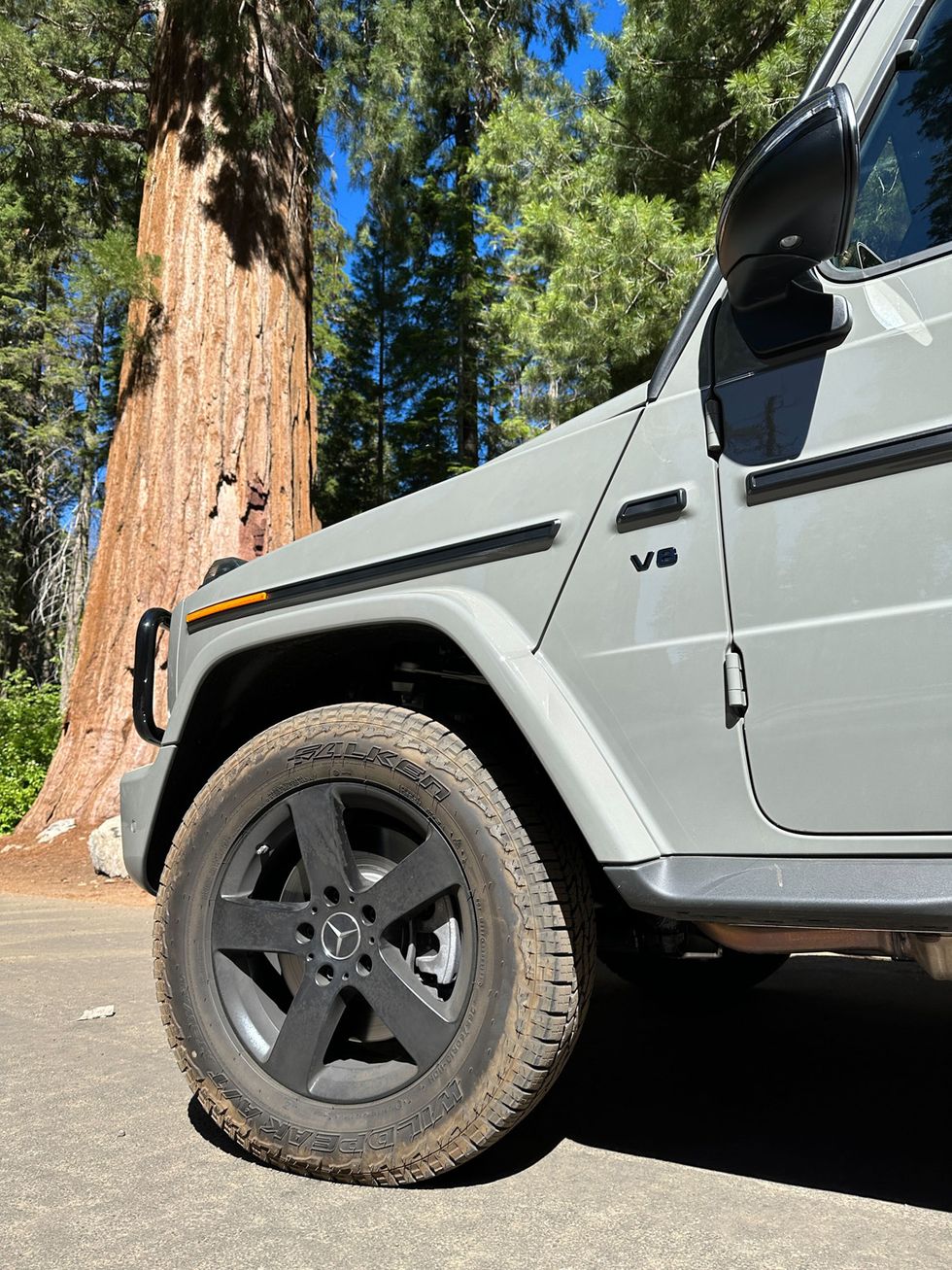 It may appear redundant to refer to the G Professional as "the off-road G-wagen," but that is exactly what it is. It's a G550 that recognized three electronically locking differentials are a bad thing to squander, so let's put on some knobbier tires and head out into the dirt.
Apart from the roof-rack addition, the Professional is more of a back-to-basics distillation of the G-class gestalt. Obtaining this pure idea of a woodsy wager, however, will cost an extra $25,350 on top of the $141,050 base price—plus whatever nasty market adjustment your local dealer feels like adding on.
Perhaps our country's long-suffering G550 owners will be rewarded with premium glass etching and ceramic coatings in addition to their Price inflation.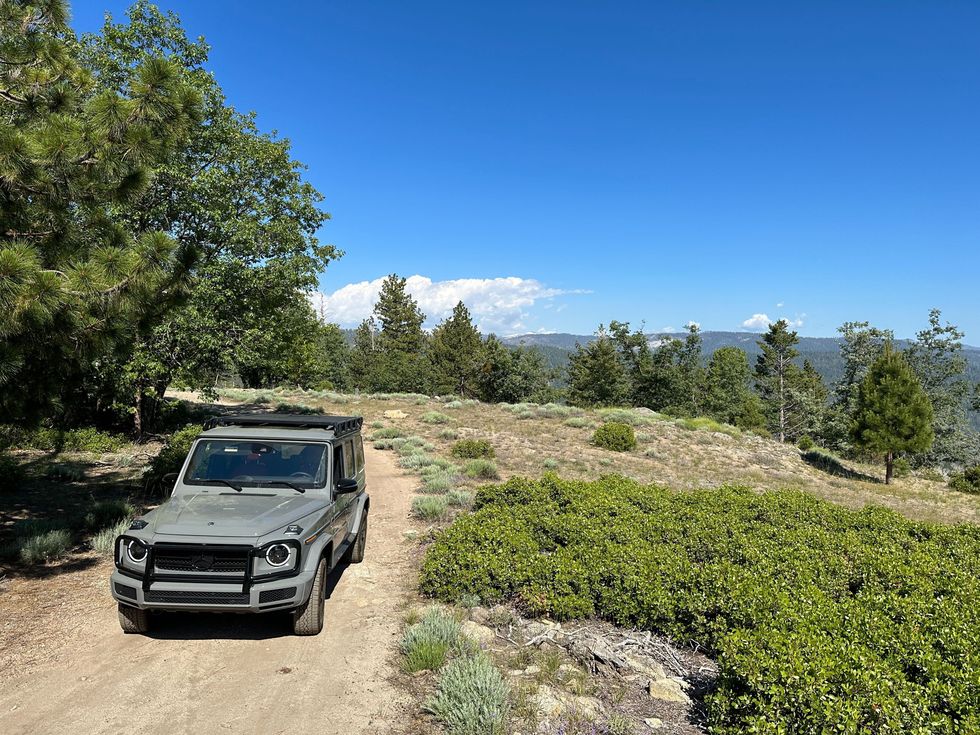 Besides the practical improvements, the G Professional package includes blacked-out trim, including the brush guard, hood hinges, front skid plate, and badges.
In line with the overlanding motif, the exterior spare tire holder is made of tubular steel and painted black. To keep your stuff from rolling about, the rear cargo space is dressed out in gorgeous cherry-wood planking bedazzled with chrome tie-downs and rubberized metal stringers.
2023 Mercedes-Benz G550 Performance
Yet it's a dead heat after that, with identical quarter-mile timings and trap speeds. Even the time to 120 mph (22.8 seconds) is the same. Clearly, the metal top hat has no effect on high-speed drag.
Nonetheless, braking from 70 mph consumes 199 feet of pavement, which is significantly less than the normal G's 175 feet, yet skidpad performance actually increased.
The G550's stability-control system limits any lateral-acceleration workout, but the Professional tortured its Falkens all the way to 0.64 g, a 0.03-g improvement over the 2019 model, with its 275/50R-20 Pirelli Scorpion Zero all-seasons.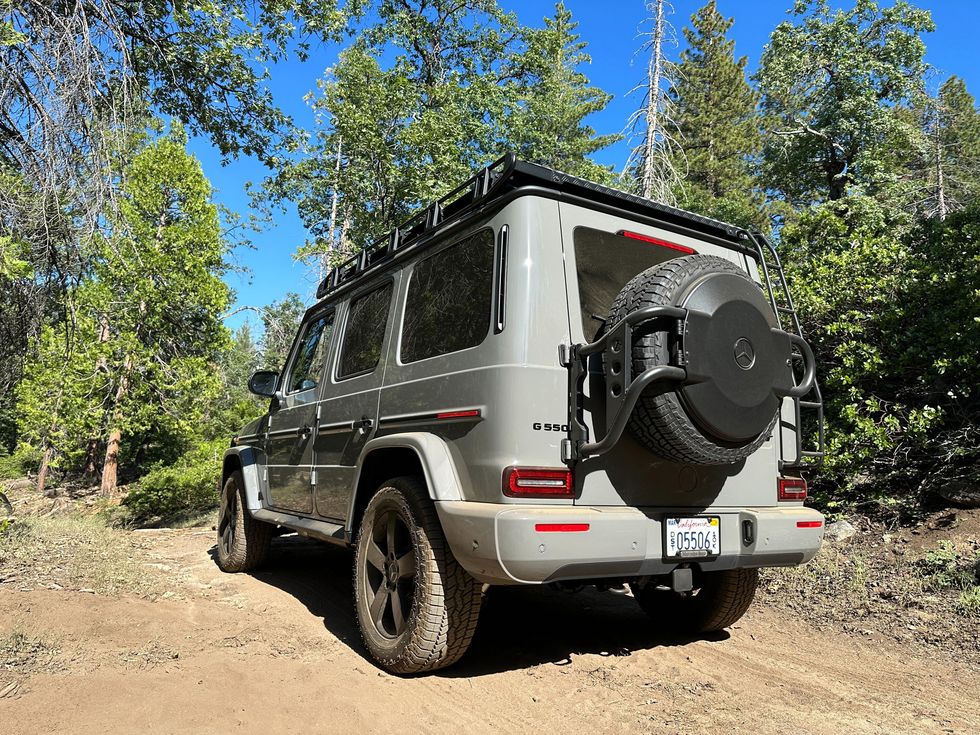 On the road, the G Professional is calm, confident, and faster than it should be. The major question that comes when we press the throttle of the 416-hp twin-turbo 4.0-liter V-8 is: What sort of madman requires a G63 AMG?
The stubby active exhaust, which ends under the rear doors and mumbles its belligerence even in Quiet mode, emphasizes the V-8's strong baritone.
The biggest difference between this rig and a non-professional from behind the wheel is the view skyward via the sunroof, which is subject to a continual partial eclipse from the overhanging roof platform.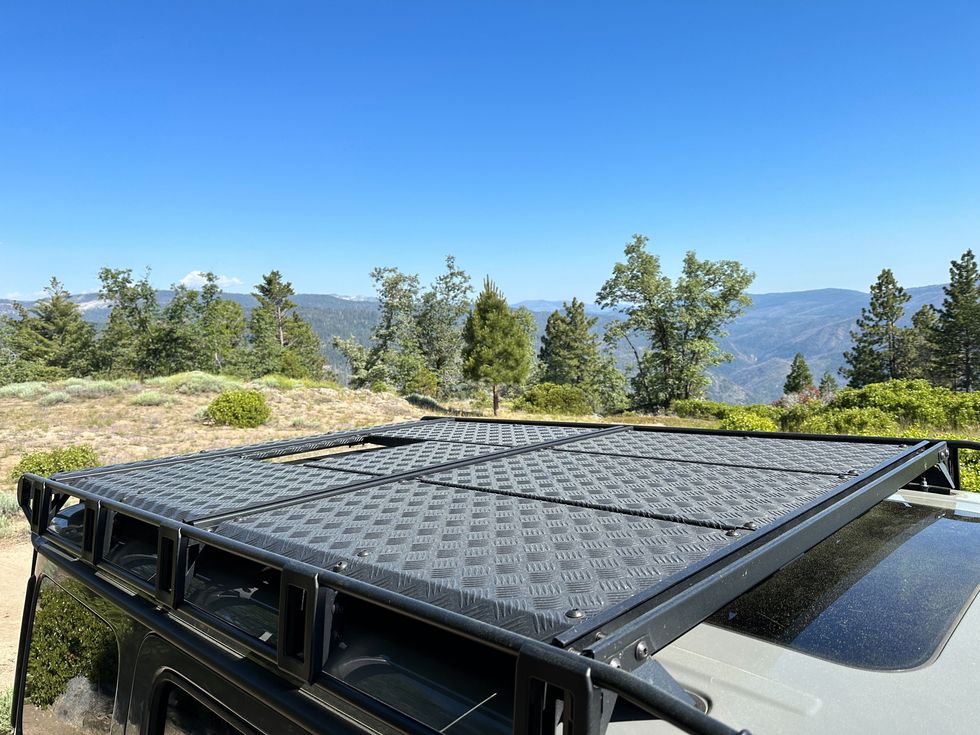 The biggest disadvantage of the G Professional package is the price, which, although we understand it is probably unimportant for this audience, strikes us as borderline insane given what it offers.
For example, the Night package, which includes much of the blacked-out trim and the performance exhaust on the G Professional, costs $900.
With the addition of the 18-inch black wheels ($1000), you'll be well on your way to the G Professional appearance and load-out. That is, don't do the math on that roof rack and cherry cargo decking.
Consider how you might climb up the ladder, stand on the roof, and plot your escape the next time you're caught in traffic. You could hike to the canyon brink without worrying about bending your rims.
You could plow over some mud without having to deal with filthy running boards while disembarking. If the G550 is a stylized dazzling projection of an off-road fantasy, the G Professional is the closest to its origins.