You've almost surely seen the Drivable Half-Beetle on Instagram or TikTok: a Volkswagen Beetle sliding across the parking lot as though half-submerged, roof like a shark fin in the shallows. What exactly is it? Who designed it? Why?
"I wanted it to seem like an automobile that had ground itself down into the pavement," says Steve Lodi of Dallas, Texas, which addresses at least the second and third points.
The former glass blower turned Volkswagen tuner tells us he usually builds VWs with glossy paint jobs and fancy air suspensions, but this time, he wanted to try something new.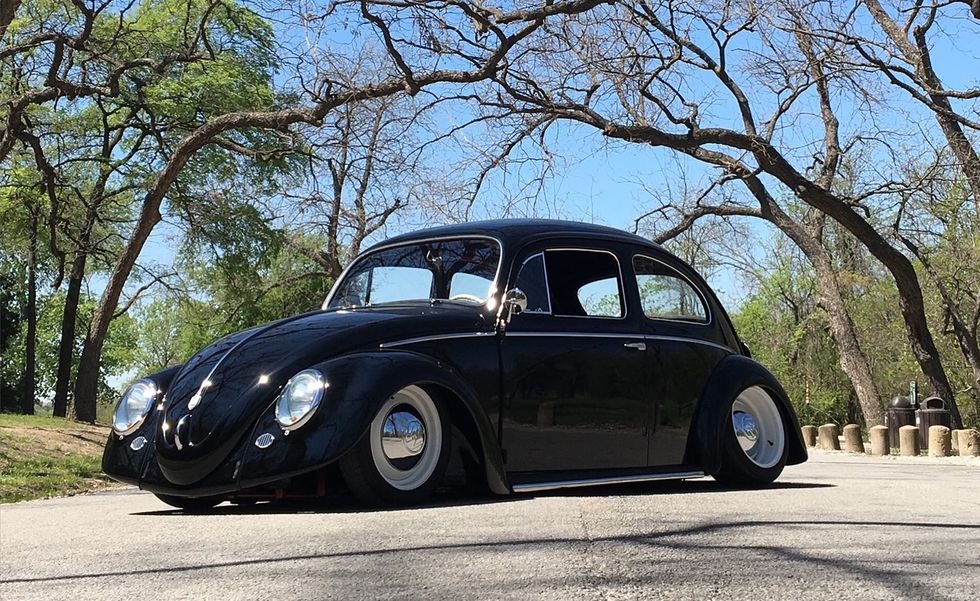 "I didn't want it to seem unique or altered in any way, and I believe that's why it works. When I originally started uploading images of it, folks assumed I had poured concrete over it or that it was submerged in water. They were perplexed by what was going on."
The build combines Lodi's love of all things Volkswagen with his passion for insane fabrication projects, which began in the early 2000s when he converted a Honda Civic car into a pickup truck.
"That endeavor interested me in altering automobiles rather than simply tweaking them and making them into what I wanted them to be."
Lodi's portfolio also includes a painstakingly restored '58 Beetle on a '67 chassis powered by a 1759cc stroker engine, and he claims that having a car that he didn't have to worry about at exhibits was a large part of his motivation for embarking on the Half Ass project.
"I wanted something I wouldn't have to keep an eye on to ensure it didn't collect fingerprints or door dents. You're going to enhance it if you run into it."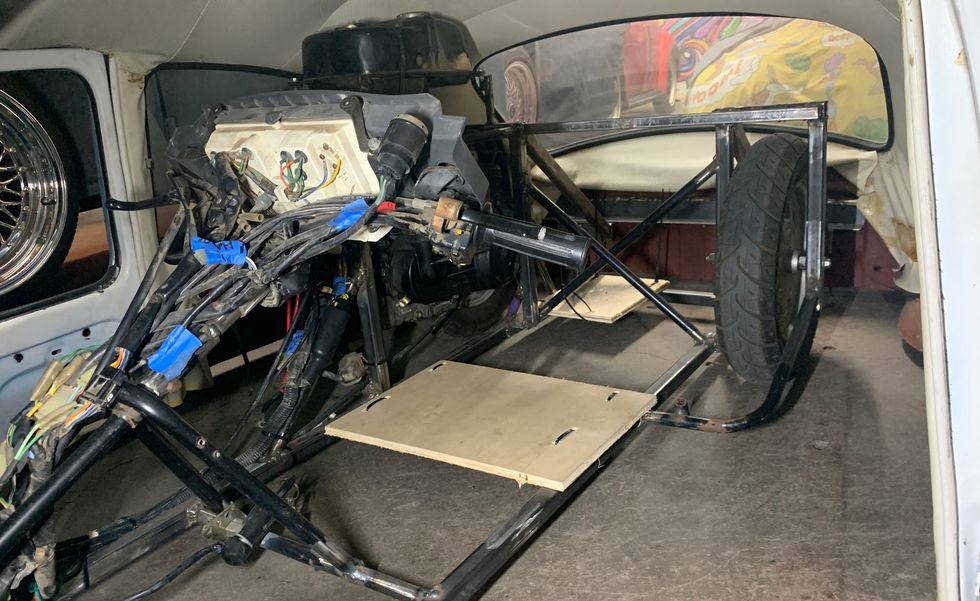 Lodi began looking for a cheap Beetle body earlier this summer, inspired by a similarly vertically challenged Fiat Panda built by Italian YouTube channel Carmagheddon, and ultimately got a collection of rusted components from a '74 Standard.
To test how far he could go, he lay down on the ground and measured how high his head would have to go to see out the windshield. He used a laser level to guarantee a straight line around the automobile.
"There was a major VW exhibition coming up, Texas Against the World," he adds, "and I wanted to finish it in time to bring it there." "People would stop by the business while I was working on it, and I would urge them not to photograph it. I wanted it to be a pleasant surprise."
Lodi hand-fabricated the chassis from one-inch square tubing, which he furnished with the steering shaft and spindles from an old go-kart he acquired on Facebook Marketplace.
"I had intended to utilize the go-kart chassis, but once I started measuring everything that needed to fit inside the car's body, I discovered none would work. I had to reduce everything down—considerably; it's narrower inside than you'd imagine since the front wheels need to revolve within the body."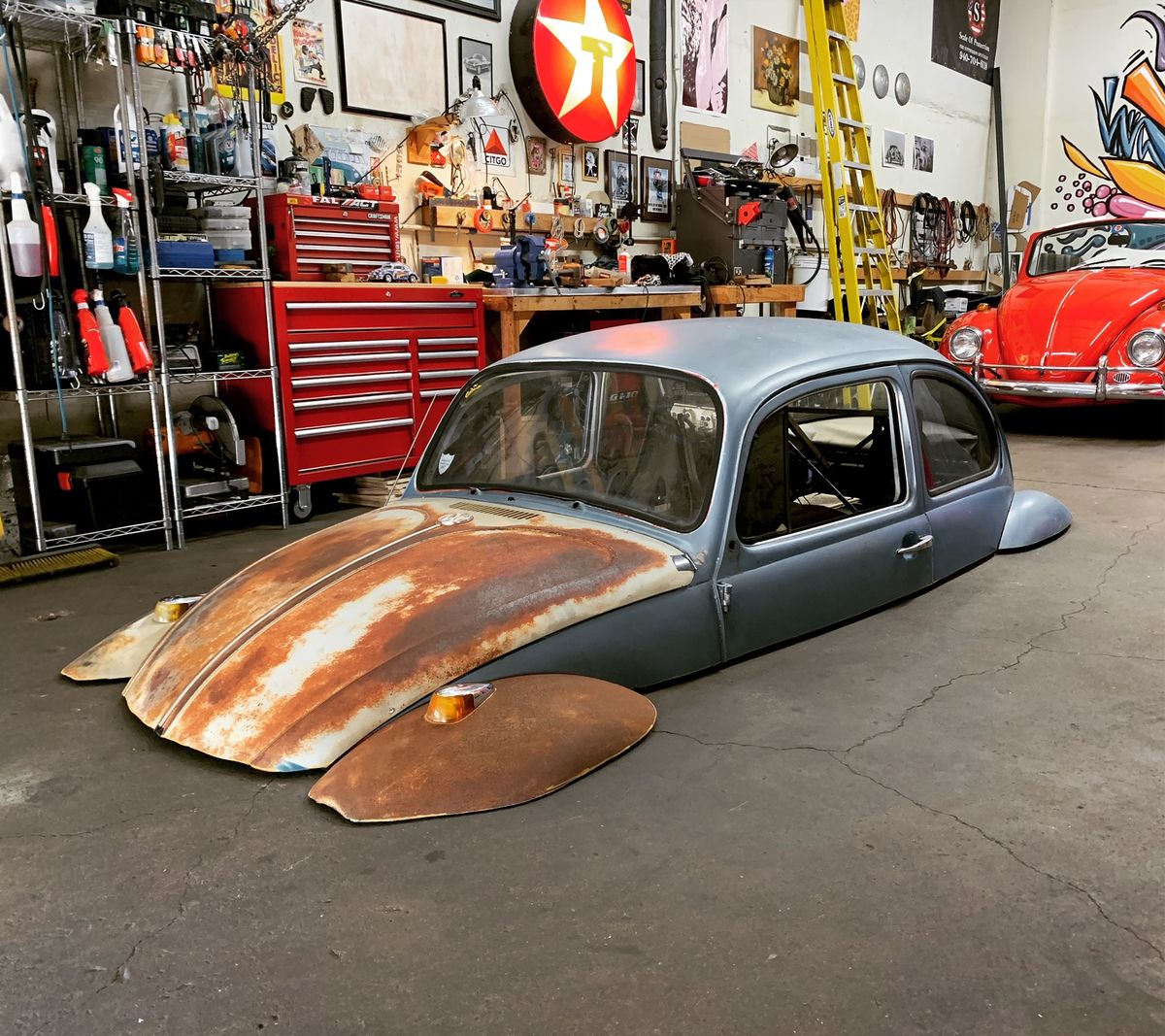 The engine, gearbox, throttle controls, and fuel system from an 80 cc Honda Elite scooter were contributed to the project, as were the handlebars and brakes. The back wheels of the Beetle were likewise borrowed from the scooter, while the fronts were obtained from Harbor Freight.
Even though the bodywork was finished in August, Lodi had to concentrate on customer jobs until only a few days before the September 16th event. "The concert was on a Saturday, and I started manufacturing and putting everything together on the Wednesday before that," he says.
"Between Friday morning and Saturday night, I was up for around 40 hours. But if I say I'm going to do something, I'll do it, and I assured folks the car will be there."
That appears to have been well worth the effort, based on the reception it garnered at Texas vs. the World.
"I guess I drove it about a mile at the exhibition," he adds, "and everyone stopped in their tracks and grabbed their phones out every time I pulled it out." "And that's precisely what I designed it for, something to have fun with during concerts I didn't have to baby."