Lucid Motors has officially confirmed remarkable details about its upcoming Air electric luxury sedan, specifically the base single-motor rear-wheel-drive (RWD) Pure version. This variant is set to offer an impressive EPA-rated driving range of 410 miles, surpassing the range of a Tesla Model S, all while maintaining a price point below $80,000.
The Lucid Air Pure RWD is available for order immediately, featuring a base price of $78,900, which includes a mandatory $1,500 destination charge. This pricing positions it $5,000 lower than its dual-motor all-wheel-drive counterpart, the Air Pure.
Key Features of the Lucid Air Pure RWD:
| Feature | Specification |
| --- | --- |
| Base Price (Including Destination Charge) | $78,900 |
| Battery Capacity | 88-kWh |
| Estimated Range (Standard 19-inch wheels) | 410 miles |
| Acceleration (0-60 mph) | 4.4 seconds |
| Top Speed | 144 mph |
| DC Fast Charging | Up to 200 miles in 15 minutes / 150 miles in < 12 minutes |
| Infotainment | 34-inch curved display |
| Interior Comfort | Heated front and rear seats, heated steering wheel |
| Driver-Assist Features | Lucid's DreamDrive |
Impressively, the Air Pure RWD's 88-kWh battery pack delivers a Lucid-estimated range of 410 miles on standard 19-inch wheels. This range surpasses that of the Tesla Model S while utilizing a smaller battery capacity. The dual-motor Tesla Model S, which is currently slightly less expensive than the Lucid Air Pure RWD, starts at $76,380 (including destination charges). However, Tesla's pricing tends to fluctuate more frequently than Lucid's.
The single motor in the Lucid Air Pure RWD generates 430 horsepower and 406 lb-ft of torque, propelling the vehicle from 0 to 60 mph in approximately 4.4 seconds, with a top speed of 144 mph.
Lucid also boasts a standard 250-kW DC fast charging system that can recover up to 200 miles of range in just 15 minutes or 150 miles in less than 12 minutes. Additionally, the vehicle features a 34-inch curved display, heated seats, a heated steering wheel, and Lucid's DreamDrive suite of driver-assist features.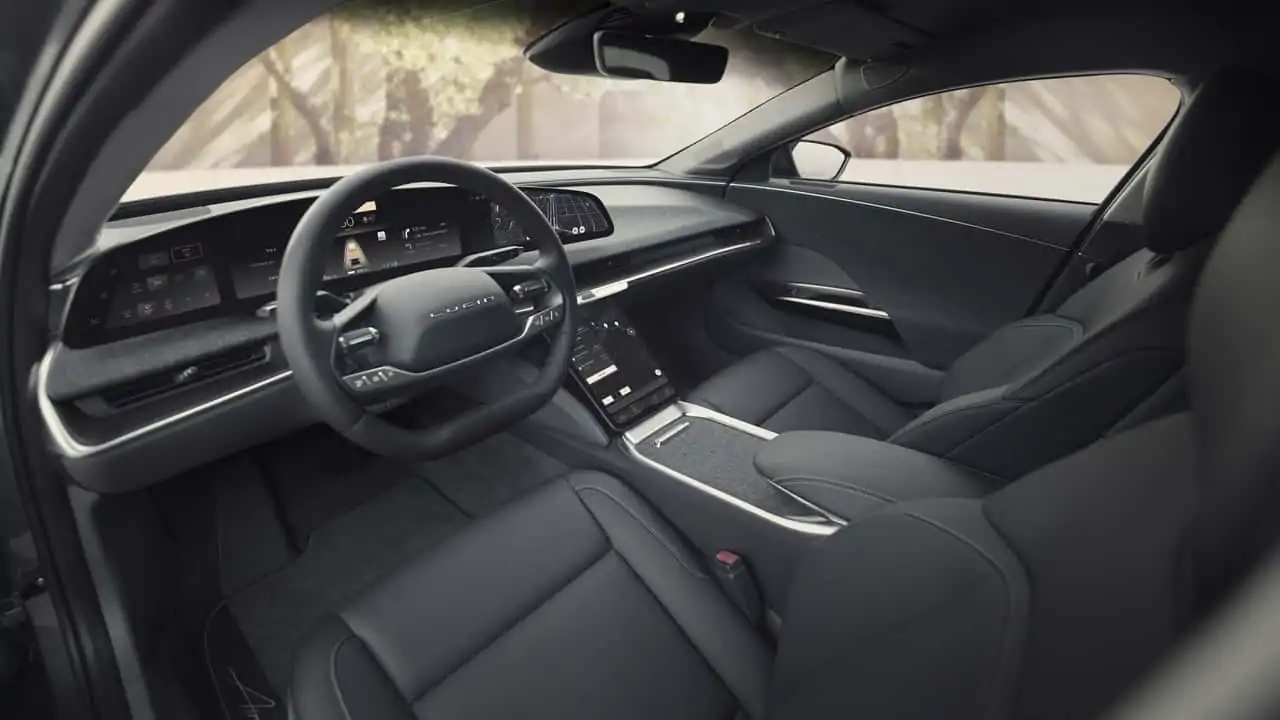 Lucid Motors has positioned the Air lineup to be highly competitive in the electric vehicle market, with the base Pure, Touring, and Grand Touring models already available and a tri-motor Lucid Air Sapphire model on the horizon. The latter, with an impressive 1,234 horsepower and 1,430 lb-ft of torque, aims to rival not only the Tesla Model S Plaid but also traditional high-performance sports sedans like the BMW M5 and Cadillac CT5-V Blackwing. Lucid's commitment to innovation and range is also evident in its Dream Edition Range launch version, boasting an impressive 520-mile EPA rating.
Lucid Motors is making significant strides in the electric vehicle market, offering consumers a compelling option in the Air Pure RWD with its impressive range, performance, and features at an attractive price point.