The fifth-generation Toyota Prius has departed from its traditional image, embracing a stylish design and noticeable performance upgrades. As anticipation grows, recent rumors from Japan suggest the emergence of a Gazoo Racing Master of Nürburgring (GRMN)-branded Prius.
Expected to feature an upgraded plug-in hybrid (PHEV) powertrain along with a range of aerodynamic and chassis enhancements, this high-performance variant is generating excitement among automotive enthusiasts.
While the concept of a high-performance Prius isn't entirely new, fresh reports from Japanese publication Best Car have reignited the speculations. According to their latest information, the forthcoming model is anticipated to deploy a more potent version of the 2.0-liter plug-in hybrid setup.
In the standard model, this powertrain delivers 220 horsepower, promising improved response and a more engaging auditory experience.
The GRMN moniker is synonymous with peak performance within Toyota's Gazoo Racing division. It wouldn't be surprising if the combined output of the Prius GRMN surpasses the 302 horsepower (306 PS / 225 kW) found in the RAV4 Prime.
Gazoo Racing's team of engineers is expected to work on enhancing the suspension setup to deliver sharper handling. They will also incorporate a more robust braking system to effectively manage the increased power output.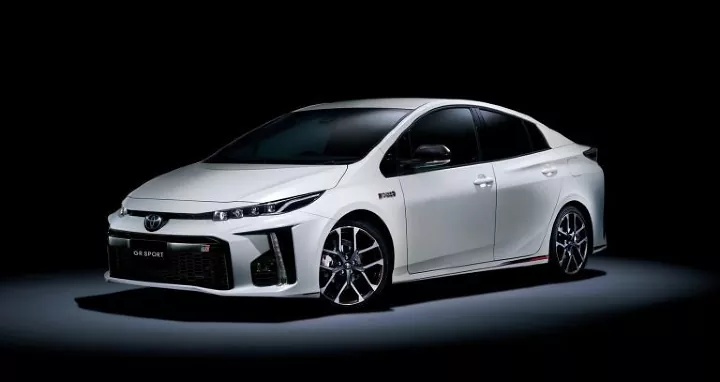 Additionally, the focus will be on reinforcing the rigidity of the Toyota New Global Architecture (TNGA) platform, achieved through additional spot welding and the use of advanced adhesives.
A significant point of intrigue revolves around whether Toyota will equip the high-performance Prius with its forthcoming simulated manual gearbox technology. Initially designed for electric vehicles (EVs), this innovative system could potentially elevate the feel and acoustics of the electrified powertrain in PHEVs.
In terms of design, the Prius-based hot hatch – or dare we say hot fastback – found a glimpse of inspiration in the Toyota GR Prius Concept, unveiled at Le Mans.
While no official confirmation of a production version exists, elements from the concept's body kit could serve as a muse for the Prius GRMN's design. It's plausible that Toyota may make certain adjustments and refine specific features for the production model.
It's reasonable to expect Toyota to enhance the Prius's appearance with sportier front and rear bumpers, side skirts, a rear wing, and larger-diameter wheels. These modifications will complement the lowered stance, underscoring the vehicle's improved performance credentials.
As for the debut date of the highly anticipated, fastest, and most extreme production Prius model to date, no official confirmation exists. Enthusiasts may need to exercise patience until 2024 for its arrival. In the interim, speculative renderings, inspired by the Toyota GR Prius Concept, offer a glimpse of what to expect. The performance-oriented evolution of the iconic Prius promises to usher in an exciting era for hybrid enthusiasts.