Tuscany Motor Company has rolled out an all-new Ford F-250 Harley-Davidson special edition, catering to avid fans of the renowned Milwaukee-based motorcycle brand.
Collaborating closely with Harley-Davidson's design team, Tuscany Motor Company aimed to craft a truck that would resonate with Harley enthusiasts. Before delving into the visual enhancements, let's delve into what powers this robust truck. Each model boasts a five-inch BDS suspension lift kit, Fox Adventure Series shocks, and rugged 37-inch off-road tires.
Chart: Key Features of Ford F-250 Harley-Davidson Special Edition
| Feature | Specification |
| --- | --- |
| Suspension Lift Kit | 5-inch BDS |
| Shocks | Fox Adventure Series |
| Tires | 37-inch off-road |
| Wheels | Custom 22-inch black and milled (Harley-Davidson design) |
| Engine | Standard 6.8-liter V8 with 405 horsepower |
| Additional Engine Option | 6.7-liter Power Stroke V8 (available) |
| Interior Features | – Black leather seats with orange piping |
| | – Harley-Davidson embroidery on backrests |
| | – Harley-Davidson branding on front armrest |
| | – Custom door sills with company name |
| | – Branded floor mats and pedals |
| Pricing Range | $120,000 to $130,000 (varies by model) |
While there's no mention of engine enhancements, the standard 6.8-liter V8 engine with 405 horsepower promises ample power. Notably, Ford's impressive turbodiesel 6.7-liter Power Stroke V8 is also on the menu, with indications that it's the preferred choice among the models available for sale.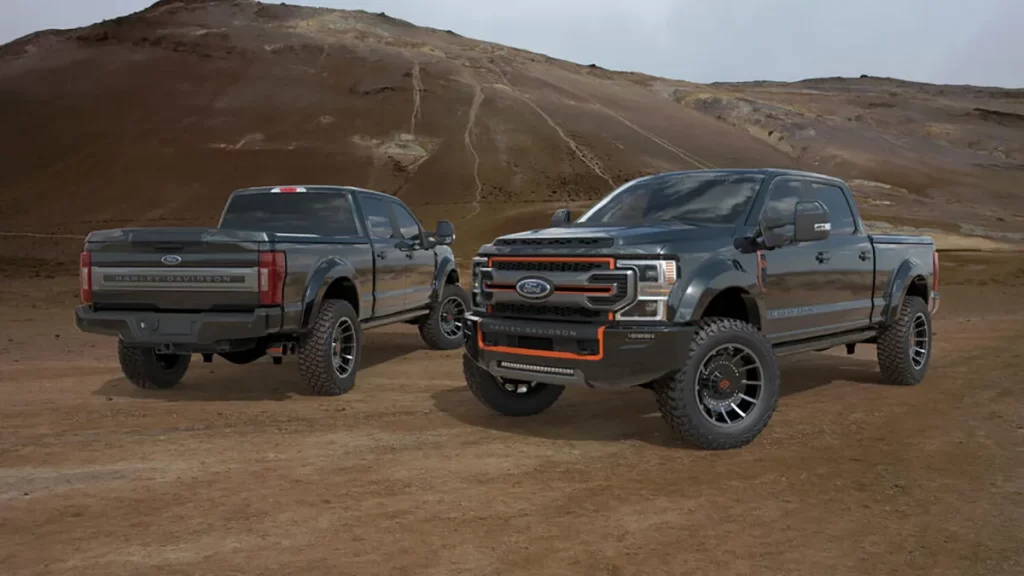 As expected, the interior receives its share of Harley-Davidson flair. The seats are adorned with black leather and striking orange piping, complete with Harley-Davidson embroidery on the backrests. The company's logo can be found on the front armrest and the custom door sills. Completing the interior experience are the branded floor mats and pedals.
However, exclusivity comes at a price. These unique models can be found at Ford dealerships across the nation, with prices ranging from $120,000 to $130,000. While it's a substantial investment, those seeking a distinctive truck with attitude might consider the Ford Raptor R, which offers a slightly lower price tag. Nevertheless, this special edition is tailored for a specific clientele who are sure to embrace its unique charm.
This latest release continues Tuscany Motor Company's tradition of producing Harley-Davidson editions, building on the legacy established with the earlier F-250 Harley-Davidson edition unveiled in 2020.