The 2024 Chevrolet Silverado 2500HD ZR2: A Game-Changer in the World of Off-Road Pickups
The concept of lifted heavy-duty pickups is far from new, and in many parts of the country, you'll frequently come across these imposing vehicles, often referred to as "brodozers." Ford's Super Duty Tremor and the Ram 2500 Power Wagon are noteworthy factory-made entries in this realm.
However, the all-new 2024 Chevrolet Silverado 2500HD ZR2 is making a compelling case as the ultimate turnkey example in this category, thanks in large part to its independent front suspension, which is a game-changer.
The Power Wagon, equipped with a standard winch and disconnectable front anti-roll bar, is clearly designed for rugged country-rock crawling. On the other hand, the Tremor offers a more versatile package with its moderately lifted suspension, beefier dampers, and oversized tires.
Traditionalists may argue that solid front axles, found in both models, are preferable for tackling boulders. However, these axles come with a significant amount of unsprung mass, which can be detrimental in various conditions.
The Silverado 2500HD ZR2 takes a different approach with its independent front suspension, resulting in a substantial reduction in unsprung mass. This design offers several advantages during daily driving, including improved ride comfort, precise steering, and reduced feedback on washboard dirt roads.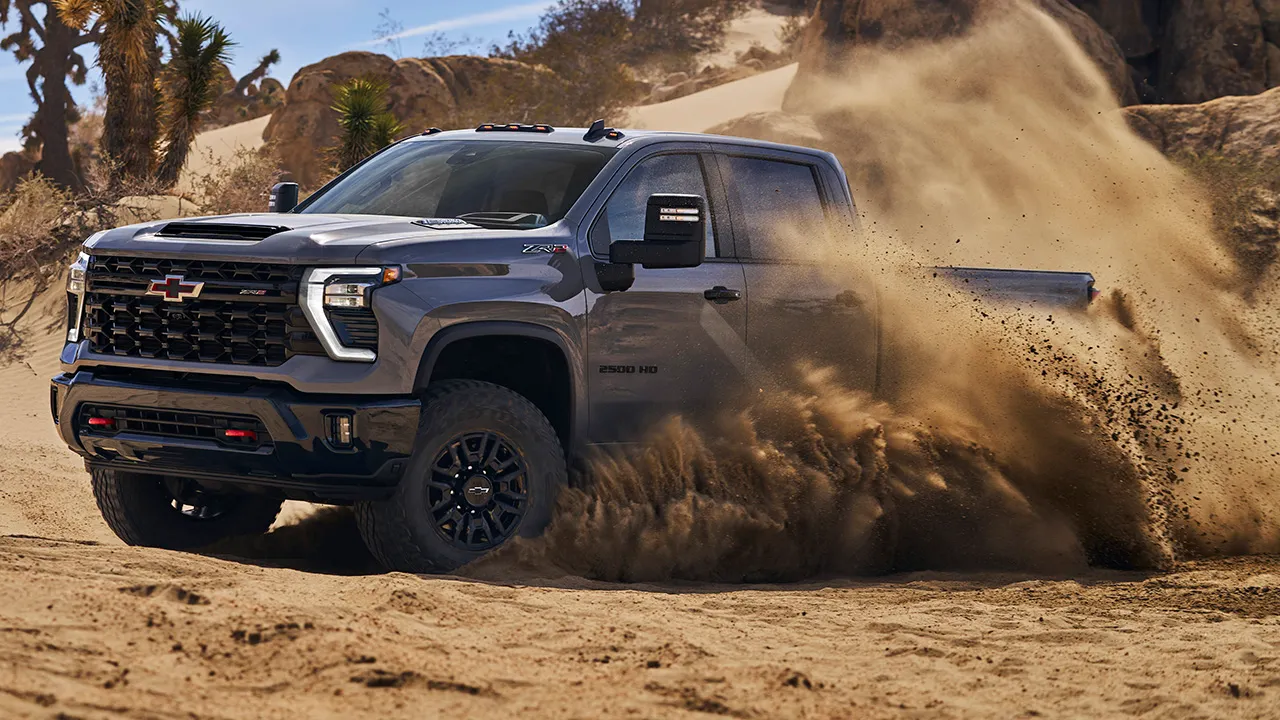 In the case of the ZR2, these benefits extend to effortlessly handling whoops and undulating terrain in the open desert, as we discovered when driving it to California's Johnson Valley, the site of the challenging King of the Hammers extreme off-road race.
The ZR2 formula for the Silverado 2500HD includes 35-inch Goodyear Wrangler Territory MT mud-terrain tires on 18-inch wheels, a 1.5-inch suspension lift, and an electronically locking rear differential. However, the standout feature of the ZR2 is undeniably its Multimatic DSSV dampers.
These innovative dampers feature an aluminum body to efficiently dissipate heat, durable and fade-resistant spool valves configured for position-sensitive damping, and piggyback external oil reservoirs, not just in the rear but also in the front. This sets the ZR2 apart from its competition in the heavy-duty pickup segment.
On the less-than-ideal paved roads leading to Johnson Valley, the Silverado 2500HD ZR2 exhibited minimal head toss, absorbed impacts with ease, and surprisingly offered a low level of tire noise from its substantial Goodyear tires. Even on a washboard dirt road, the ride remained smooth, without the usual skittering that is often experienced in larger pickups.
However, the most remarkable aspect was the truck's control and stability when navigating the countless intersecting dirt tracks turned into standing waves by the passage of numerous dirt bikes and UTVs. The ZR2 seemingly defied its size and weight, displaying an ability to tackle terrain that exceeded expectations.
This exceptional performance continued as we delved deeper into the off-road territory of Johnson Valley, confronting rocky and remote trails. The crew-cab standard-bed ZR2 navigated these challenging trails with remarkable ease, traversing terrain that one might expect to tackle on foot with trekking poles.
While traditionalists may argue that solid front axles are more suitable for such environments, the ZR2 showcased astonishing capability in this challenging terrain.
To tackle rockier tracks, the ZR2 Bison package is recommended. This package includes a winch-capable AEV steel front bumper with integrated fog lights, heavy-duty recovery points, an AEV steel rear bumper with additional recovery points, 18-inch AEV wheels, and robust boron-steel bash plates protecting vital components like the engine, transfer case, and fuel tank. While not an off-road essential, the GM Multi-Flex tailgate is included in this package.
What's interesting about bringing a 2500HD ZR2 to Johnson Valley is that it's not merely a theoretical exercise. Many people tow substantial toy haulers in this region with 2500-series trucks regularly. The Silverado 2500HD ZR2 is more than capable of handling this task.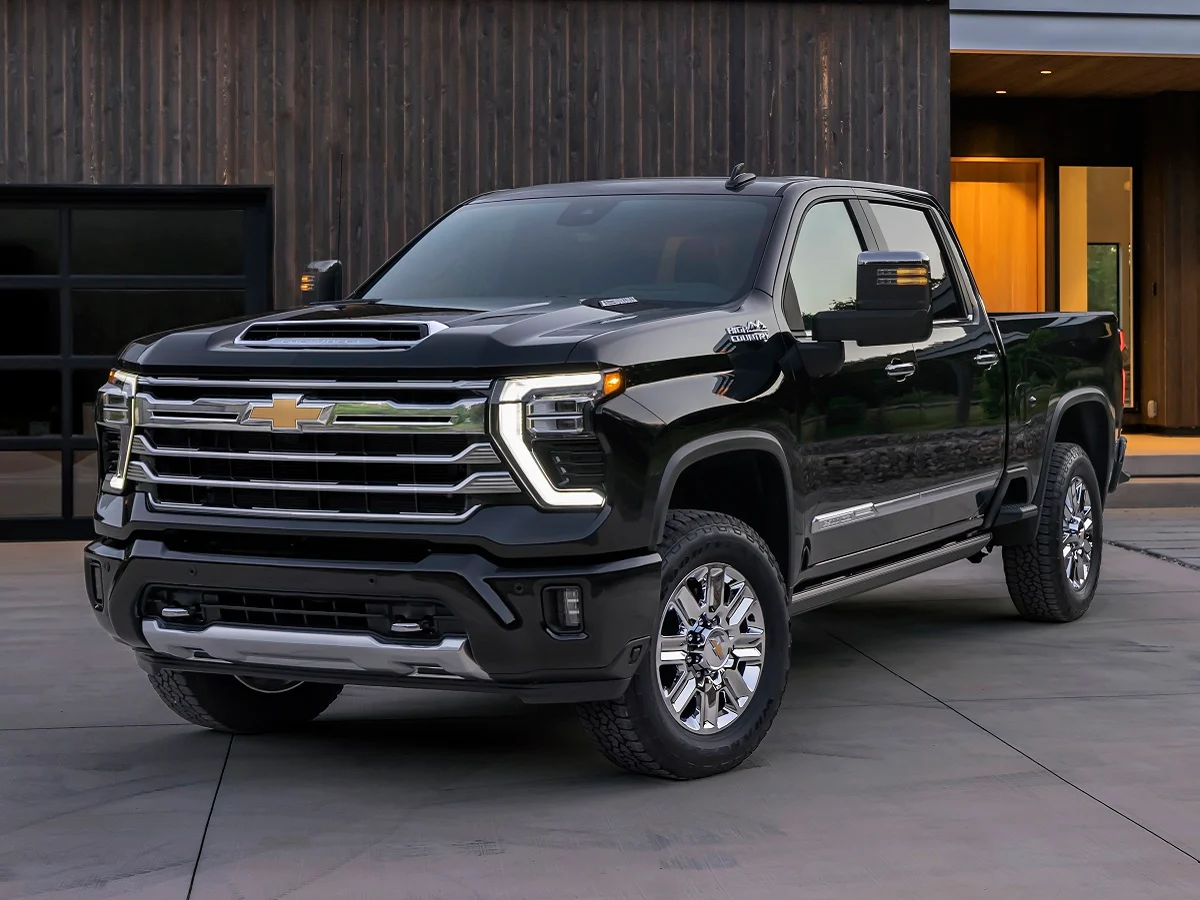 The standard 401-horsepower 6.6-liter V-8 engine can tow up to 16,000 pounds with a conventional hitch, while the optional turbo-diesel 6.6-liter V-8 with 975 pound-feet of torque can manage 18,500 pounds.
The ZR2's performance does not falter when towing, and after unhitching your trailer, you can load up your crew into the ZR2 and embark on an adventure to witness the agility of UTVs and purpose-built Jeeps conquering the King of the Hammers trails.
Inside the ZR2, both versions benefit from the 2024 Silverado HD lineup's revamped interior. This includes an improved control layout, a configurable 12.3-inch instrument display, and a vastly enhanced 13.4-inch infotainment touchscreen.
The forward-facing camera's high-resolution feed is particularly helpful when navigating rocky terrain and cresting uncertain brows. While this system is not a substitute for a spotter in extremely treacherous conditions, it works admirably well up to that point. One potential enhancement could be a camera-lens washer system to clear dust and grime.
The Chevrolet Silverado 2500HD ZR2 is priced at $72,595 for the gasoline-powered model and $82,085 for the diesel version. While this may seem steep at first glance, it's competitive with similar models in the segment. The added cost for the Bison package is $9,135, which brings extra features such as AEV bumpers, skid plates, unique wheels, and GM's Multi-Flex