In an electrifying partnership, Bisimoto and Unplugged Performance have joined forces to create a groundbreaking Tesla Model S Plaid drag car that promises to dominate the drag strip.
Unplugged Performance, well-versed in Tesla modifications with their track-ready Model 3 and Pikes Peak conquering Model S Plaid, has contributed significantly to this project.
Their involvement includes equipping the vehicle with 20-inch UP-03 lightweight forged wheels paired with 305-wide Toyota R888R tires for enhanced rear grip and 275 tires at the front.
To meet the stringent requirements of NHRA and IHRA for cars exceeding 150 mph in the quarter mile, Unplugged Performance added an adjustable billet rear camber kit, a tow hitch kit, and a specially designed parachute mount.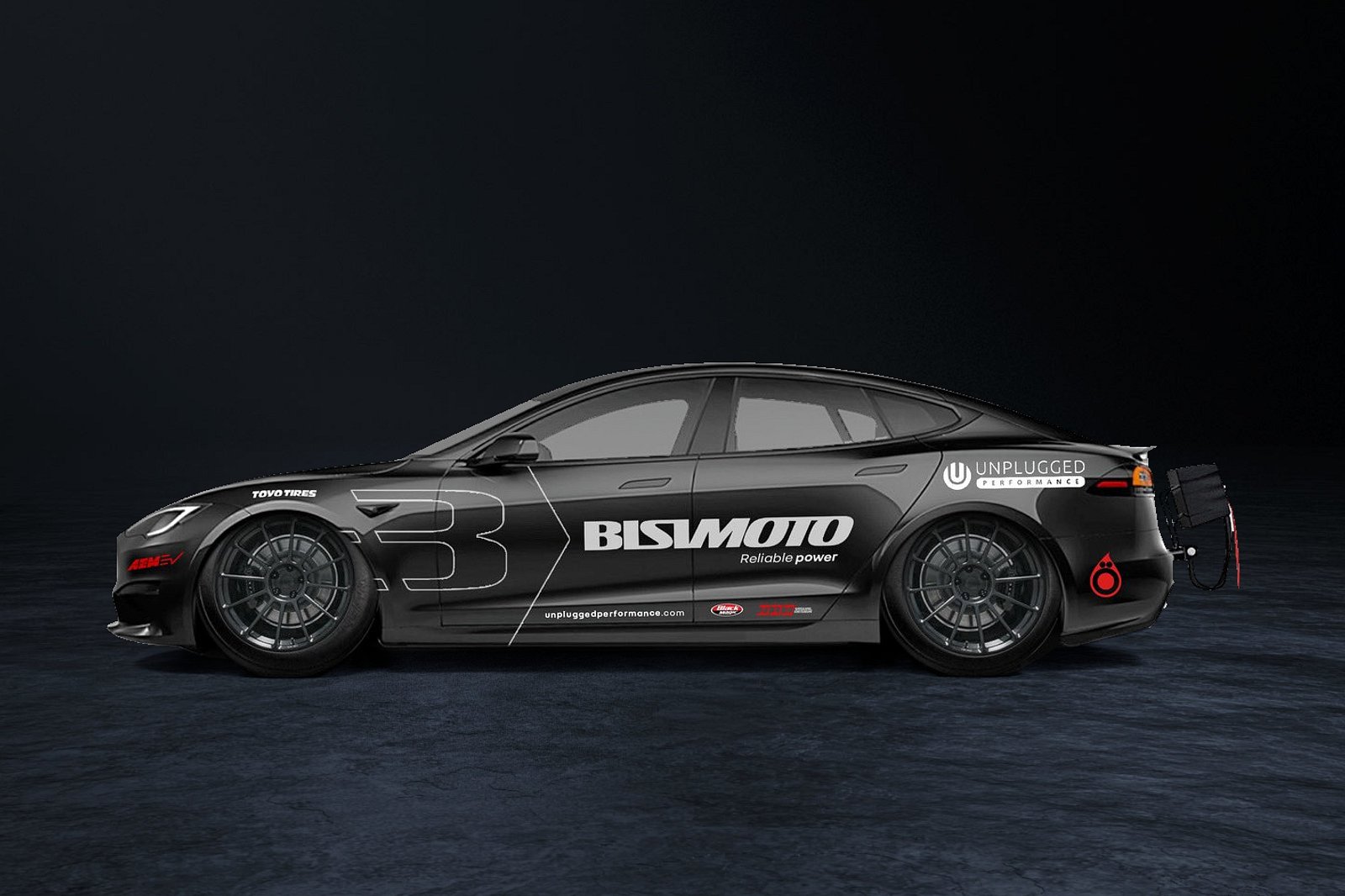 Both Unplugged and Bisimoto meticulously fine-tuned the Model S Plaid drag car's alignment to optimize traction and minimize drag. While specific power figures remain undisclosed, Unplugged Performance has teased a remarkable 1/8-mile time of just over six seconds.
In contrast to Unplugged Performance's carbon-bodied Dark Knight Tesla, the drag car project does not feature an extensive widebody kit. The teaser images reveal a mostly stock-looking Model S Plaid, albeit with unique decals and a lowered suspension, reducing the ride height by several inches.
This collaboration marks only the beginning for both companies, as they plan to continue working together on product development aimed at further enhancing the Model S Plaid's drag racing capabilities.
The CEO of Bisimoto, Bisi Ezerioha, will oversee the entire build process, documenting each step in a series of YouTube videos. These videos will cover everything from the installation of Unplugged Performance parts to in-depth technical discussions about performance gains and the development of future components.
These components might find their way into less extreme projects, such as transforming a Tesla into a police cruiser.
The eagerly anticipated final product is set to debut at the Electrify Expo in Miami, where attendees can expect more details and, hopefully, lightning-fast 1/4-mile times that showcase the full potential of this extraordinary Tesla Model S Plaid drag car.