The Chevrolet Corvette Stingray has long been regarded as an excellent sports car, but it didn't quite achieve the budget-priced exotic status that some enthusiasts had hoped for despite its mid-engined layout. While it accelerated like a beast and boasted a formidable 6.2-liter V8 engine, it seemed more like a mid-engined muscle car than a sleek Italian exotic. However, in the world of American performance cars, there's always room for something new and exciting, and the 2023 Chevy Corvette Z06 is here to redefine our perception of American performance.
Gone is the familiar pushrod LT2 engine, making way for a flat-plane-crank 5.5-liter V8 positioned just inches behind the passengers, creating an ideal scenario for experiencing the LT6's exhilarating exhaust note. This new engine doesn't just offer a tantalizing auditory experience; it brings a whole new level of performance to the table.
The Z06's engine produces a staggering 670 horsepower at 8,400 rpm and 460 pound-feet of torque at 6,300 rpm. The under-square bore and stroke contribute to its sky-high rev limit and lightning-quick throttle response. This power plant is uncharted territory for the Corvette, as it departs from the traditional muscle car growl and unleashes a roar reminiscent of an exotic supercar.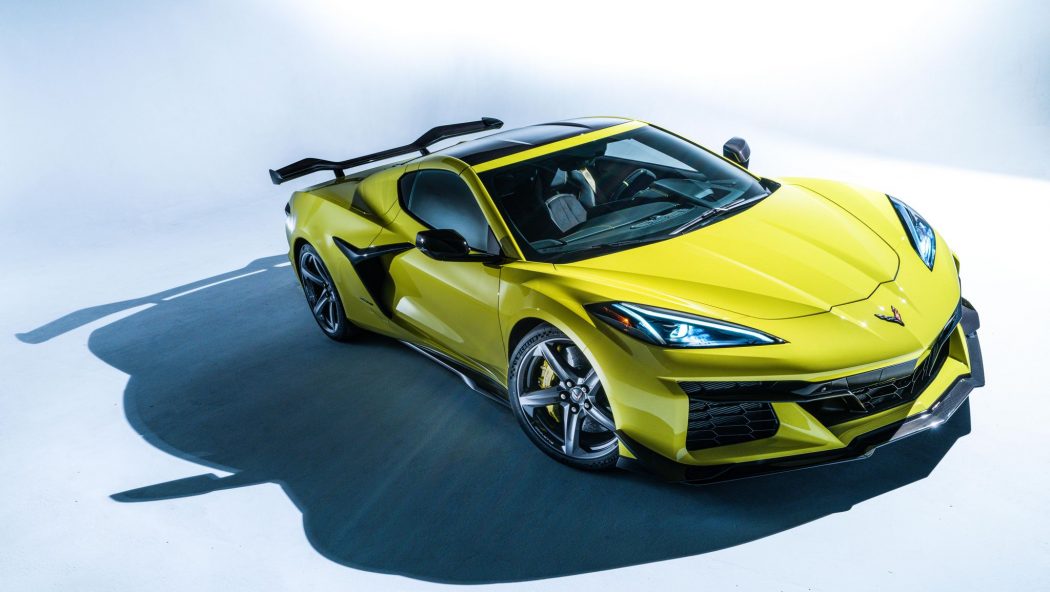 While some might point out that the Z06's torque figures fall short of the regular 'Vette, Chevrolet more than compensates with its higher rev limit and an additional 175 horsepower, propelling the Z06 from 0 to 60 miles per hour in a mere 2.6 seconds – two-tenths faster than the Stingray Z51.
Beyond the engine, the Z06 enhances the Corvette's performance with several key upgrades. The short-long-arm suspension layout remains, but its geometry has been adjusted to take full advantage of a 3.6-inch-wider track. Magnetic Ride Control dampers come standard on the Z06, specially tuned to accommodate wider summer tires – 275 millimeters up front and 345 in the rear. Brakes have also been beefed up with six-piston front and four-piston rear calipers gripping larger rotors.
The structural rigidity of the Corvette is so impressive that the suspension settings remain consistent whether you choose the convertible or coupe. The wider and more angular bodywork adds to the Z06's appeal, with its aggressive front fascia and distinctive quad-center exhausts.
The Z06's performance, however, isn't limited to the track. It's a car that can serve as a daily driver while still offering a thrilling driving experience. The magnetic dampers provide a comfortable ride even in their softest setting, and the exhaust's "Quiet mode" helps to reduce freeway noise to acceptable levels. The GT2 seats in the 3LZ model offer a comfortable and luxurious interior, and the power-folding hardtop is practical for everyday use.
Despite a few ergonomic quirks, the Corvette Z06 stands as a compelling American exotic sports car. With its soul-stirring engine, impeccable power delivery, and extensive use of carbon fiber, it earns its place among exotics. Moreover, it offers a remarkable value proposition, competing with renowned European supercars like the Porsche 911 Turbo S and Ferrari 296 GTB, all while coming at a significantly lower price.
In the world of high-performance sports cars, the 2023 Chevrolet Corvette Z06 has undoubtedly redefined what it means to be an American exotic, offering a unique blend of power, agility, and style that can rival some of the finest European supercars on the market. The Z06 proves that American performance cars can stand toe-to-toe with their international counterparts, making it a compelling choice for those who crave a thrilling driving experience and a taste of exotic flair without breaking the bank.