In the mid-1990s, the world of sports cars was electrified by the prowess of New Zealand-born racer Steve Millen, who, alongside his distinguished racing career, transformed the Nissan 300ZX into an iconic powerhouse. As a former rookie of the year at the prestigious 24 Hours of Le Mans, Millen's credentials were already impressive.
However, it was his role as the pilot of the formidable widebody 300ZX IMSA GTS that truly made a mark in 1994, capturing the series championship. This racing behemoth, equipped with an 800-horsepower twin-turbo engine, roared with fire-breathing downshifts, etching its place in history. Yet, for those seeking an even more formidable 300ZX for the streets, Millen was the visionary to turn to.
The 300ZX twin-turbo, in its own right, was a formidable performer of its era. With a 300-horsepower engine, it had the firepower to rival legendary adversaries like the Toyota Supra. However, Steve Millen Sportparts (Stillen) took this high-performance coupe and elevated it to an entirely new echelon. The result was the 300ZX Stillen SMZ, a masterpiece of enhanced engineering. Stillen's modification package went far beyond merely increasing the boost.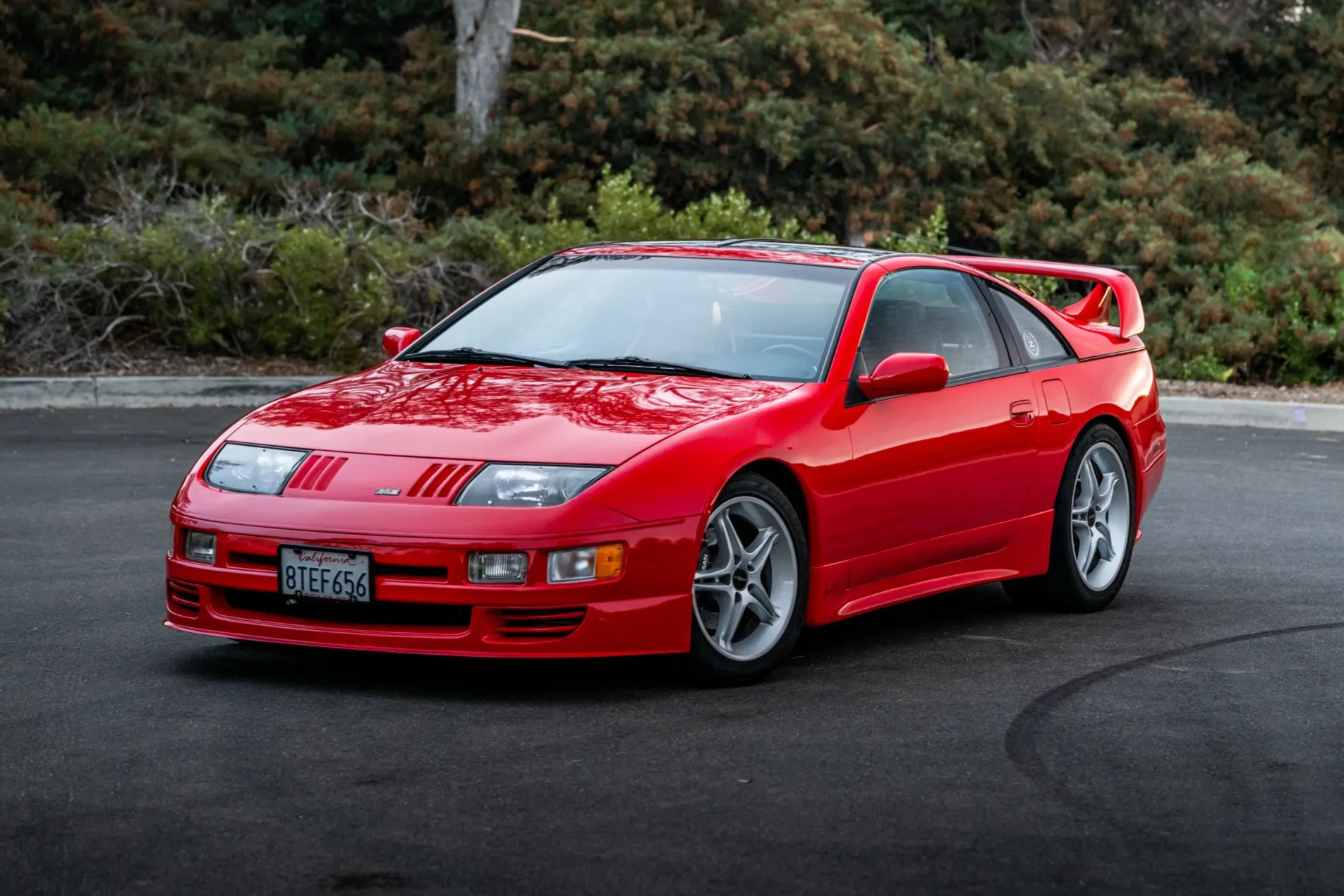 It encompassed substantial improvements in braking, a more rigid suspension, and the addition of an aero kit. What truly set the SMZ apart was that it wasn't just another hastily tuned special edition. It was a performance upgrade developed with Nissan's official approval.
These were no ordinary cars; they were 300ZX twin-turbos dispatched by Nissan directly to Stillen's workshop in Costa Mesa, California. Once the comprehensive enhancements and meticulous bodywork were completed, the vehicles were shipped to handpicked Nissan dealerships, where they were offered for sale with a full new-car warranty.
The 300ZX Stillen SMZ was a rarity, with fewer than 60 units ever manufactured. Among these, only a handful belonged to the 1996 model year, which marked the swan song of the 300ZX in the United States. Among these automotive gems, a remarkable specimen is now available for auction on Bring A Trailer, a platform that shares its roots with Car and Driver as part of the Hearst Autos family.
This particular specimen bears the designation "96-102." Interestingly, the numbering of the SMZ cars was known for its unique, somewhat haphazard approach. As a testament to its exclusivity and the serendipity surrounding its creation, it's reported that an SMZ numbered "95-098" was produced for a Microsoft employee who was actively engaged in the development of Windows 98.
The 1996 300ZX SMZ on auction exhibits a modest 41,000 miles on the odometer and has undergone significant maintenance work. Essential components such as spark plugs and coil packs were replaced last year, and the clutch was refreshed in 2014. At the time of its original sale by a New Mexico Nissan dealership, the vehicle boasted a staggering sticker price of $66,371—equivalent to over $130,000 in today's economic landscape.
The Stillen enhancements ushered in a new era of performance for these already potent cars. With a boost controller and optimized air intake and exhaust flow, the SMZ cars achieved a peak output of 365 horsepower. In June 1995, Car and Driver tested an SMZ and recorded a 0-60 mph time of 5.3 seconds, a 70-0 mph stopping distance of 187 feet, and an impressive 0.92 g on the skidpad.
In a testament to their enduring performance, a 2023 Nissan Z Performance model accelerates to 60 mph in less than a second, only slightly edging out the SMZ by 0.01 g on the skidpad. By the standards of 1996, Stillen's creation emerged as a true performance monster, leaving an indelible mark on the legacy of the Nissan 300ZX and the realm of sports cars.
As this pristine 1996 300ZX Stillen SMZ graces the auction block, it offers collectors and enthusiasts a remarkable opportunity to own a piece of automotive history, a symbol of precision engineering, and a vivid testament to the enduring spirit of innovation.