Nissan's formidable Frontier is getting ready to hit the off-road racing scene, and it's a partnership that promises to excite fans and showcase the truck's prowess. The Japanese automaker has joined forces with Forsberg Racing to enter a mildly modified version of the Nissan Frontier in the grueling NORRA 500 race, set to kick off in Mexico on October 20.
The 2023 Frontier Pro-4X will serve as the foundation for this off-road adventure. While this version maintains the fundamental DNA of the truck you can buy from a dealership, it features an array of official Nismo Off-Road parts that elevate its off-road capabilities.
One of the most notable upgrades is the inclusion of a lift kit and high-performance suspension, providing an additional 1.5 inches of lift in the front and 1 inch in the rear – enhancements that are also available for Frontier owners looking to amplify their off-road experience.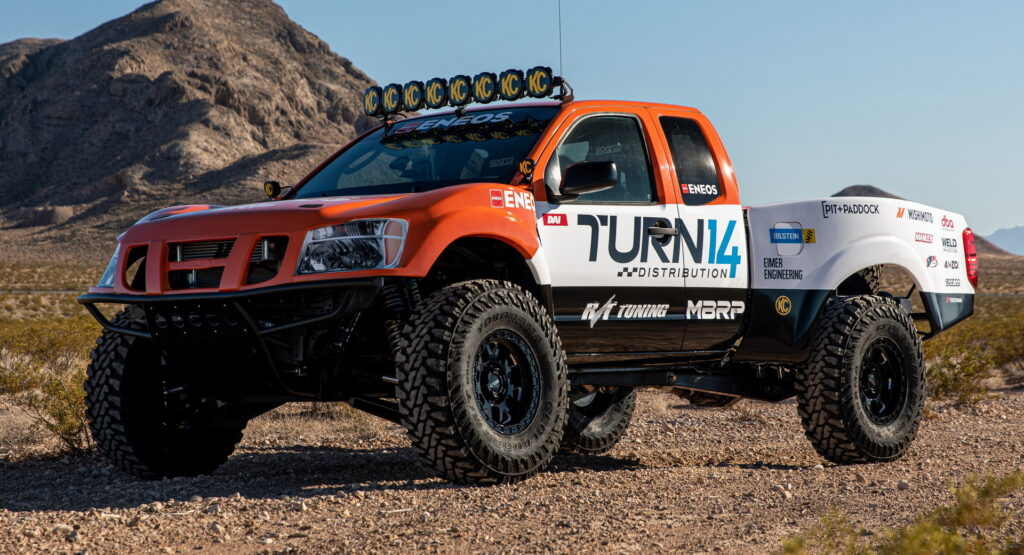 In addition to the lift kit, the race-ready Frontier is equipped with seventeen-inch Axis beadlock wheels at all four corners, wrapped in Yokohama Geolandar M/T G003 tires designed to provide superior traction in challenging terrain. Nismo Off-Road lighting upgrades, a roof rack, and rock sliders further enhance the truck's off-road capabilities, ensuring it can tackle the NORRA 500's diverse and demanding terrain.
A striking Forsberg Racing-designed graphics package adds a visual touch that's not only eye-catching but also emblematic of the truck's racing spirit.
The standard Frontier Pro-4X model is already a capable off-road machine, distinguishing itself from the rest of the Frontier lineup with functional skid plates and Lava Red badge accents. It boasts a low-range four-wheel-drive mode with a locking differential and Bilstein shocks, providing it with a slightly taller ride height compared to non-Pro-4X versions.
The Frontier received a substantial overhaul for the 2022 model year, introducing fresh styling, new technology, and improved safety features. This included the introduction of a 3.8-liter V6 engine, initially introduced in 2020 for the previous-generation Frontier.
The V6 engine generates 310 horsepower and 281 pound-feet of torque, and it's mated to Nissan's nine-speed automatic transmission, which collectively provides a robust powertrain well-suited for both on-road and off-road performance.
The NORRA 500 race, a grueling 500-mile desert challenge, will begin in Ensenada, Mexico, with participants navigating their way to San Felipe and back, concluding the event on the beach on October 21. Forsberg Racing will be competing in the Stock vehicle class with their Nissan Frontier.
Formula Drift champion Chris Forsberg will be the man behind the wheel during the race, representing Nissan. This isn't the first collaboration between Nissan and Forsberg Racing. Their partnership has previously produced notable creations such as the V8-powered Frontier, a Nissan Z drift car, and a monstrous 2,000-horsepower Altima.
Following the NORRA 500 race, the Nissan Frontier will be on display at this year's SEMA Show in Las Vegas, commencing on October 31. Chris Forsberg will also make an appearance, providing autographs, interviews, and photo opportunities. Nissan plans to showcase several other concept vehicles at the event, and further details about these exciting creations will be unveiled in due course.
Nissan's decision to take the Frontier off the showroom floor and into the challenging world of off-road racing underscores the truck's remarkable versatility and capability, solidifying its status as a dependable workhorse that can handle both everyday life and extreme racing conditions.