For the fourth generation of the Citroen C3, the French automaker is making a bold shift, switching from combustion power to a fully electric powertrain. After an impressive 5.6 million sales of its combustion-powered C3 models, Citroen is embracing zero emissions with the introduction of the 2024 e-C3, set to hit the European market with an enticing starting price of approximately $24,500 (23,300 Euros).
Even more exciting is the promise of an even more affordable entry-level version scheduled for a 2025 launch, which could position the e-C3 as one of the most budget-friendly electric vehicles in Europe. Let's delve into the details of this exciting new supermini.
The 2024 Citroen e-C3 is based on Stellantis' Smart Car Platform and boasts a fresh design language compared to its predecessor. This evolution transforms the C3 from a traditional small hatchback into a more crossover-like vehicle, with wheels positioned at the furthest edges to enhance stability and a high roofline, resulting in a significantly roomier cabin. Citroen claims that occupants now benefit from an additional 1.18 inches of headroom and 0.8 inches of increased knee room. The cargo area behind the rear seats has also expanded slightly, growing from 10.59 cubic feet to 10.94 cubic feet.
One of the most noticeable visual changes is the front fascia, where the e-C3 proudly displays Citroen's new logo, flanked by a pair of distinctive C-shaped lights. At the rear, the taillights extend into the rear quarter panels, and a small static spoiler above the rear window comes as standard equipment.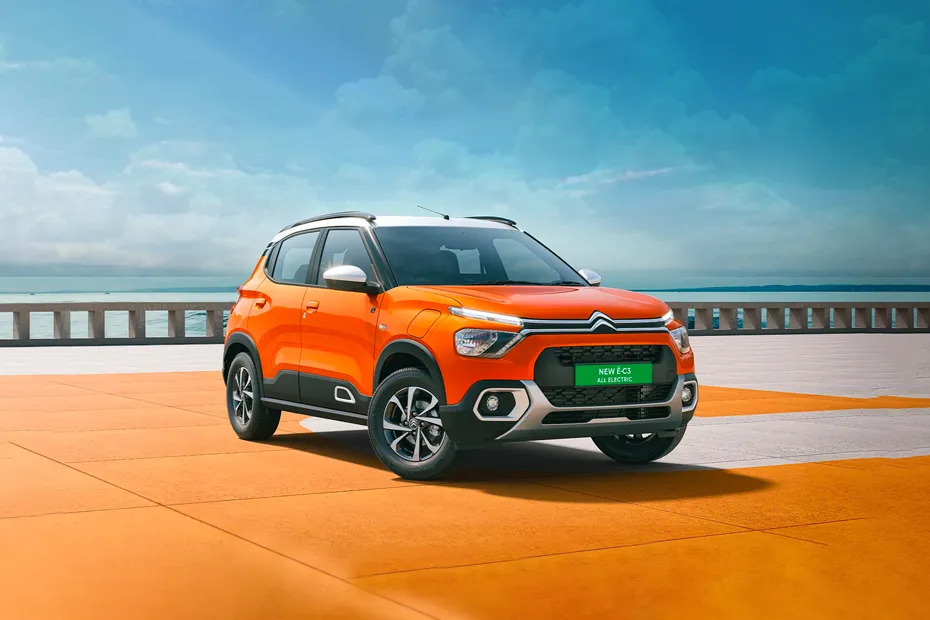 The real revolution happens under the hood, where the combustion engines of the previous model have been replaced by a purely electric powertrain. The 2024 e-C3 is equipped with a 44-kilowatt-hour Lithium Ferro Phosphate (LFP) battery, offering an impressive range of up to 199 miles (320 kilometers) between two charges, measured by the WLTP cycle.
The electric motor generates 113 horsepower and is mounted on the front axle, providing a 0-62 miles per hour (0-100 kilometers per hour) acceleration in approximately 11 seconds. Charging the battery from 20 to 80 percent on a 7-kilowatt charger takes about four hours. If you have access to a DC fast charging station, the 100-kW CCS port should reduce that time to under 30 minutes.
Citroen will offer the e-C3 in two trim levels – "You" and "Max." The base model includes LED headlights, an emergency braking system, a head-up display, power side mirrors, rear parking sensors, and cruise control. Opting for the "Max" grade brings additional features like 17-inch alloy wheels, two-tone exterior paint, automatic wipers, power-folding and heated side mirrors, automatic climate control, wireless phone charging, and more.
As mentioned earlier, sales will kick off with an attractive starting price of $24,500 (23,300 Euros) based on current exchange rates. Looking ahead to 2025, Citroen plans to introduce a model with a smaller battery pack, providing a range of 124 miles (200 km) on a single charge, and an estimated price tag of around $21,050 (19,990 Euros).
This pricing strategy positions the e-C3 as one of the most affordable electric vehicles in Europe, potentially rivaling the starting price of the Dacia Spring, which currently retails at $22,300 (20,800 Euros) in France before local incentives. The 2024 Citroen e-C3 is undoubtedly a compelling addition to the electric vehicle market, offering affordability and a practical design to appeal to a wide range of consumers.