Rivian, the American electric vehicle manufacturer, appears to be setting its sights on the high-performance electric truck and SUV market. Recent leaks from a Rivian Forums member, citing a "solid source," suggest that in 2024, Rivian could introduce a range-topping "Ascent" trim for its R1T electric truck and R1S electric SUV, potentially delivering over 1,000 horsepower.
The leaked information points to both cosmetic and aerodynamic upgrades for the R1 models. Notably, the source claims that the dual motors in these high-performance variants are capable of producing an impressive 1,000+ horsepower. During testing, it's said that the front wheels experienced lift-off, a challenge Rivian is purportedly addressing to ensure the wheels stay firmly planted.
One of the speculated features of this new variant is the inclusion of blacked-out exterior accents, possibly denoting enhanced performance. However, there's no official confirmation that these enhancements will make it to the production models, leaving some uncertainty surrounding these claims.
The concept of achieving 1,000 horsepower with just two electric motors is a subject of interest and potential skepticism. In the Rivian lineup, the quad-motor R1T and R1S currently produce 835 horsepower, while the performance dual-motor versions offer 665 horsepower.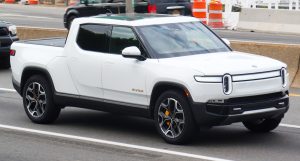 It's worth noting that many electric vehicles boasting over 1,000 horsepower, such as the Tesla Model S Plaid, Roadster, and the Lucid Air Sapphire, rely on three traction motors for such power. The Lucid Air Grand Touring Performance, for instance, achieves 1,050 HP with two electric motors.
Earlier this year, Rivian took a significant step by beginning the production of its in-house developed dual-motor Enduro drive unit. Previously, the company depended on suppliers like Bosch for its electric motors. This strategic move allows Rivian to exercise greater control over costs and production with its proprietary systems.
EPA filings from June 2023 indicated that the dual-motor Enduro drive unit used in the R1S demonstrated slightly improved performance and efficiency compared to the outgoing system. Whether the purported new high-performance variant would incorporate a more advanced version of the Enduro motors remains uncertain.
Rivian, led by CEO RJ Scaringe, has been experiencing impressive growth, with Q3 2023 sales in the United States surpassing 15,000 deliveries, marking a substantial 136 percent increase year-over-year. However, the company may need to focus on introducing more affordable versions of its vehicles to expand its market reach, as the 1,000+ horsepower variants, although intriguing, might cater to a niche audience due to their likely premium pricing. Ultimately, Rivian's plans for these high-performance variants could reshape the electric vehicle landscape and demonstrate the brand's commitment to pushing the boundaries of electric mobility.