Both medium-rare steak and ooey, soft chocolate chip cookies have the magical ability to achieve their peak by being removed from the heat at just the correct time. However, not everyone can benefit from such precise timing in the world of vehicle experiences. This holds true for chicken, cake, and the Mercedes-AMG C43 in 2023.
Positives
Resuming its presence after a hiatus, the C43 now embodies the essence of the latest-generation C-class. Its smaller version of the S-class exterior design complements its appearance, and the interior aligns with Mercedes' high standards. Although the center tunnel might seem a bit elevated, the vehicle offers ample storage space without feeling cramped. The materials used above the center console exude quality, even though there is an abundance of hard plastic below that demarcation.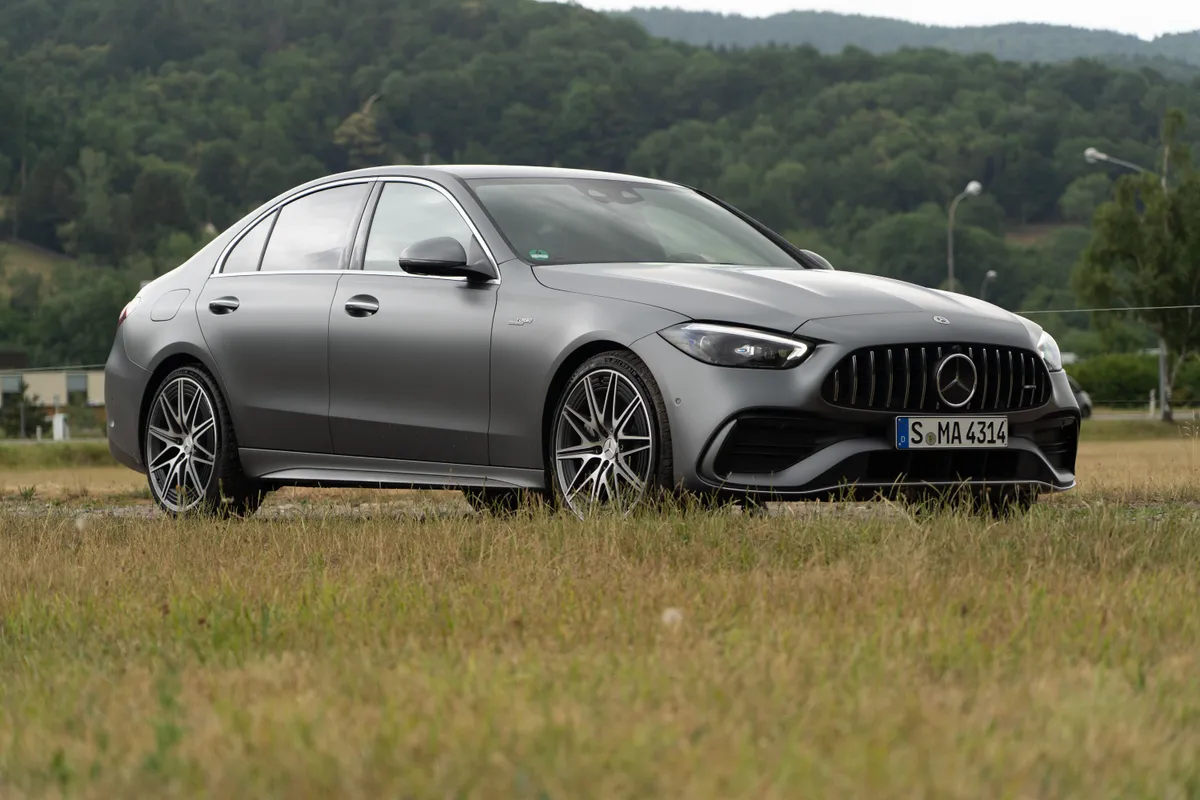 The previous C43's six-cylinder engine has been replaced by a turbocharged 2.0-liter inline-four that generates an impressive 402 horsepower and 369 pound-feet of torque. With all-wheel drive and nine-speed automatic transmission, the new C43 displays its agility by sprinting from 0 to 60 mph in a mere 3.9 seconds and covering the quarter-mile in 12.5 seconds at 111 mph.
Notably, an electric motor integrated into the turbocharger, a production car first, enhances responsiveness, although it doesn't eliminate lag entirely. To experience a high-voltage hybrid system and a potent electric motor, one would have to turn to the C63.
Negatives:
While the C43's engine performance is praiseworthy, its transmission leaves much to be desired. The nine-speed transmission exhibits erratic downshifts in all drive modes and can take an eternity to engage a gear after a robust accelerator press.
It tends to hold revs longer than necessary in Comfort and Sport modes as if anticipating a racetrack instead of city streets. The stop-start system is equally vexing; it shuts off the engine at around five mph during deceleration, resulting in an awkward pause before restarting. This behavior leads to uncomfortable jolts and hesitations, particularly in stop-and-go traffic.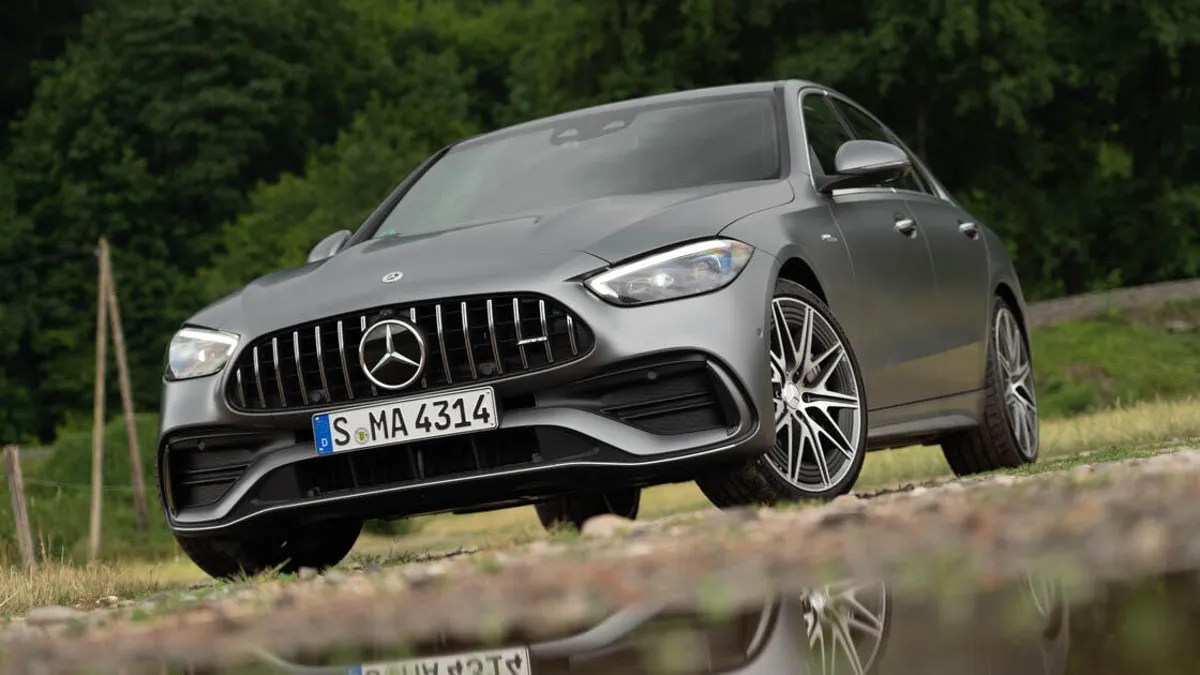 The previous C43 had a suspension as stiff as an I-beam, but the 2023 model shows improvements. Standard adaptive dampers, though still somewhat firm in Comfort mode, provide a much more comfortable ride. Even with optional 20-inch wheels and Michelin Pilot Sport 4S summer tires, the C43 maintains its composure. It offers a firm ride in Sport mode, enhancing stability during cornering. The inclusion of rear-axle steering, up to 2.5 degrees, standard in the C43, bolsters its agility in various driving scenarios. It proves to be a formidable contender when taking on corners.
Final Thoughts:
With a starting price of $61,050 and a tested price of $68,820, the C43 offers an attractive package, including keyless entry, parking sensors, a surround-view camera system, and blind-spot monitoring, even in the base model. However, it's essential to remember that the C43 faces stiff competition, especially from the Cadillac CT4-V Blackwing.
The Cadillac not only outperforms the Mercedes in terms of quarter-mile times and skidpad performance but also excels in driving feel. Additionally, the Cadillac's V-6 engine delivers a more pleasing sound, is better suited for daily driving, and offers an optional manual transmission, a feature absent from the Mercedes lineup. The 2023 C43 does exhibit some improvements, but it's not quite ready to be served as a perfect dish.
Specifications:
– 2023 Mercedes-AMG C43
– Vehicle Type: Front-engine, all-wheel-drive, 5-passenger, 4-door sedan
– PRICE
– Base/As Tested: $61,050/$68,820
– Options: AMG Carbon Fiber Package $1,750; 20-inch AMG split 10-spoke wheels w/ black accents, $1,650; black leather with red stitching, $1,620; AMG Night Package, $750; navigation, $650; AMG Night Package II, $550; AMG Real Performance Sound, $550; AMG Track Pace, $250.
– ENGINE
– Turbocharged and intercooled DOHC 16-valve inline-4, aluminum block and head, and direct fuel injection
– Displacement: 121 in3, 1991 cm3
– Power: 402 hp @ 6750 rpm
– Torque: 369 lb-ft @ 5000 rpm
– TRANSMISSION
– 9-speed automatic
– CHASSIS
– Suspension, F/R: struts/multilink
– Brakes, F/R: 14.2-in vented disc/12.6-in vented disc
– Tires: Michelin Pilot Sport 4S
– F: 245/35ZR-20 (95Y) MO1 Extra Load
– R: 265/30ZR-20 (94Y) MO1 Extra Load
– DIMENSIONS
– Wheelbase: 112.8 in
– Length: 188.6 in
– Width: 74.4 in
– Height: 57.1 in
– Trunk Volume: 8.8 ft3
– Curb Weight: 4,090 lb
– C/D TEST RESULTS
– 0-60 mph: 3.9 sec
– 0-100 mph: 9.8 sec
– 1/4-Mile: 12.5 sec @ 111 mph
– 0-130 mph: 17.8 sec
– 0-150 mph: 26.4 sec
– Rolling Start, 5–60 mph: 5.0 sec
– Top Gear, 30–50 mph: 2.9 sec
– Top Gear, 50–70 mph: 3.6 sec
– Top Speed (manufacturer's claim): 165 mph
– Braking, 70–0 mph: 149 ft
– Braking, 100–0 mph: 306 ft
– Roadholding, 300-ft Skidpad: 0.92 g
– C/D FUEL ECONOMY
– Observed: 20 mpg
– 75-mph Highway Driving: 33 mpg
– 75-mph Highway Range: 570 mi
– EPA FUEL ECONOMY
– Combined/City/Highway: 22/19/26 mpg