When a regular passenger car, as opposed to an SUV or pickup, undergoes a raised ride height, it tends to ignite considerable enthusiasm among enthusiasts. This phenomenon was evident with the Porsche 911 Dakar and Lamborghini Huracán Sterrato, both of which sold out almost immediately.
The concept of modifying ordinary cars for off-road adventures, like the "safari" 911s, has a longstanding history. If you're not looking to splurge six figures on a lifted supercar, you might find satisfaction in this 1991 VW Golf Country.
Up for auction on Bring a Trailer, this 1991 Volkswagen Golf Country harks back to a unique era in automotive history. Around 7,735 of these lifted Golf hatchbacks were manufactured. The concept first emerged at the 1990 Geneva Auto Show and received such overwhelming public approval that VW decided to send a batch of its four-wheel-drive Golfs to Steyr-Daimler-Puch for extensive modifications.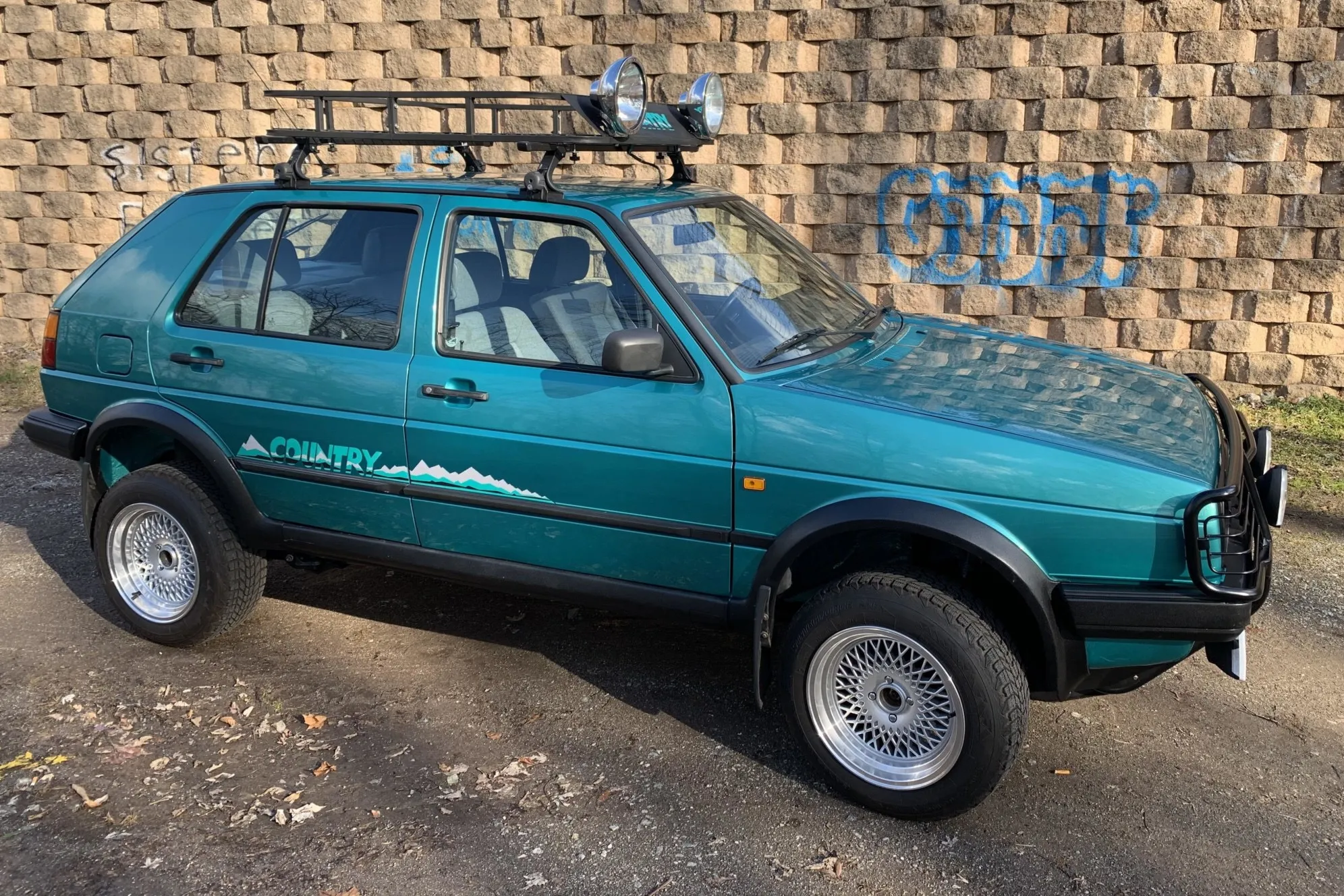 These modifications went far beyond merely inserting spacers between the springs and shock mounts. Steyr-Daimler-Puch took the initiative to install tubular subframes, robust brush guards, skid plates, eye-catching fender flares, and even a stylish trunk-mounted spare tire.
The end result bears a striking resemblance to something out of a post-apocalyptic, new-wave zombie movie. An attention-grabbing decal on the side serves as a constant reminder of this vehicle's off-road prowess. Altogether, the Golf Country rides almost five inches higher than the standard four-door hatchback, boasting a total of 438 unique parts, as per a VW press release.
Stepping inside the cabin is equally delightful, mirroring the vehicle's quirky exterior. The seats and door panels are swathed in gray cloth with a distinctive pattern, and the interior appears remarkably well-preserved. The dashboard accommodates stylish VDO gauges, and the odometer reads just under 100,000 miles. However, it's important to temper your expectations regarding speed, as the Country's 1.8-liter engine churns out a modest 97 horsepower.
It's fair to say that encountering a Golf Country on Bring a Trailer is a rare occurrence. If you have a penchant for unconventional off-road vehicles, the auction for this one will remain open until November 3, providing you with an opportunity to place your bid.