One year ago, Mazda offered a tantalizing glimpse of a sleek sports car concept known as the "Vision Study Model." At the time, many speculated it might be an early preview of an electric MX-5 Miata.
Fast forward to the present, and Mazda has reintroduced this concept, now officially christened the "Iconic SP," in anticipation of the 2023 Tokyo Auto Show. Interestingly, the Iconic SP stands apart from Mazda's iconic roadster, boasting a larger stature and a unique hybrid rotary engine setup.
Details of the Mazda Iconic SP
Mazda has kept most of the Iconic SP's specifics under wraps, but they did divulge key dimensions. The concept stretches 164.6 inches in length, spans 72.8 inches in width, and reaches a height of 45.3 inches, supported by an impressive wheelbase of nearly 102 inches.
In comparison to the Miata, it is approximately 10 inches longer, four inches wider, and three inches shorter and features an 11-inch extended wheelbase. The Iconic SP also carries some weight, tipping the scales at 3197 pounds, which is roughly 850 pounds heavier than the Miata.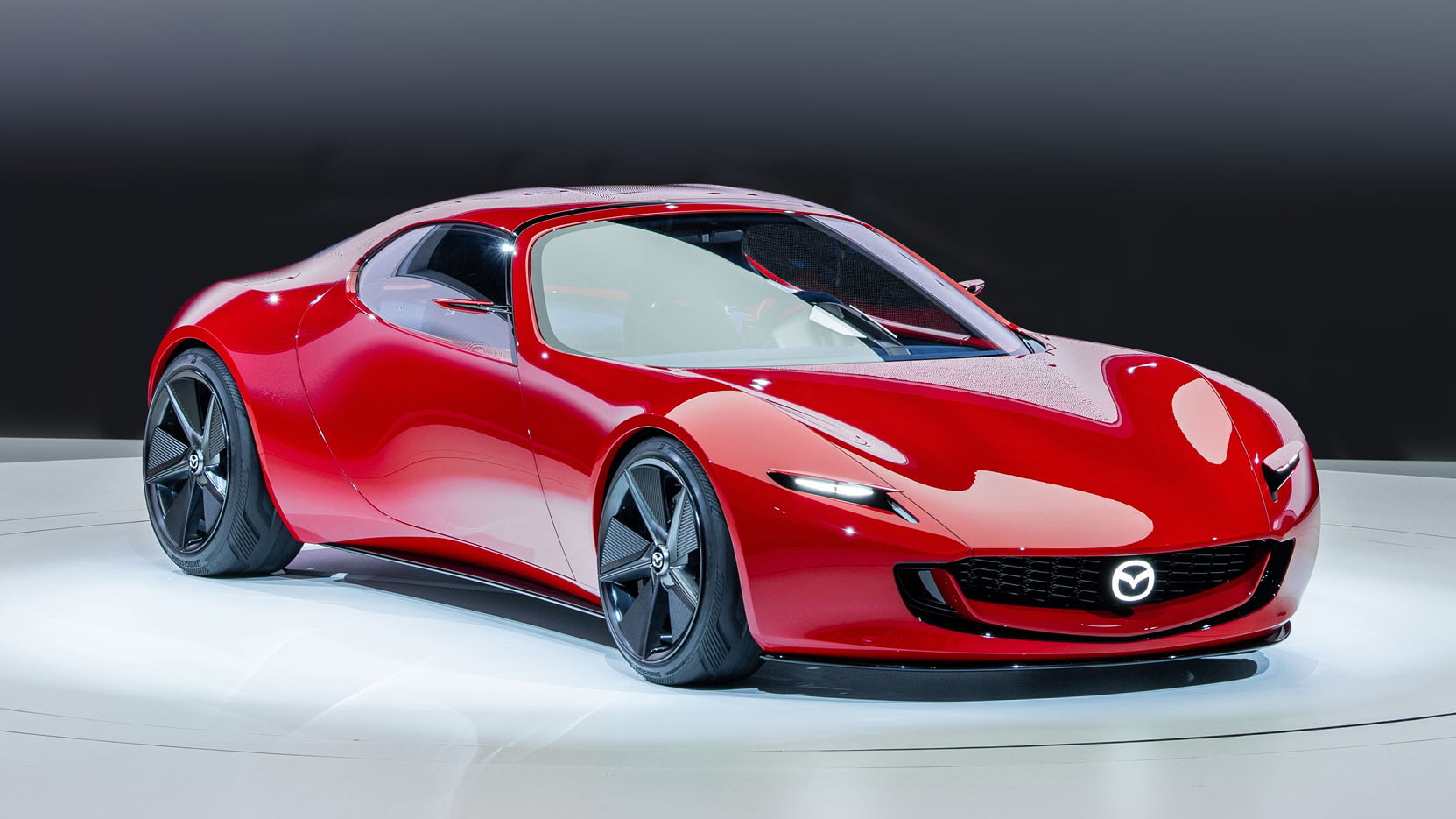 Beneath the sleek exterior lies a hybrid powertrain combining an unspecified number of electric motors with a twin-rotor rotary engine. Notably, Mazda emphasizes that the rotary engine primarily serves as a power generator, acting as a range extender that charges the battery rather than directly propelling the wheels. This concept mirrors the setup used in the MX-30 e-Skyactiv R-EV, previously unveiled for global markets, employing a single-rotor engine as a battery generator.
Mazda declares that the Iconic SP's engine operates on a carbon-neutral fuel but can also utilize various fuels, such as hydrogen. The combined powertrain delivers an impressive 365 horsepower, ensuring that this sleek sports car promises robust performance. Moreover, the concept is designed to function as a power source for external appliances, offering practicality for outdoor activities or during power outages.
Mazda positions the Iconic SP as a vehicle tailored for those who seek the pure enjoyment of driving. It features a low center of gravity and a 50:50 weight distribution. The compact rotary engine allows for a streamlined hood that sits low between the front fenders.
The bodywork embodies a sense of fluidity, akin to sea glass polished by the relentless passage of time. Below its prominent hood, you'll notice what appears to be pop-up LED headlights, complementing a version of Mazda's signature smiling grille.
Stepping inside, the cabin exudes simplicity, with a small screen positioned to the right of the steering wheel and an array of sliders on the central console. A compact digital gauge is situated behind the steering wheel, displaying a track map of the iconic Monaco Grand Prix circuit and a g-force meter. Luxurious-looking suede upholsters the interior surfaces, and the concept sports an eye-catching Viola Red exterior paint, complemented by matching red stitching inside.
As of now, the precise role of the Iconic SP remains somewhat enigmatic. Although it deviates in size from the Miata and employs a radically different powertrain compared to the MX-5's 2.0-liter inline-four engine, Mazda's exhibit at the Tokyo Auto Show will include a variety of Miata models.
Mazda has previously indicated its intention to electrify the Miata to some extent in its next generation. Therefore, it's plausible that the rotary-hybrid setup featured in the Iconic SP could evolve into a reality. In any case, this concept offers a reassuring glimpse into a future where Mazda maintains its dedication to crafting small, lightweight sports cars.