The surge in popularity of off-roading has been driven by the dominance of trucks and SUVs in the automotive market. Automakers like Subaru with Wilderness and Honda with TrailSport have introduced new sub-brands to enhance their crossover offerings.
This go-anywhere enthusiasm has even extended to sports cars, with Porsche and Lamborghini introducing models like the 911 Dakar and Huracán Sterrato. At the 2023 SEMA show, currently underway in Las Vegas, Nissan is showcasing its unique take on this trend with the Safari Rally Z Tribute, a creation of Tommy Pike Customs.
The Tribute is a nod to the rally-spec Datsun 240Z, which achieved victory in the grueling 3800-mile 1971 East African Safari Rally. Nissan had previously paid homage to this achievement with a Juke-based concept a few years ago.
For this project, Nissan collaborated with Tommy Pike Customs, a South Carolina-based customization specialist known for their Leaf-powered 1987 Sunny pickup and woody-wagon-inspired Ariya showcased at last year's SEMA event. This modified Z sports car is displayed alongside a replica of the iconic Datsun 240Z Safari.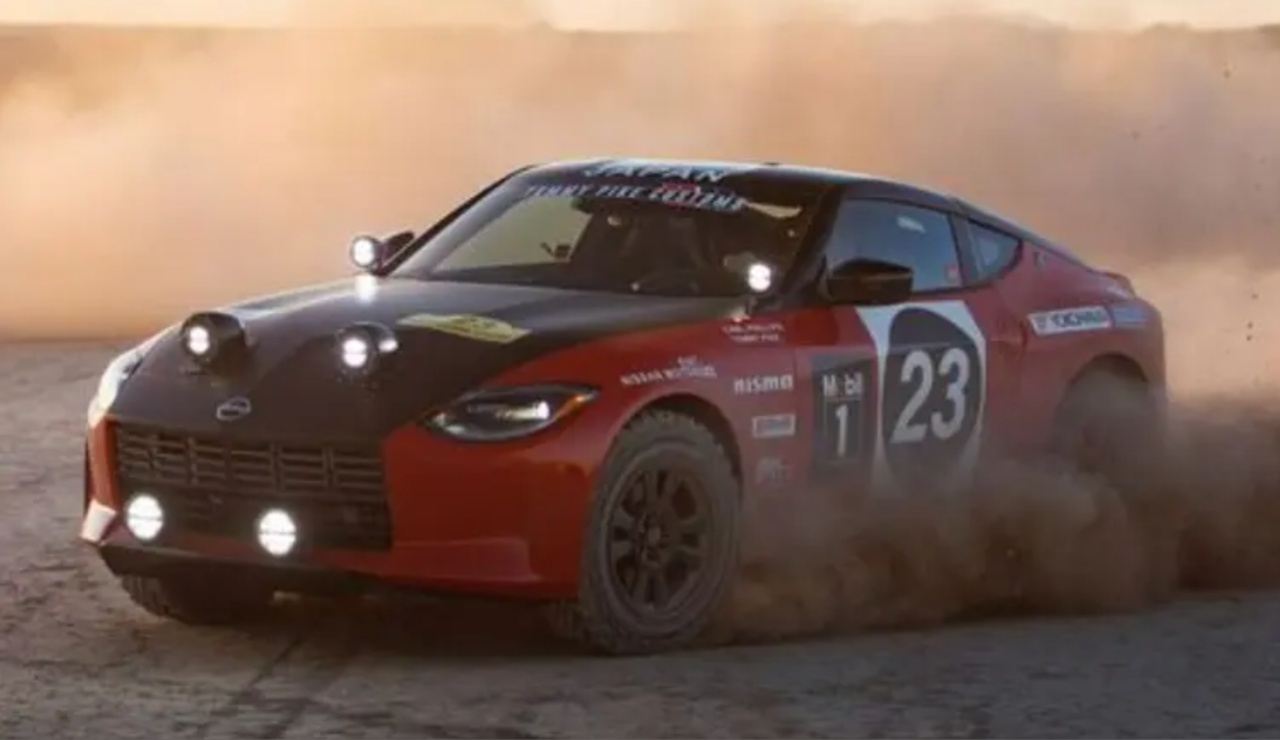 Tommy Pike Customs has implemented several significant upgrades to this sharply styled sports car. The Tribute build now sits 2.0 inches higher, thanks to a custom KW safari suspension that incorporates adjustable upper control arms, a strut tower brace, and various components from Nissan's in-house tuner NISMO. The vehicle boasts distinctive black 17.0-inch wheels wrapped in rugged Yokohama Geolandar M/T G003 225/65 tires.
To safeguard the essential components, a front bumper guard and skid plate have been added, while an array of auxiliary LED lights on the front end enhances visibility in dark or dusty conditions. Inside, the Z features a roll bar equipped with four-point harnesses to keep the driver securely seated in Recaro bucket seats.
The V-6 engine has also undergone tuning by AMS Performance, resulting in increased power output beyond the stock 400 horsepower, although Nissan has not provided specific figures.
Additional enhancements under the hood include a cold air intake, a carbon-fiber engine cover, a heat exchange, and a twin-disc clutch and flywheel. Tommy Pike Customs has also integrated a cat-back exhaust featuring laser-etched NISMO branding. The overall appearance is complemented by a livery that mirrors the original rally car, albeit with the number "23" adorning the doors instead of the "11" from the 1971 model.
While the likelihood of this off-road Z going into production is uncertain, it is hoped that some of the custom parts developed for this project may be made available by Nissan for enthusiasts interested in creating their own rally-inspired vehicles.